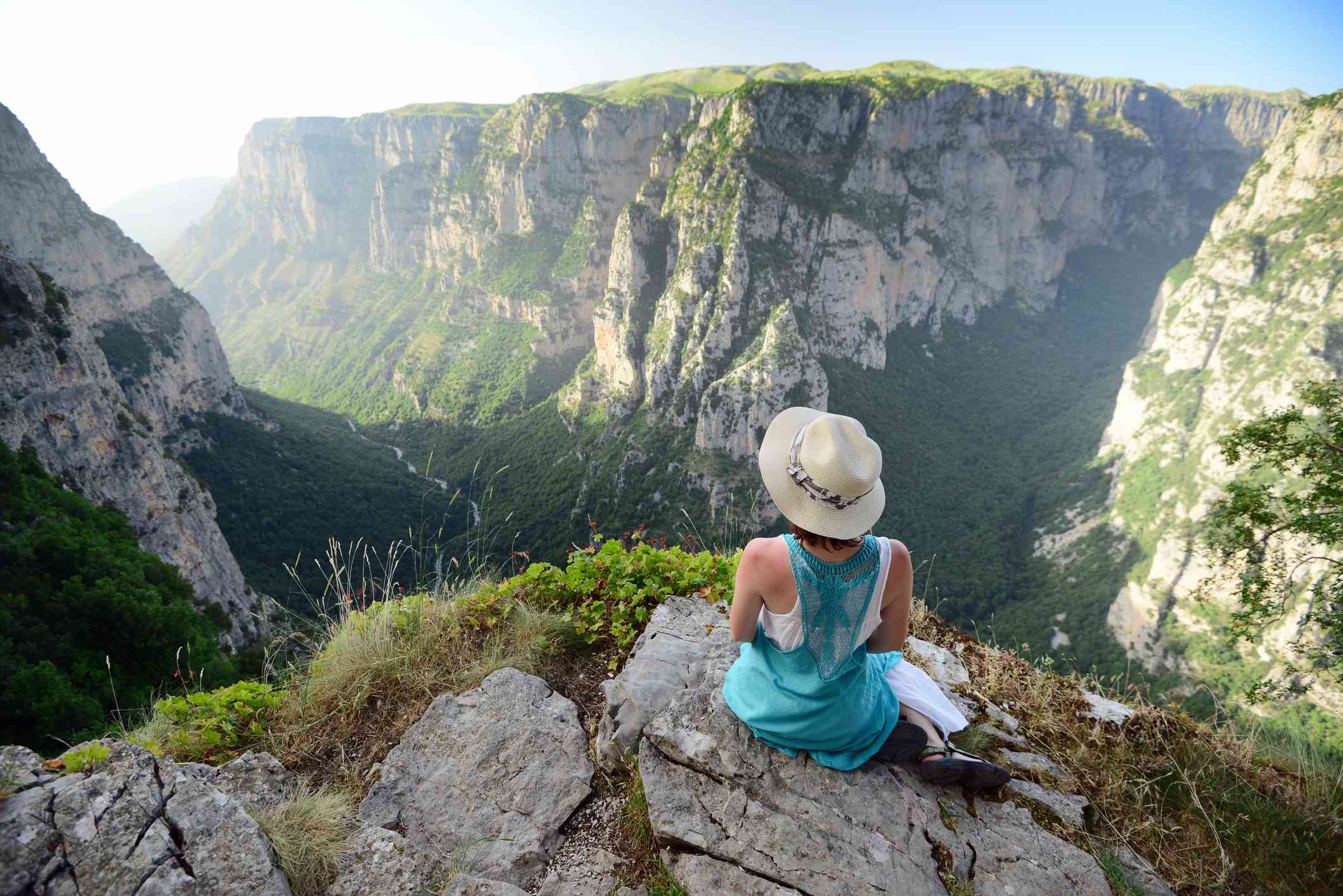 Best hikes in Greece are always attracted by hikers and adventurers all over the world. Not only hikes but also the country has pristine beaches and stunning islands in the Mediterranean Ocean. So, here's all the information about this superb hiking destination in Europe.
Best Hikes in Greece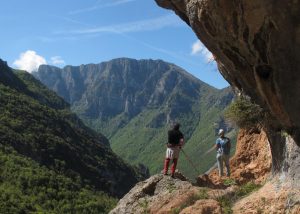 Usually, travelers visit the Samaria Gorge on Crete, but there are wonderful hikes to be found on the mainland. No matter what your strength level and skill level are, just trying at least one of the following on your vacation to Greece.
Suggested Reading: Best Beaches in Sicily Greece
Best Time to visit Greece
Greece is blessed to have a pleasant climate throughout the year with the Mediterranean climate. Therefore anytime you can try for a hike. But, in July and August, the climate is too hot for a hike. So, the preferred months for a hike are May, June, September, and October.
Actually, there are no bad weather conditions in Greece. You can even travel in the winter (From November to March) with the best budget travel packages. And in the hottest months (July and August), there's a heavy crowd.
However, from late April to early November, it has the optimum factors to travel anywhere in Greece. From late May to early October, most travelers are attracted to sunbathing and swimming. That months are even ideal for a family vacation as well. But, I always suggest you avoid August, since it is the busiest month.
Hiking in Greece in March
March is also a good month for hikes in Greece. In March, the temperature starts to rise as a shoulder season, but the tour packages are still at low price levels. Although the weather is variable in March, there are plenty of hot sunny days. But, it is better ready with both cold and hot weather clothes, if you are planning to travel to Greece in March since it has both rainy, grey with bright sunny days.
When it comes to the end of March, the temperature is significantly rising, and rains tend to decrease. Then, the climate is just awesome with clear skies and spring weather. But, in the evenings, it is still cold. And also, March is not good for beach vacations since the water is still cool.
Suggested Reading: Best Hikes in Utah
In March, there's a lack of tourists, but it starts to rise in the end. The restaurants are not ready for the season yet, and even ferries are lack. But, you can find budget travel packages and visit most of the destinations without any crowd effect.
Weather in Greece
If you want to experience the exact Greece winter, then the best Winter months are December and January. Although it is winter, the temperature is not so cold; you can enjoy Christmas, New Year, Carnival season, and the ski season in January.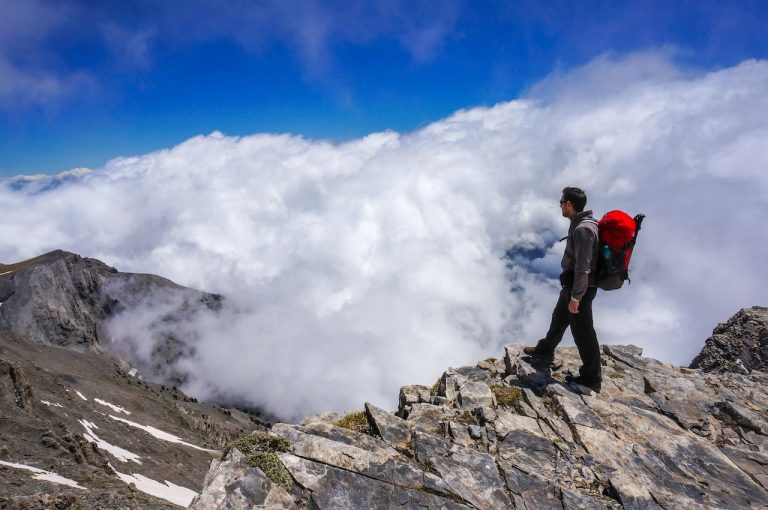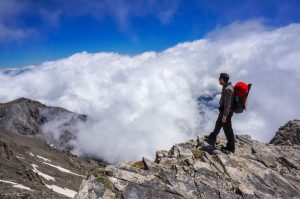 During March, April and May, the Spring climate can be seen in Greece. The winter temperature is changing and starts to rise. Since the climate is pleasant, this is one of the ideal times to visit Greece because many visitors are not available in the spring.
When it comes to the Summer Season, it starts in June. Actually, June is also a shoulder month, just like March. Since the temperatures are good and the peak season is yet to come, June doesn't have a problem with the heavy crowd. On the other hand, it is ideal for hikes as well. But, all the beach lovers, some of the hikers, and all the kind of travelers are attracting to Greece when it comes to July and August since it is called the peak season. (Best Hikes in Greece)
In the Fall season, September is the best out of all the months for the budget travelers waiting to visit Greece. As another shoulder season, September is ideal for hikes as well. Because have not only cheap prices but also the ideal climate is there. As I mentioned earlier, September and October are best for hikes.
Best Hikes in Greece
We've heard Greece as a country filled with ancient values, turquoise water containing sandy beaches, white buildings, and romantic places. On the other hand, Greece is just awesome for hikes. There are plenty of trails suitable for the best hikes through mountains, forests,  meadows, and hillsides like landscapes. So, here're my favorite places out of all the others. (Best Hikes in Greece)
The Menalon Trail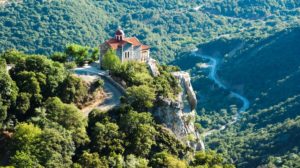 Menalon is a long trail 75km long. Locating in the heart of the Central Peloponnese, Arcadia, this trail exists through the mountains of Gortnia. Therefore, you will pass through sceneries like valleys, mountains, and traditional stone villages when you are hiking.
And also, along the way, you'll find several natural drinking fountains, traditional church squares with cafés, and stone bridges. There are eight different sections of the trail ranging from easy to difficult. And they connect to several villages across the region.
Corfu Trail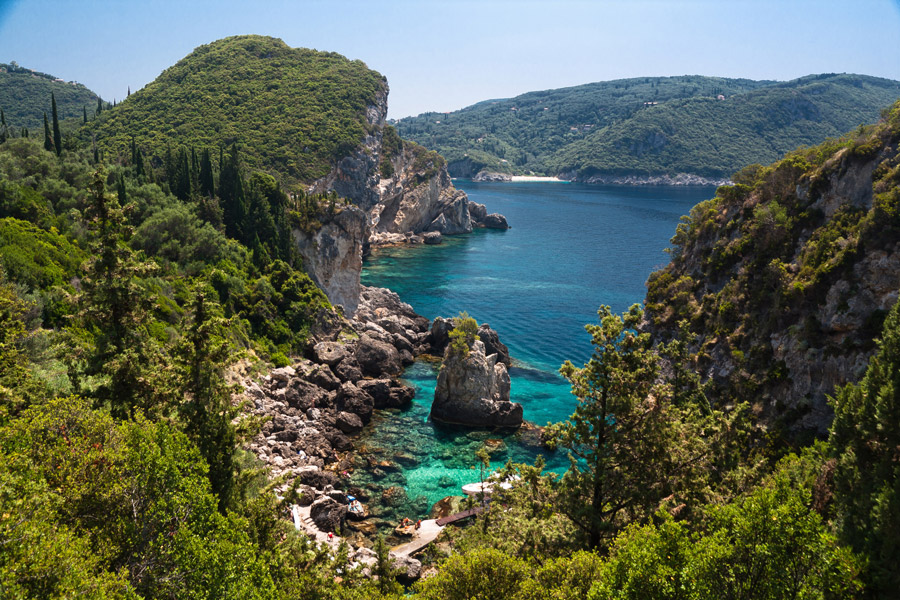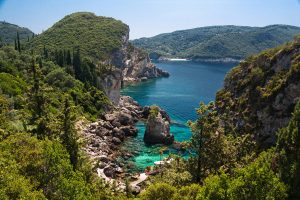 Corfu trail is one of the longest trails with 220km in Greece. Located near the Mediterranean Ocean, the trail offers you stunning views of the blue ocean. Since it is really a long one, hikers bring things suitable for camping. Then, they complete the whole trail as sections. In the end, the trail takes you to a very remote and quiet environment with spectacular views. (Best Hikes in Greece)
Suggested Reading: Emerald Bay in Lake Tahoe
Hiking Mount Olympus Greece
Mount Olympus is the highest peak in Greece, with 9570 feet. Situated on the Macedonia and Thessaly regions' borders, it has several trails through pine, beech, and fir forests. All trails are well marked as this is a famous hiking destination in the country.
Also, this is the best-known hiking trail in the entire Mediterranean region. And it is protected by the Olympus National Park. Having around 160km, this trail attracts any level of a hiker in the world. Different kinds of fauna and flora on the way, and the stunning surrounding will make your journey unforgettable.
Best Hikes in Greece: Mykonos
Mykonos is a party island in the Mediterranean Ocean. Beyond parties, it has unique beauty with nice landscapes, beaches, hilltops are there. Mykonos is not known for a good hiking spot since it is flat land. But, for me, it was a great opportunity to experience the nature of Mykono's remote area. Starting from Mykonos town, the hike extends to Armenistis Lighthouse, situated at the island's northwest tip.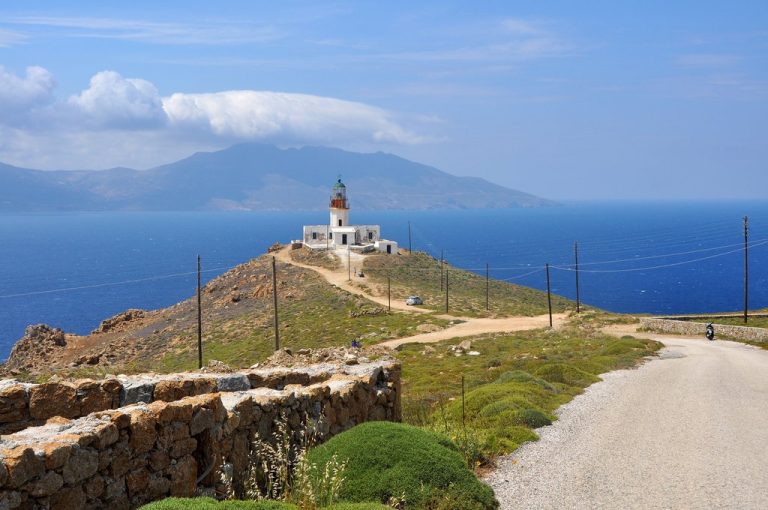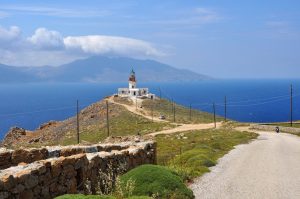 While on the hike, you can have lunch from Mykonian Spiti Farm. And also, you can extend the hike to Mersini Beach.
Vikos Aoos National Park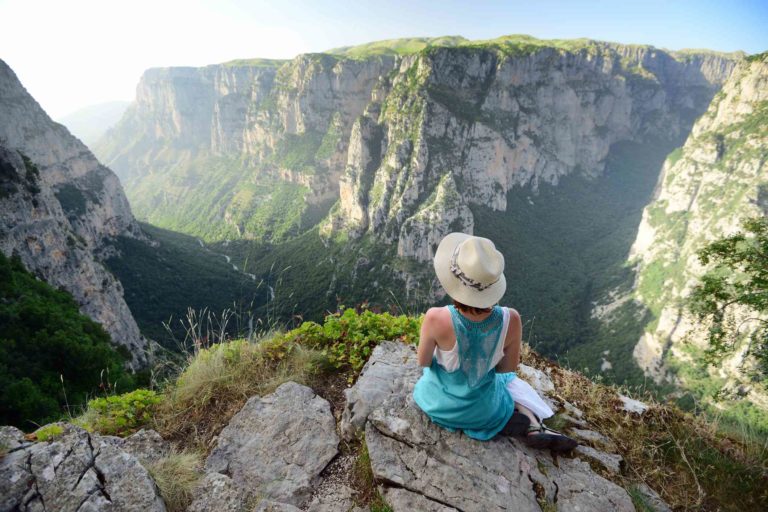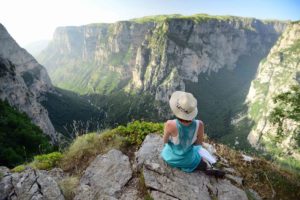 Locating in the Vikos Aoos National Park,  this trail is one of the best ones in Midwestern Greece. And the hikes will take around two to six hours. And this gorge lies on the slope of Mount Tymfi. The trail has 12km, and there are some dangerous points as well. So, be aware of it.
The special features of Vikos Aoos are as follows. When we compare the depth relative to this gorge's width, it has been recorded as the world's deepest canyon by the Guinness Book of World Records. The length is around 20 km, and the wall depth ranges from 120m to 490m. And the width is ranging from 400m to a few meters at its narrowest point. (Best Hikes in Greece)
Best Hikes in Greece: Meteora Monasteries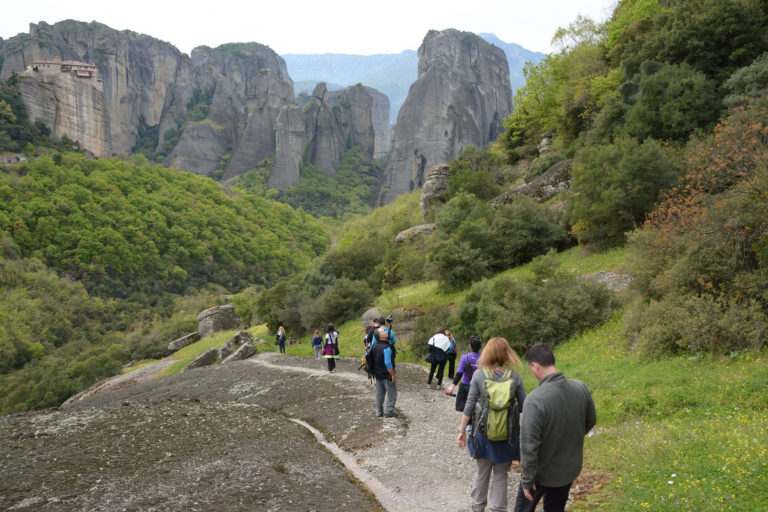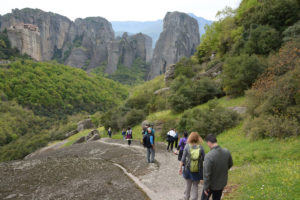 Leaving Athens, by car or train, will bring you to Kalampaka, where Meteora is located. It will take around 4 to 5 hours. And, this is a rock formation based at the foot of the stunning Meteora pinnacles and formed over 60 million years ago by a series of quakes. On top of some of them, you'll find the 11th-century monasteries of Meteora.
As a UNESCO World Heritage site, six out of the original 24 monasteries are still in operation. When women enter those monasteries, they should wear a shawl to wrap around their shoulders or legs; pants are not allowed. But, wrap skirts are available to borrow on entry—also, no shorts for men.
And hiking the region between these monasteries makes spectacular views. It can take approximately four to five hours for the whole trial.
Suggested Reading: Horseshoe Bend Arizona
Parnitha Mountain
You don't need to travel too far from Athens to experience one of the best hikes in Greece. Parnitha Mountain has located just a 50-minute drive outside the capital of Greece. Having Fir and pine forests, it hides over 34 wild mammal species (including deer and boar) and 1,100 recorded plant species in the Mount Parnitha National Park.
You'll also see several monasteries inside the park and the fascinating abandoned Titoi Royal Estate, where many locals come for ruins as a picnic. (Best Hikes in Greece)
Best Hikes in Greece: Halkidiki
Halkidiki is a peninsula in the Balkan country Macedonia nearby Greece. It has the famous Mount Athos with 20 monasteries. Having a variety of landscapes, it has woodlands, olive groves, and wetlands-like things. And there are several trails between the area's villages.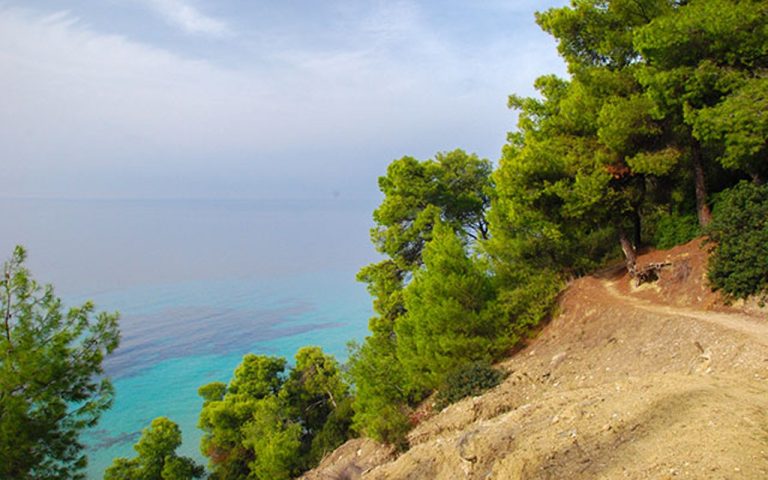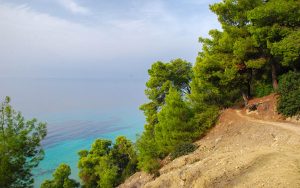 There are around 12 unique and unspoiled natural areas. These can take up to five hours to complete the whole hike.
Keep in mind that the sacred mountain is only accessible to men.
Best Hikes in Greece: Pelion Region
The Pelion peninsula lies halfway between Athens and Thessaloniki. And this is famous for appearing in several beach scenes of  the movie "Mamma Mia." One of the best things to do is hike to the traditional mountain villages. If you want, you can stay in Volos, the main town, if you want to be by the blue sea.
Any hiker can achieve this trail. And it contains rich biodiversity throughout the trail. And also, it is expected to come across churches, monasteries, and ruins as well.
If you travel the villages, you'll find small squares, cafés, and women's cooperatives selling homemade jams and honey. (Best Hikes in Greece)
Mount Parnassus and Delphi
Approximately two and a half hours from Athens by bus or car, you'll come to Mount Parnassus. It is famous for its archeological value of Delphi. Follow the ancient pilgrims' footsteps as you trek the ancient ruins and admire uninterrupted views of the Corinth Gulf.
It's not too steep, but wear hiking boots or sturdy shoes and brings plenty of water, particularly in the summer months.
Best Hikes in Greece