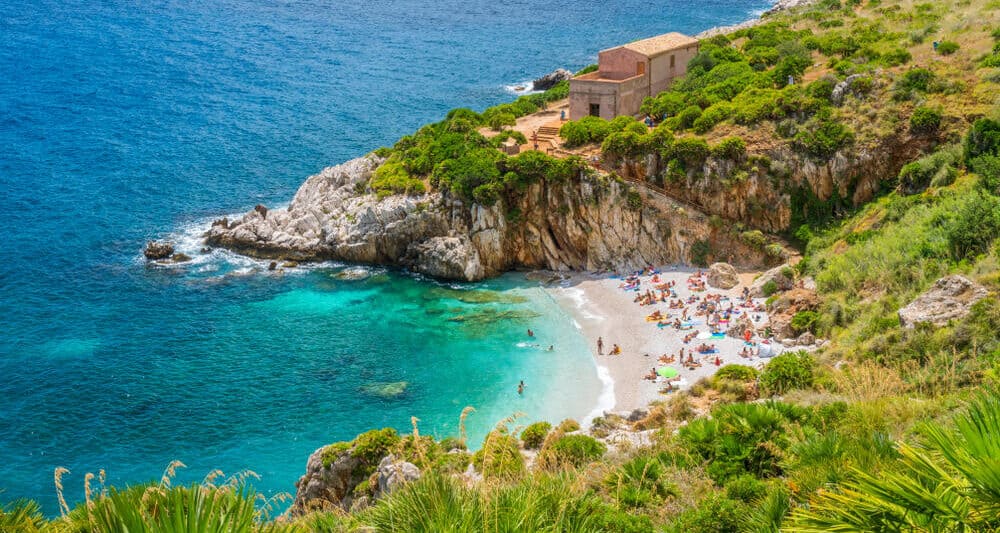 Sicily in Italy is almost like heaven for beach lovers. With over a thousand kilometers of an amazing coastal line, the Best Beaches in Sicily offer you any beach experience in an unforgettable way. This is one of the places you should not miss on your journey to Italy. Crystal blue, clean, and shiny Mediterranean water with golden sandy beaches will make you feel like in a paradise. Here is the ultimate travel guide to Sicily's best beaches with some most asked questions of travelers.
Best Beaches in Sicily
Does Sicily have good beaches?
Of course. Sicily has got the most spectacular sandy beaches in Italy compared with other regions in Italy. The seawater is also not so cold, and the waves are not so rough for nearly six months of the year. Therefore, you can do whatever you want.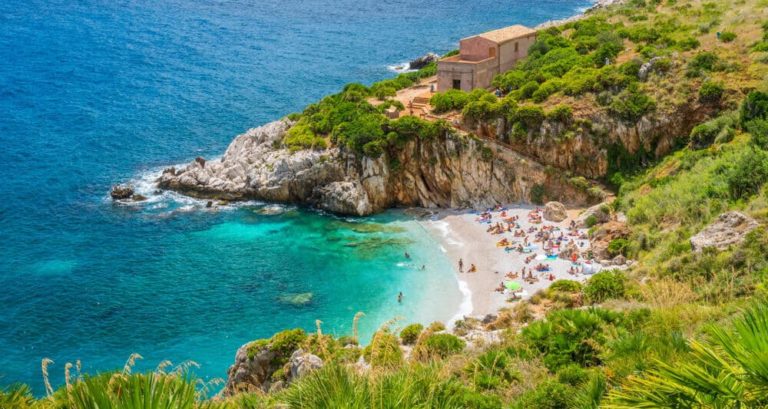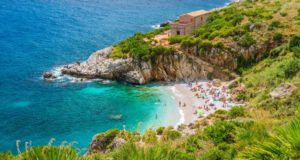 You can swim, dive, fish, boat, walk along the beach, ride bicycles, watch the sunset, discover beautiful coves, and hang out around the amazing beach towns in Sicily. And most importantly, you can have the best seafood from the Sicily beach town restaurants as well.
Planning to visit California?? Just check this: Sea Glass Beach California
Best time to visit Sicily beaches



Sicily offers you complete six months of a hot climate. So, of course, you can travel in summer, late spring, and early fall. Actually, the late spring and early fall are better than the summer since the summer is filled with travelers everywhere.
Best time to visit Sicily beaches: The official Sicily beach travel season starts in June. So, the whole of June is filled with the crowd on all the best beaches in Sicily. Therefore, it is preferred to travel in late May since there are few crowds and the climate is ideal. 
And on the other hand, September and October months are also ideal for visiting the following beaches since there is an optimum climate. The water is not much cool, and the temperature is also not too hot. (Best Beaches in Sicily)
Is Sicily Dangerous for Tourists?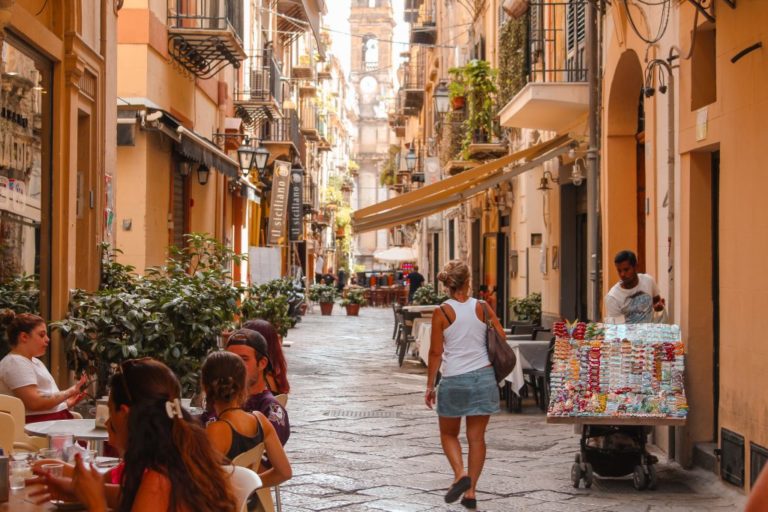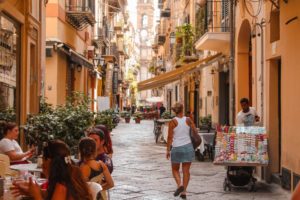 No. Sicily is completely a safe place for tourists. But,  of course, you will have to face the odd petty thieves. That situations are normally happening in any country. So, I recommend you take general protective actions to protect yourself. Like: do not travel alone on sub streets, do not carry valuable things and more money with you while traveling, always keep the emergency numbers in Italy to contact in any case.
In an emergency dial: 112
Local Police, Ambulance and fire: 113
Fire department: 115
Finance Police: 117
Medical Emergency: 118
Forest Fires: 1515
Suggested Reading: Emergency Numbers in Switzerland
Best Beaches in Sicily
As mentioned earlier, Sicily owns some excellent beaches in Italy. Starting from the Tyrrhenian coast in the North to the Southern coast of the Mediterranean and Ionian coast in Eastern Sicily has more than 1000kms of amazing coastline. I suggest you visit the following best beaches in Sicily.
Best Beaches in Sicily:

Cefalu, Palermo



For me, Cefalu is the prettiest town in Italy. Locating on the Tyrrhenian coast, Cefalo's long sandy beach the best beach in Sicily. And this beach is more suitable for a family vacation since it is safe even for kids and all the facilities are there. Therefore, there are so many crowds on the beach in the peak season (mid-June to early September).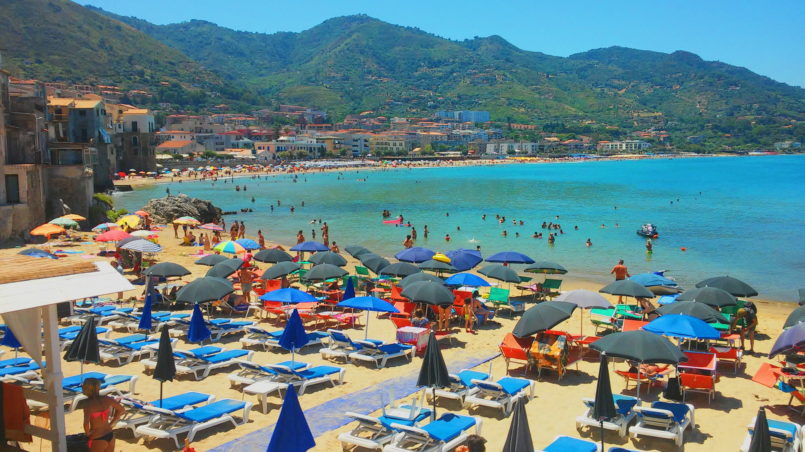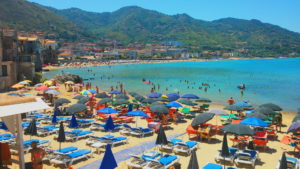 Try the months of either April and May for relaxed and quiet surroundings. Actually, there's no peak season or off-season for this destination. You can visit here year-round. But the thing is to the heavy crowd.
This golden beach is exactly located on the North coast in the east of Palermo. If you hire a car and follow the coastal road of E90, you can get there easily. Or you can take a bus directly to the beach, but it would take some time since there are 75 km.
Once you reach there, you can do anything like having a drink and watch in the blue water, sunbathed, swimming in the sea, playing with kids, boats, and many more. But do not forget to bring sunscreen and more water to drink. And once you are done with the beach, visit the historical Norman Cathedral filled with Norman architecture's beauty.
Torre Salsa: Sea Turtle Territory



This is a nature reserve beach. And this beach is handled by the World Wide Fund for Nature, specifically trying to save the falcons and loggerhead sea turtles that are frequently breeding here. If you want to work as a volunteer in saving sea turtles like Francesco Galia, who won many international awards for his honorable service with WWF, then you can join the programs in Torre Salsa.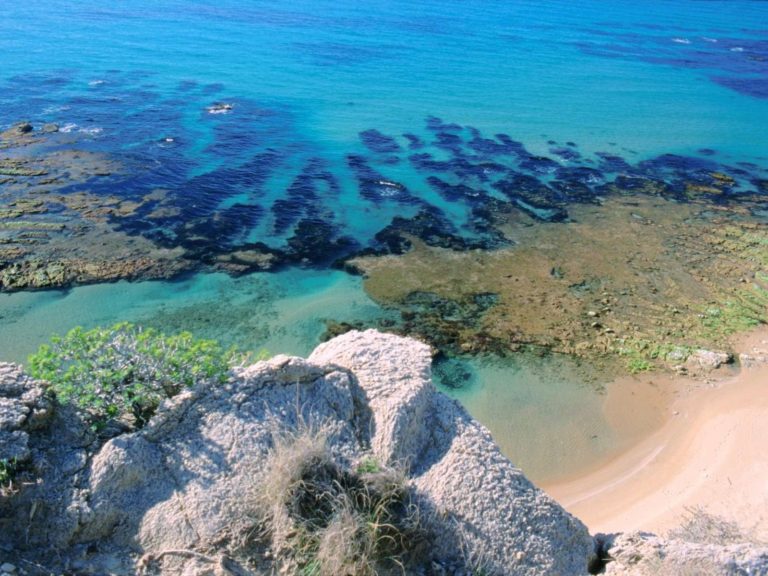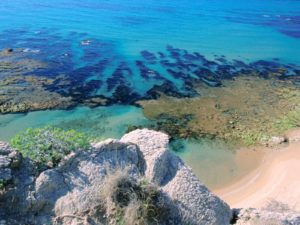 Although this beach is not famous among tourists and having no such facilities, it is naturally beautiful with blue ocean water and purple wild orchids on the beach. (Best Beaches in Sicily)
Best Beaches in Sicily: Mondello



Modello is always on the top of the list of the most popular and facilitated beaches in Sicily. The major reason behind this popularity is; it is located just 20 min away (20Kms) from the town, Palermo. And the next reason is the unbeatable beauty of its golden sandy beach.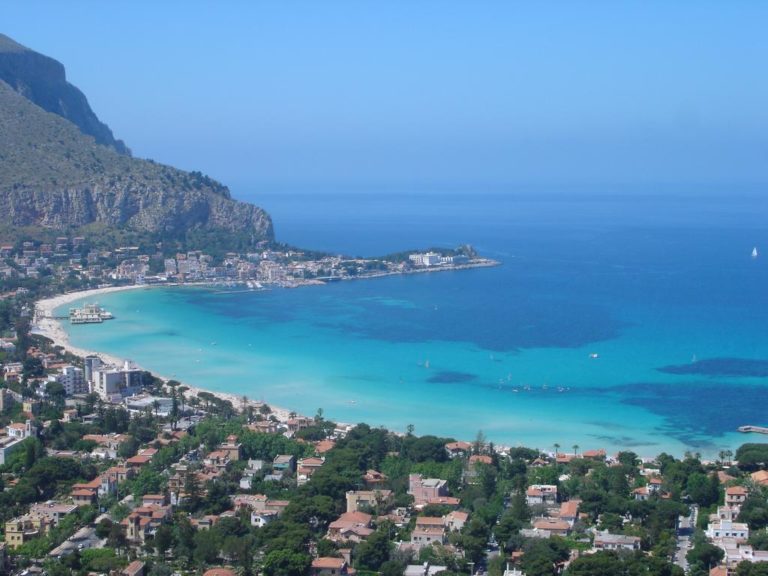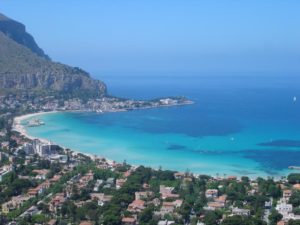 As usual, the summer attracts more crowds to this unique beach. So, I recommend you visit there in April, May, September, and October as there's less crowd and the weather is just awesome.
Best Beaches in Sicily: Lo Zingaro
Lo Zingaro beach is situated in the Lo Zingaro Nature Reserve. This destination is more famous for its amazing caves and coves. You can discover all the amazing grottos and coves if you visit here. Do not forget to bring some real tasty Italian food to the beach and have it while watching the beautiful surrounding. For me, the whole trail to Lo Zingaro beach through the nature reserve was unforgettable with its amazing views.
Best Beaches in Sicily: Calamosche
Calamosche is one of the best and undisturbed and uncrowded beaches in Sicily, located near a nature reserve in South Syracuse. And this is like heaven for swimmers and snorkelers. There's no crowd in this hidden beauty of Sicily; I recommend you visit in the summertime (June, July, and August).
You can get access to the beach only by a car near the nature reserve and then walk to the beach. Keep in mind to check for the parking restrictions since there's a nature reserve. And on the other hand, do not forget to take your food, sandals, and other beach items with you since there are no such facilities. (Best Beaches in Sicily)
Best Beaches in Sicily: Sampieri
Sampieri is also an unspoiled and fabulous beach in Sicily. If you are looking for a perfect beach with fewer crowds and a lot of space, this is ideal. This is especially suitable for a family vacation since the beach is very safe and has shallow, clean, and gentle water.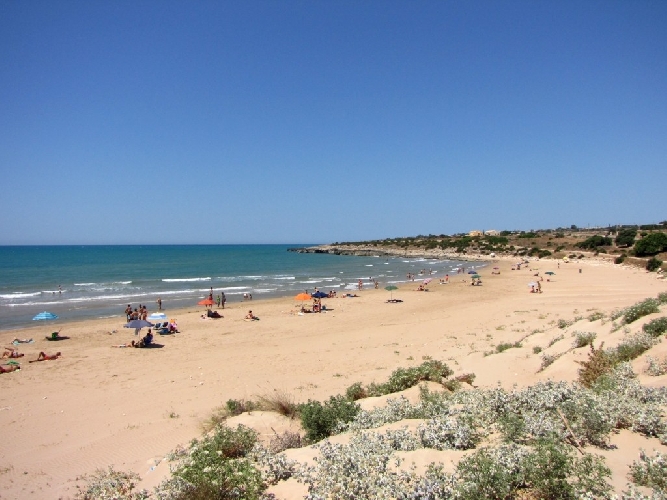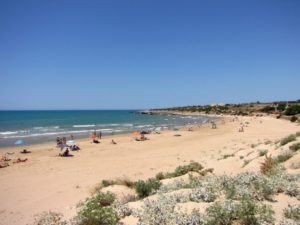 Since Sicily has a temperate climate year-round, you can visit Sampieri anytime. But if you want a little cool-climate walk along the beach, then visit in late October and November. Or if you want a warm climate to have fun on the beach, then visit in March and April.
Actually, Sampieri is a South Italian fishing village located on the south side, Ragusa and Modica (small fishing villages). But you can easily access there in your car and find the ideal place for you.
Best Beaches in Sicily: Isola Bella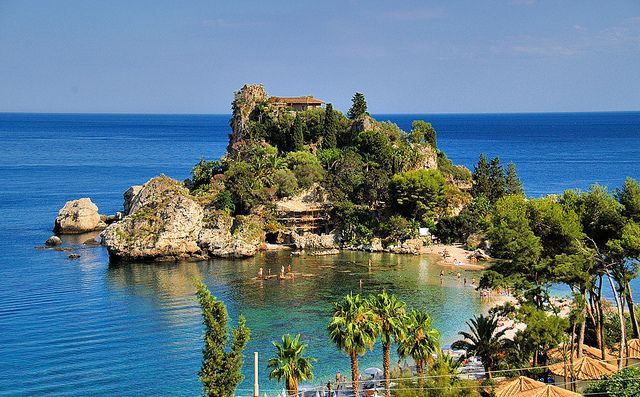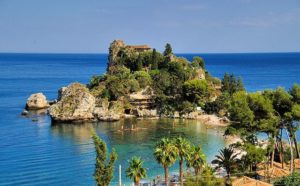 The beautiful cove Isola Bella is filled with the crowd in the summertime. But in the evenings, most Italian families and tourists are dispersed, and you can own this cove. And this is ideal for snorkeling since the water is very clear to see any fish and underwater rock formations. (Best Beaches in Sicily)
Best Beaches in Sicily: The Aeolian Islands
This is an island on an island. Yes, it is located in such a beautiful place off Sicily's northern coast. If you hire a motorboat and reach the Aeolian Islands, you may see crystal clear blue water, stunning bays, and coves. And this is a perfect beach for swimmers and snorkelers. Actually, this place suits a small adventure tour—even ideal for spending a night on the island. There's no much beach area, but it is full of breathtaking views and experiences.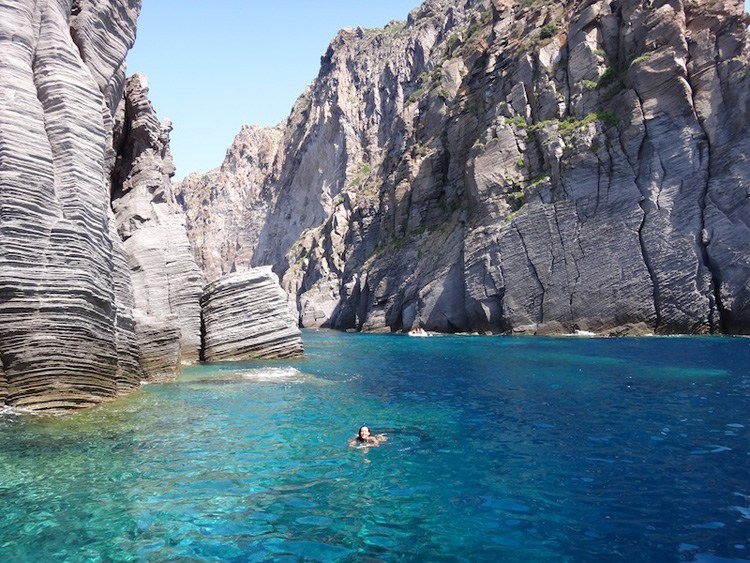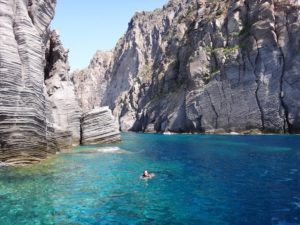 The ideal time to get the best experience is July and August. Then, you will get clear access to the island. The climate is just superb. Even in October and November, the climate is not so bad, and you can visit without any trouble. But I recommend you to visit in the summer since there's no problem with the crowd.
Aeolian Island is located on the north side of Patti and Milazzo's towns, which means off the northeast coast of Sicily. You need a small boat ride (ferry or hydrofoil) into the Mediterranean from Milazzo, and it will take around one hour to reach the island. Do not forget to take the things you want for a night camp. (Best Beaches in Sicily)
Suggested Reading: Florida Springs Camping
Best Beaches in Sicily: San Vito Lo Capo
This is also one of the best beaches in Italy and very popular among Italian families. This is a year-round destination with more crowds in the summertime (June to September). But to escape from too many crowds, just visit in the wintertime (December to February).
To reach there, you can take the bus route of SP16 and reach San Vito Lo Capo. But to travel around here, you will need your own transport way. I suggest you arrange an artistic photoshoot here. The picturesque environment is even more suitable for a wedding photoshoot.
The local cuisines here are very famous, and do not miss this Italian food festival in San Vito Lo Capo called La 23 Edizione Del Cous Cous Fest in 2020 September.
Turkish Steps near Agrigento:

Scala del Turchi
When you drive to Agrigento on the coastal road, and when getting near to Agrigento, you will find an amazing white rock formation. It is called Scala Dei Turchi. Walking on that rock is just like a moonwalk. And at the bottom of the rock, there's a long sandy beach that is soft and golden.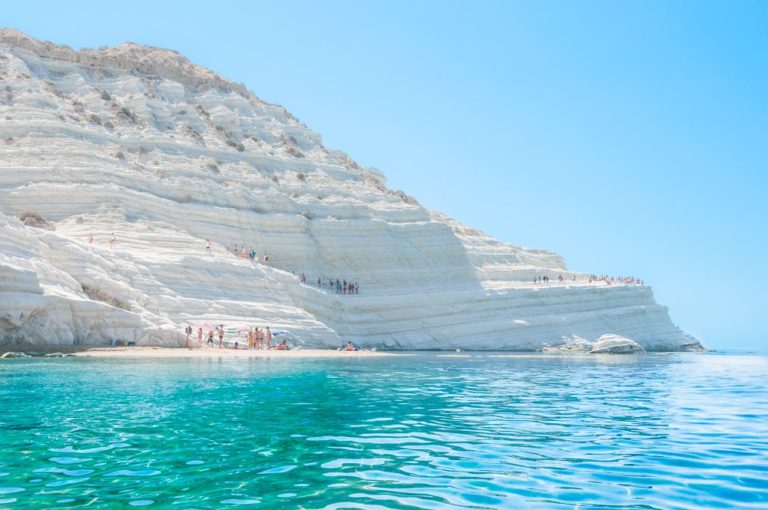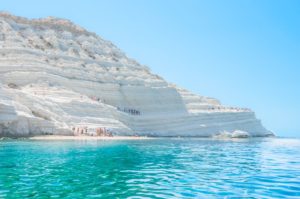 I suggest you climb to the top (don't worry, there are naturally formed rock steps) of the rock and get a full view of crystal blue ocean water, white color rock, and a golden beach. It surely gives amazing photos to your camera. (Best Beaches in Sicily)
Best Beaches in Sicily: San Lorenzo
The famous San Lorenzo beach is located 10 minutes away from Noto and just next to Vendicari Nature Reserve. Since this one is more beautiful and famous, there's a huge attraction among locals and tourists in the summer. And also, all the beach facilities are there on the beach like food and other beach items. On the other hand, do not forget to visit the Planeta Buonivini Vineyard just five minutes away from the beach as you can taste the world's best wine there.
Best Beaches in Sicily: Spiaggia de Coniglio
Most people consider this remote beach as one of the most beautiful hidden beaches in the world. So, obviously, this is one of the best beaches in Sicily. Hence it has such beauty that access to the beach is not so easy. You can use a ferry ride, flight tour, or hike through a tough trail. Actually, this remote beach is located on Lampedusa island. No need to get hesitant about the views and beauty of this beach. Trust me; it is just amazing.
Where should I stay in Sicily?
Apart from the best beaches, Sicily is more famous for its stunning countryside, unique culture, food, history, and Etna volcano. And also, there are plenty of amazing places to stay in Sicily with good views.
Palermo is on the top of the list. Following Catania, Syracuse, Taormina, Trapani, and Cefalu are ideal towns to stay in Sicily.
I recommend you stay in Taormina or Palermo in Sicily since they are very tourist towns and have all the facilities. On the other hand, you have access to any special place (like Best Beaches in Sicily) in Sicily from Taormina and Palermo.
Here are the best hotels to stay in Taormina, Sicily. Just check and book.