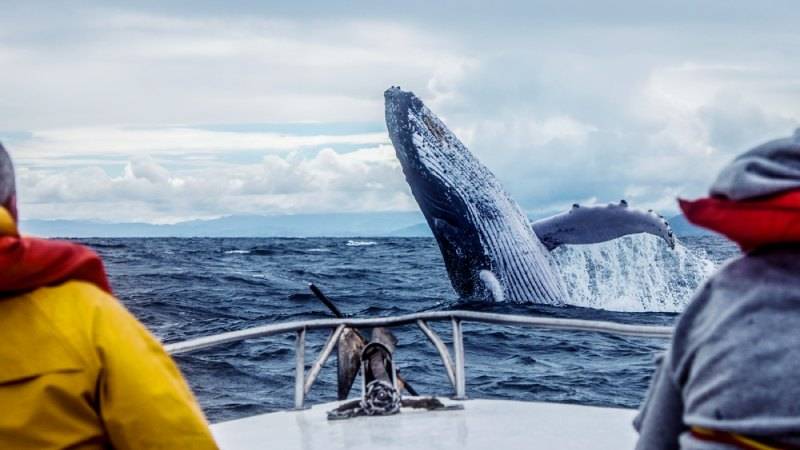 Humpback Whales Watching
Humpback whales (Megaptera novaeangliae) can be considered the most popular whales among whale watchers. There are several reasons behind that. The first reason is that their annual migration pattern is well known, and anyone can easily see them. We can certainly meet them at a certain place for sure. And the second reason is that they are perfect entertainers, acrobats, fantastic singers, and impressive hunters. So, it is worth finding the best places for humpback whales watching in the world.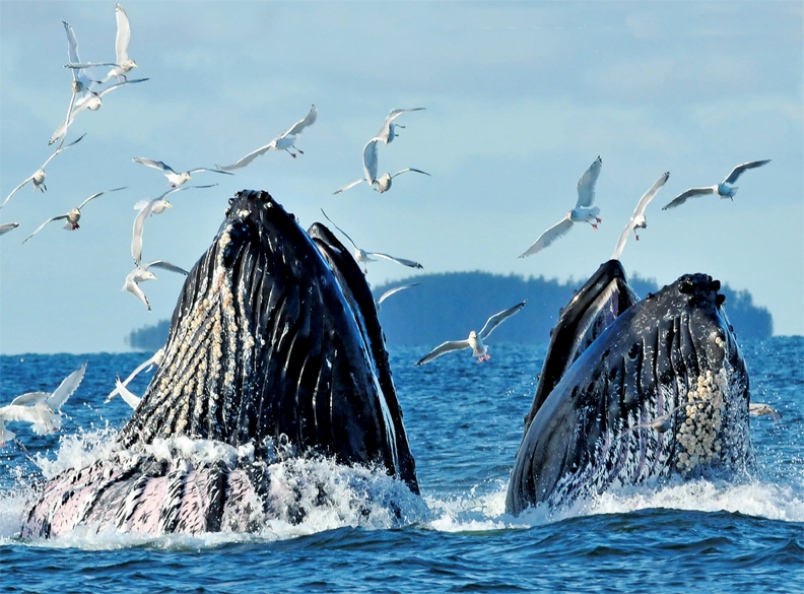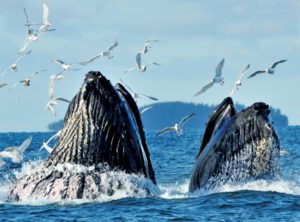 Not like others, these whales are very curious about their visitors on boats. They come closer to visitors and show their colors for them. And they always like to breach and hurl their heavy bodies through the air and sea in an amazing way. The visitors even can see their full-body before crashed back to the sea. Therefore, whale watchers are dying to see humpback whales.
There are many places to see these amazing, giant creatures. And also there are frequent chances to swim with them as well. If I mention their scientific name's meaning, Megaptera refers to their large pectoral fins, which are the largest limbs of any creature in nature. And they were given the second part of their name in New England. As mentioned earlier, they can sing or make amazing sounds underwater. That scientifically says that they are communicating to find a mate for reproduction or to mark their territory.
Further, their life pattern proves that they are migratory animals. In polar summer, they live in there and feed on plankton and small fish. But when the temperature decreases eventually, they migrate to the tropical seas to mate and breed. And in tropical seas, you can easily see them and even dive with them. When humpback whales dive, they almost always lift their fluke, unique in shape and color. And with the help of photo comparisons and with a little practice, you can tell by bending the hump whether the whale is about to lift the fluke or not.
Humpback Whales Singing
We already know the Humpbacks are good singers. So, this is about that special feature of them. You can hear them through plenty of recorded tracks or on Spotify. And they are considered the longest and most complex vocalizations in the whole fauna world. The tracks include some verses of whistling, squeaking sounds, and sonorous calls in a certain order.
Actually, these songs are sung repeatedly for many days and again every year with some changes. And also, the songs last for nearly 30 minutes at one time. When one starts to sing, the fellows start to adopt and follow.
And most importantly, only and mostly the male humpbacks sing in tropical seas to find a mate for reproduction during the mating season. And they normally do that while standing on water headfirst. One more important thing is that humpbacks can communicate with each other from long distances like hundreds and thousands of kilometers.
Humpback's Unique Feeding Technique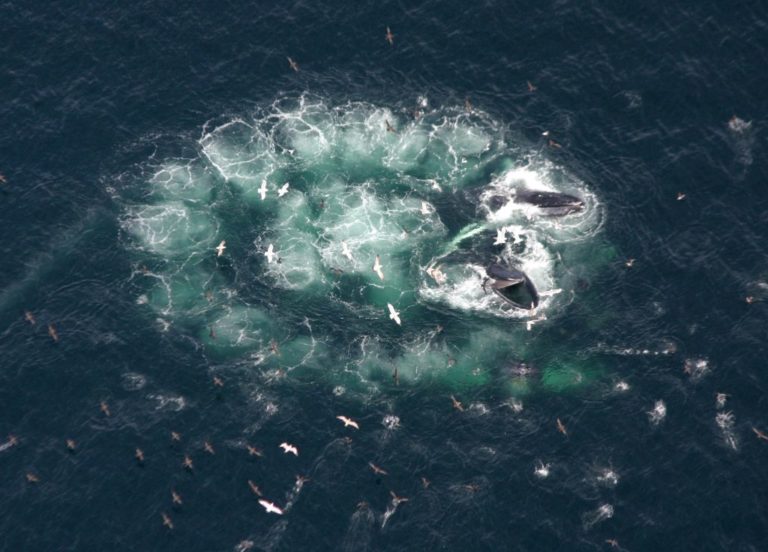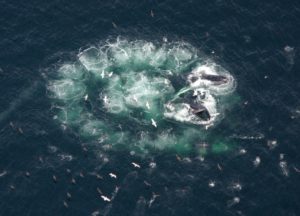 Their feeding technique is said to be unique. It can be called the "bubble net-feeding." They start it with one or several whales closing in on fish swarms in circles, trapping it in a wall of air bubbles. Then the others shoot through the swarm and swallow hundreds of fishes at once. And when we observe the bubble feeding from the surface, first display a big circle of bubbles, quickly followed by the first panicking fish, which is pushed to the surface.
If you see this or happen to see this, keep the distance and stay away as these are giant creatures. But, humpbacks are intelligent and know well to treat the visitors in boats. Actually, they are well aware of their size and stay away from boats at sufficient distances.
Best Places for Humpback Whales Watching 
The following places are the best places to see humpback whales' natural habitat and even swim with them. (But keep in mind, scuba diving is not recommended with humpbacks for safety reasons)
Reykjavík and Húsavík, Iceland: Best Places for Humpback Whales Watching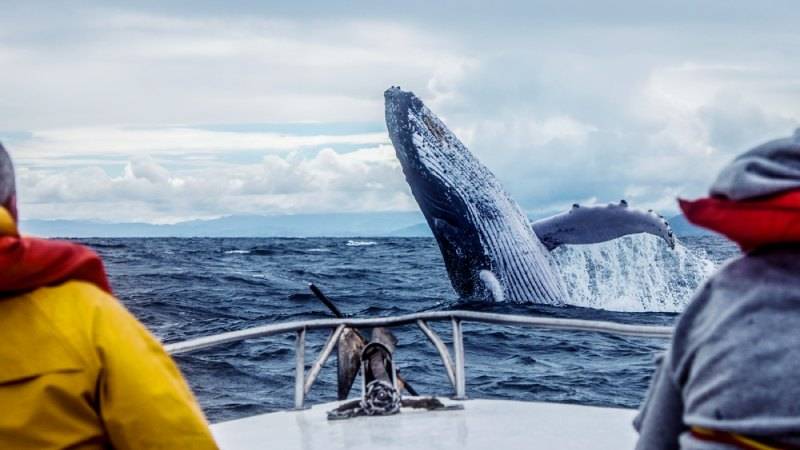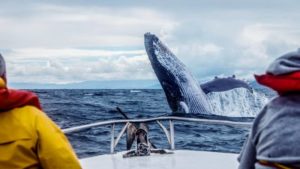 The high season starts from May to August. This place is ideal to see humpbacks, minkes, white-beaked dolphins, orcas, and harbor porpoises. Depending on the weather, the tours normally start at 9 am, 1 pm, and 5 pm with running year-round tours. And it will take around 3 hours to reach the excursion.
Tonga, Polynesia: Best Places for Humpback Whales Watching and swimming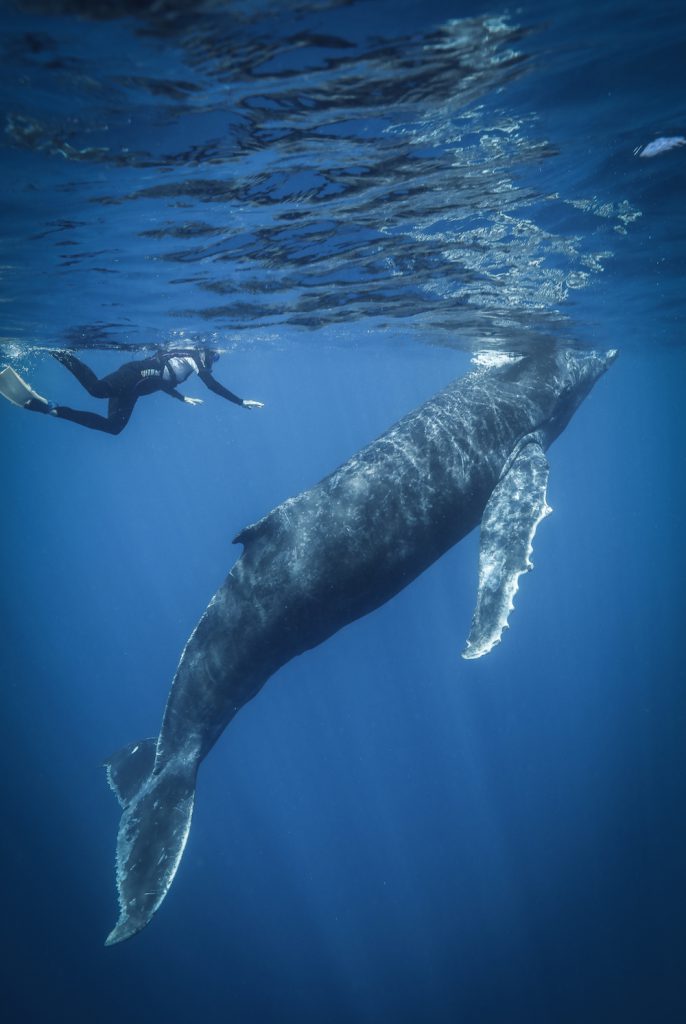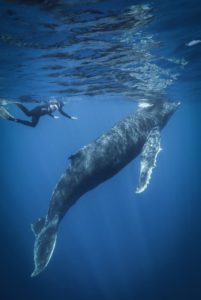 Polinesia is the ideal place to see and swim with humpbacks. Especially, this tour will take you around a few days while spending on the beautiful island of Polynesia. The Tonga whale watching tours start at 9 am daily and searches for humpback whales and their breeding areas. If you can swim, they will allow you and 2 other fellows with a local guide to swimming with these giant creatures. Try to plan your tour between the end of August to early October.   And keep in mind, to avoid the disturbance for their natural living.
Baja California Sur, Mexico
The aquarium of Mexico or the Sea of Cortez is considered one of the world's most beautiful seas. And also, it has a large variety of biodiversity, so-called the aquarium of Mexico. This will take you a half-day whale tour a few hundred meters away from the coast. Then, you can catch humpbacks and many kinds of marine creatures easily. Especially, from December to April is the ideal time to tour since the whales breed and give birth.
Silver Bank, Dominican Republic: best places for swimming with humpbacks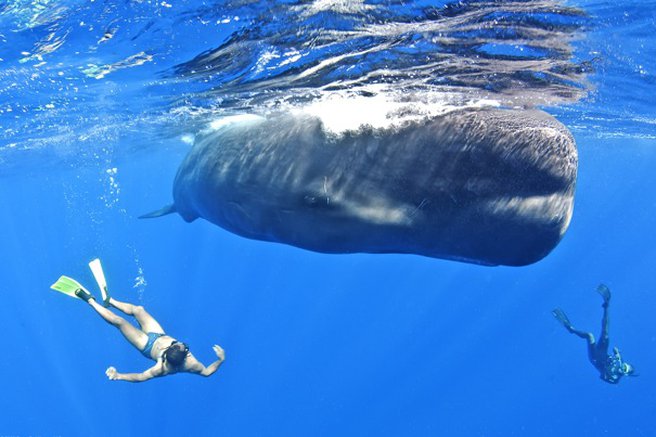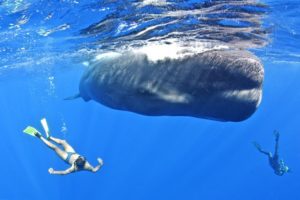 Silver Bank is a heavenly place to see a large number of humpback whales in the Atlantic Ocean. The reports say that around 7000 whales are gathering to give birth and breed from January to March. I know, it sounds great. But, the thing is that the Silver Bank is a submerged bank in the Atlantic Ocean, there's no particular place to stay.
So, you need to hire a liveaboard vessel and stay there for around a week and get a small boat to reach the whales. It is worth doing that as the Silver Banks is the only place in the world where you can snorkel with humpbacks.
Pacific Coast, Columbia
Pacific Coast, Columbia is also one of the best places to see humpback whale watching in the world. Starting from June to October, both the southern and northern whale populations are coming to this tropical water for their breeding. This destination's special feature is that you can even see the whales by staying on the beach. Bahia Malaga, Nuqui, Buenaventura, Tumaco, and Gorgona National Park are the ideal places to see the whales in the Pacific Coast, Columbia. And if you want to see them closer, take a boat and ride with a local guide.
Hermanus, Western Cape, South Africa
Starting from August to November, you can visit here for whale watching. The boats are allowed to approach up to 50 meters by the authority. Then, all decisions are on the whales' if they like to come near boats or disappear in the deep sea.
Reunion Island in the Indian ocean: best places for swimming with humpbacks
Reunion island is another great location where you can swim with humpbacks. Actually, plenty of whales migrate to this tropical seawater to give birth and reproduce from Antarctica. And you can either see by riding a boat, or you are allowed to swim with them.
And as always, the maximum number of people who can swim at one time is 4 (The code of conduct). This place is more famous for taking underwater photographs with whales as well. And mid-August to mid-September is the ideal period to travel.
Kaikoura, South Island, New Zealand
Kaikoura is an amazing city on the South Island of New Zealand where the mountains and sea views mix. Apart from those nice natural views, Kaikoura is also famous for whale watching as well. Year-round tours are available for whale watching, while humpback whales are available in the migration period from June to July. Sperm whales and groups of dolphins are very frequent here.
Bahia De Bandera, Mexico
Bahia is famous as the second-largest bay in Mexico and the mountain views of Sierra Madre del Sur. And from December to April, humpbacks are attracting here for breeding. You can see they are breaching even while standing on the beach. But, if you take a boat and go close to them with a guide, you can take close photos and see their natural behavior.
Disko Bay, Greenland
Yes, you are correct. Disko Bay water is so cold. Therefore this cold water is home to more than 15 species of whales. They can be seen mostly in winter, and they include narwhals, beluga, and bowhead whales. But in the summertime, you can even see humpback whales, minke whales, and fin whales as well. If you plan the tour from June to August, you will definitely find whales.
Hervey Bay, Australia
The whale watching tours in Hervey Bay, Australia, start from mid-July and offer until October. This is also a certain place to see any whale since their migrating route is held through this bay to Antarctica. Additionally, the boats have the facility of headphones to hear the songs of whales as well.
Maui, Hawaii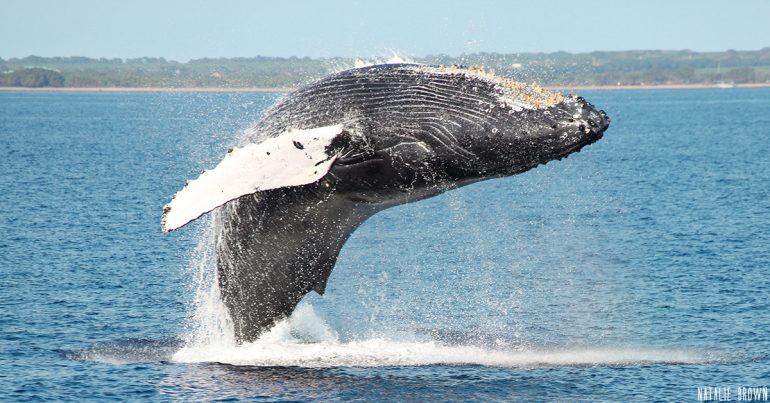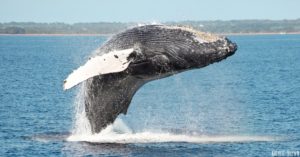 The major reason to attract more tourists for whale watching in Maui, Hawaii, is that it is certain on whales, and the water is crystal clear take photos. Starting from mid-January to early April, whales are coming here, and you can even watch them from the beach. But it is better to ride a boat or kayak to get a real adventure.
Glacier Bay, Alaska
It is so amazing. Glacier Bay tours are organized twice a day in the morning and the early afternoon. Here, it happens the upside-down story of humpbacks. They come all the way from the warm waters of Hawaii after their breeding to find food in Glacier Bay, Alaska. Actually, this cold water is very rich in food for whales. So, they gain energy for several months by staying for the next migration journey. The same story happens in Wilhelmina Bay, Antarctic Peninsula as well. Another place that can be highlighted in Alaska to watch whales is Prince of Wales Island.
Marino Ballena National Park, Costa Rica
This place in Costa Rica in Central America is a full natural package for a year-round whale watching experience. You can see the whales coming from the Northern hemisphere from December to March while the comers from the south from early July to late October.   Even Isla Ballena (Whale Island) offers you whale and dolphin watching chances.
Best Places for Humpback Whales Watching
Did you enjoy the post? Just pin it for later.