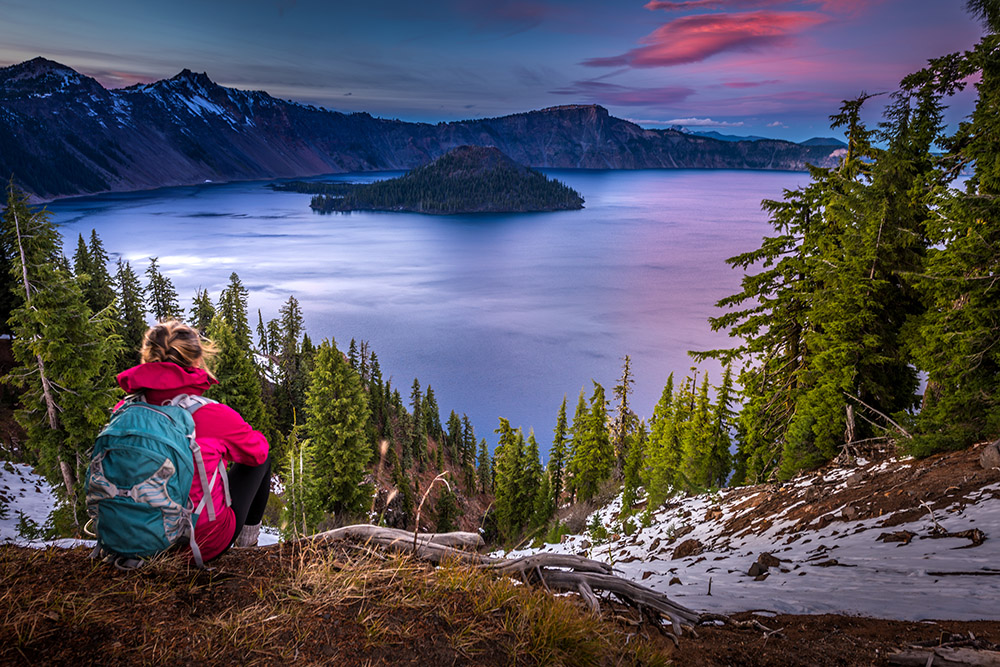 I know that Crater Lake Camping or Crater Lake National Park is not as famous as other national parks in the US like Grand Canyon, Yellowstone, and Zion. But, once you visit there, you will realize what a calm and secluded place is this.
As it is the only National Park in Oregon, it is like a gem to the region. Impressive lake views surrounded by the snow-capped Cascade Mountains, great campgrounds, and plenty of adventure opportunities are the highlights in this national park.
It was one of the best and majestic opportunities in my life to escape from the busy office life. Ok, here's the guide for camping in Crater Lake National Park. (Crater Lake Camping)
Crater Lake Camping  
Is it worth visiting Crater Lake National Park?
Well, I will give you the reasons to prove that it is totally worth planning a camp tour, road trip, or an adventure tour in Crater Lake National Park in Oregon, USA. 
The most highlighted thing is, it offers amazing panoramic views. The crater rim is located around 7000 feet above sea level. And also, it is surrounded by the peaks of Cascade Mountain Range. So, it looks like a fairy tale location. On the north, you can see the sharp peak of Mount Thielsen.
You may see the Klamath Falls, its flatlands, and the shining Upper Klamath Lake on the south side. Westside shows you the lush rolling hills spread up to the Pacific Ocean. I think it explains how beautiful this place is.  
The gorgeous lake Crater Lake is the next reason to visit there. If you can visit there early in the morning, you can see the lake's best version with calm blue water. In the day time, the wind makes ripples on the lake and shows another beauty. I like the early morning version.
There are 2 visible islands in the Crater National Park. The largest and most prominent one is Wizard Island. And the other one is Phantom Ship Island. Wizard Island offers you great hiking trails while the Phantom Ship is inaccessible. But, you can see the island's unique ghost ship-like shape in the distance. 
And this park offers you so many travel experiences. Like, great sunrise and sunset views, clear skies for stargazing, Crater Lake camping opportunities, great hiking trails, boat rides to the islands, road trips, and many more. 
So, do you need any other reason? I hope not. These points clearly explain that Crater Lake is totally worth visiting. (Crater Lake Camping)     
Suggested Reading: White Sands National Park Travel Guide
Where's Crater Lake National Park Located?
As I mentioned earlier, it is located in southern Oregon (in the western part of the US). The nearest commercial city is Portland, and it is around 400km away from Crater Lake National Park. That means it is a 4 and a half hours drive. Also, there are some smaller towns nearby the parks as well. Like Klamath is 1 and a half hours away while Eugene is 2 and a half hours away. 
Suggested Reading: Emerald Bay in Lake Tahoe Guide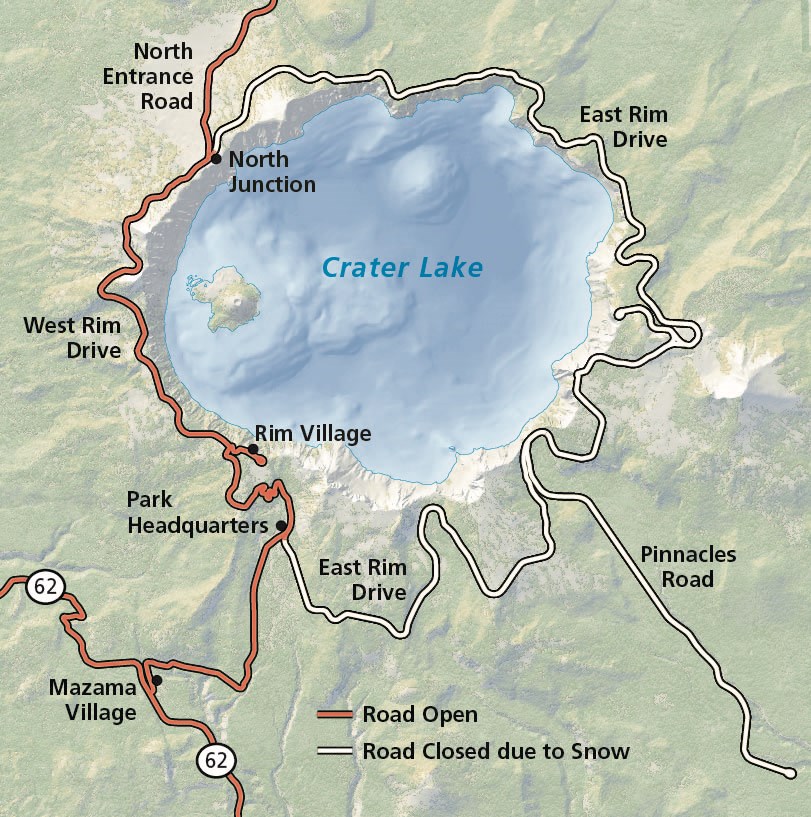 Getting to Crater Lake National Park
If you have a question on how to reach this paradise, well, here's the way. You can fly and then drive. To fly, catch a flight to Rogue Valley International-Medford Airport. The airport is located around 5km away from Medford City and 130km away to the south side of Crater Lake National Park.
See the above map for the exact location. There are several direct flights from and to this airport, like San Francisco, Los Angeles, Denver, San Diego, Salt Lake City, etc. Check their website through the above link.
Then, drive there, experiencing the scenic views on the way. If you are starting from Medford, that means you will access the park from its western entrance. Just take the HIghway 62 East, and within 1 and a half hours, you can reach the park.

Or if you are coming from Klamath Falls, then take the Highway 97 North to Highway 62 West to enter the park on its southern entrance. The drive will take around 1 and a half hours. (Crater Lake Camping)
If you start from Eugene, then take the Interstate 5 South to Highway 58 to Highway 97 South to Highway 138 West. Oh, yes. It is quite long and will take around 3 hours. And offers you the entrance to the park from the South Entrance.
The South and West entrances are open throughout the year, while the North entrance is closed in the winter. (November to June)
The next unique option to reach the Crater Lake National Park is to catch the train, Crater Lake Trolley. It takes you to the Rim Village in the National Park from Amtrack Station in Klamath Falls. But the train runs only from late June to early October.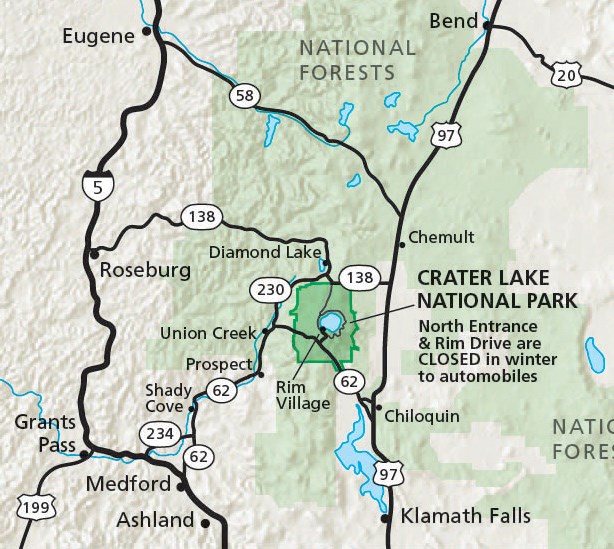 Facts about Crater Lake National Park



The nickname of Crater Lake National Park is "Lake Majesty." 
This is the 5th oldest national park in the US; this was established in 1902.
This lake was born as a result of a cataclysmic volcanic eruption. You may think, how did a mountain become a lake as it was a mountain peak before the volcanic eruption. Yeah, that is the amazing of our mother nature. 7700 years ago, this volcano, Mazama (12000 feet tall), erupted and created the deepest lake in the US, having 1943 feet of depth. And the maximum diameter is around 10km, while the minimum is around 7km.

So, the lake holds around 5 trillion gallons of water.
The tallest point on the rim is 1978 feet above the lake, while the lowest point is 507 feet above the lake.

The water in this lake has a unique blue color, and also the lake considers as one of the cleanest and clearest lakes in the world. Because its water sources are purely natural (rain and mountain snow). Therefore, no sediments and other mineral deposits. That is the reason behind its clarity and the unique blue color. You can swim only in designated areas. 
Getting around 43 feet annual snowfall, this is one of the snowiest places in the US. So, it offers many snow fun activities. (Crater Lake Camping)  
The rim road offers you more than 30 scenic pullouts.
Cont… (Crater Lake Camping)
Crater Lake National Park has four forest zones. They are amazing and old-growth forest systems like a lodgepole pine forest, ponderosa pine forest, whitebark pine zone, and mountain hemlocks zone. Do not forget to visit them while Crater Lake camping and hiking.
Suggested reading: Traveler Guide to South Island in New Zealand
This place is an amazing wildlife viewing destination.
This is a great place for stargazing as it is located in higher elevations. So, Crater Lake night camping is one of the best things to do there. 
Usually, there are wildfires in the summer. The ecosystems around the lake are adapted to those fires.
The most surprising fact about Crater Lake is that no one knows where the water of this lake goes. Because there are no other outlets that flow outside the lake, that means no connection between other water sources. And its precipitation rate is twice higher than the evaporation rate. So, how it balances?.
Scientists say that there's a steady seepage in which water seeps out the lake's walls at a rate of 2 million gallons per hour. But, still, nobody could discover where does this huge amount of water go?
Best time to visit Crater Lake National Park
As I mentioned earlier, Crater Lake National Park is open year-round. Due to the heaviest snowfall, most of the time, the roads and trails are closed.
The most popular or the best months of the year to visit the Crater Lake National Park are July, August, and September. In these months, all the roads, trails and facilities are opened. Yes, you guessed correctly. It is the summertime at the park.
May and June are the months that offer the park to get ready for the summer after heavy snowfalls (the transition period). But, visiting Crater Lake in May and June will be a unique experience as you will be able to enjoy the snow activities and stunning snow views. (Crater Lake Camping)
Best time for Crater Lake Camping
This place is like heaven for camping. And the best time for Crater Lake Camping is the summer months (July, August, and September. The other seasons (late fall, winter, and spring) are getting heavy snowfall and very cold. Even in the summer or early fall, do not forget to pack your warm clothes to avoid the cold as the temperature varies between 4°C to 25°C.

Suggested Reading: Best Florida Springs Camping

Things to know before Crater Lake Camping
There are 2 campgrounds in Crater Lake National Park. They are Mazama Village Campground and Lost Creek Campground. But, these are not opened year-round due to the snowy climate. So, as I mentioned earlier, these campgrounds are opened for reservations from July to September.
In Mazama, RVs and generators are also allowed. But not in Lost Creek.
You are allowed to visit with a maximum of 6 people, 2 vehicles and 2 tents.
Wood and charcoal fires are also allowed on the campgrounds. You should check whether there are any fire danger alerts (Due to the park's forest fires). If there's such an alert, do not try it. And all the firewood must be "Approved Pacific Northwest Firewood." So do not transport the firewood. Just burn it where you buy it. (Crater Lake Camping)
Do not leave anything when you leave the campground. Take every food and utensils out with you.
What to pack for

Crater Lake Camping
These are the things you should pack for Crater Lake camping.
A lighted tent, A sleeping bag, a sleeping pad or air mattress, a camping stove (if you do not like for campfires), cookware, a biodegradable dish soap, and a camp lantern are the essentials. You can add some more like hiking and photography equipment.
Crater Lake Camping Reservations
Crater Lake Camping reservations are not tough and difficult compared with the other national parks in the US. So, no need to book a year before. And only Mazama Campground takes the reservations. You can reserve it over the phone (866-292-6720) or online. Only 75% of the campground can be reserved, and the other parts are reserved on a first-come, first-served basis.
Lost Creek campground doesn't have any reservations. It follows the first-come, first-served basis. (Crater Lake Camping)

Best Campgrounds in Cater Lake
Both campgrounds (Mazama and Lost Creek) are located at 6000 feet in elevation. That means you must expect to have a significant amount of snow on these campgrounds annually. So, they are opened seasonally.
Crater Lake Camping: Lost Creek Campground
There are around 16 tents, only campsites in Lost Creek Campground. Normally it opens from early July to Mid October (may change due to weather changes). Compared with Mazama, there are not many facilities here. But, flushed toilets are there. (Crater Lake Camping)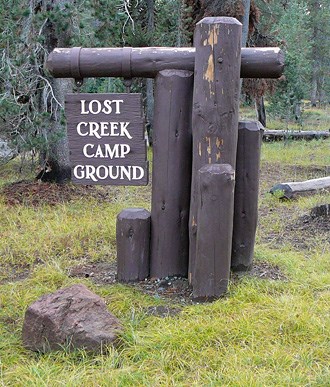 And the rate is also very low ($5 per night). One more important thing is generators are prohibited in Lost Creek Campground.
Suggested Reading: Wadi Rum in Jordan Camping
Crater Lake Camping:

Mazama Campground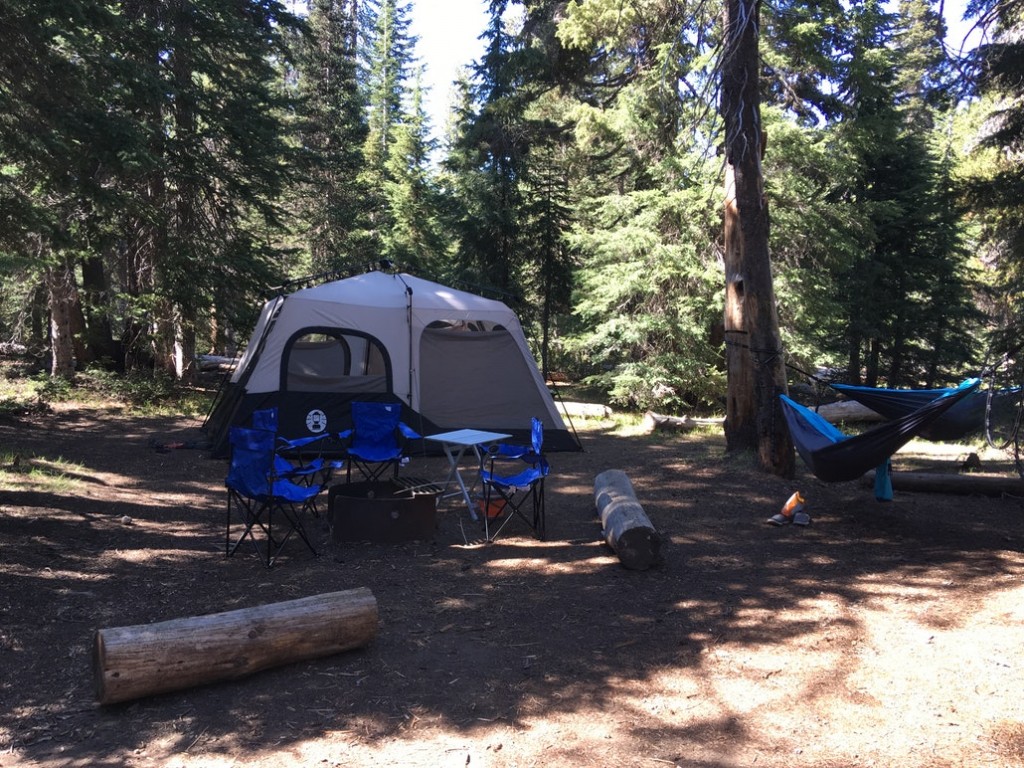 Mazama Campground is located just 7 miles south of the Rim Village and Crater Lake. It is the main campground of Crater Lake, having around 214 campsites with most of the amenities. And it is open from the mid of June till late September. But, sometimes these time periods are changed due to bad weather.
I highly recommend you reserve a campsite through the above-mentioned link or the above phone number. It will surely offer the chance to get the most beautiful site with all the facilities. (Crater Lake Camping)

Mazama Campground Map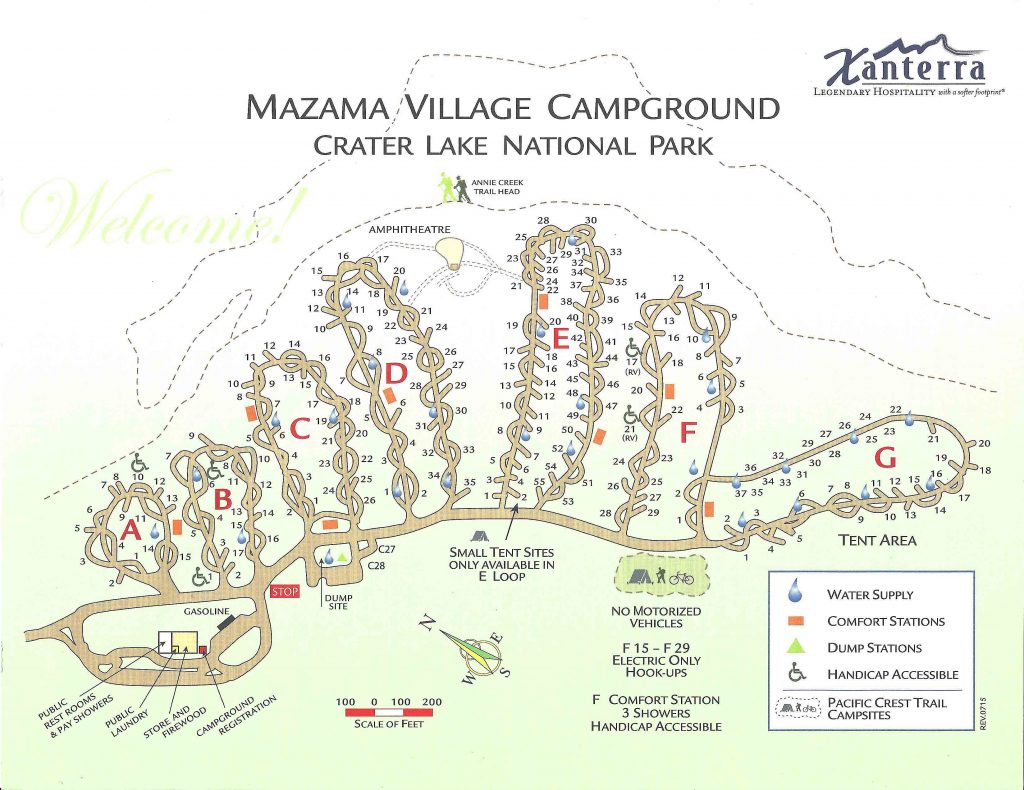 The current rates are as follows.
Walk-in campsites: $5
Tent sites: $21 (most of the sites are tent sites)
RV-no hookups: $32
RV-full hookups: $43 (only F loop's F15 and F29 has 15 electrical hookups. And if you need to know more about RV- electrical hookup sites, call 541-594-2255 ext 3601 or 3610)
RV-electricity: $37
If I tell you about the amenities of this campground, the following things are available:
[a picnic table, metal food locker to protect food from animals, firepit, electrical hookups in very few sites, dump station, public laundry, showers, gas station, camp store]
Rules to be followed when you are in the campground. Let's love and protect this beautiful natural place. (Crater Lake Camping)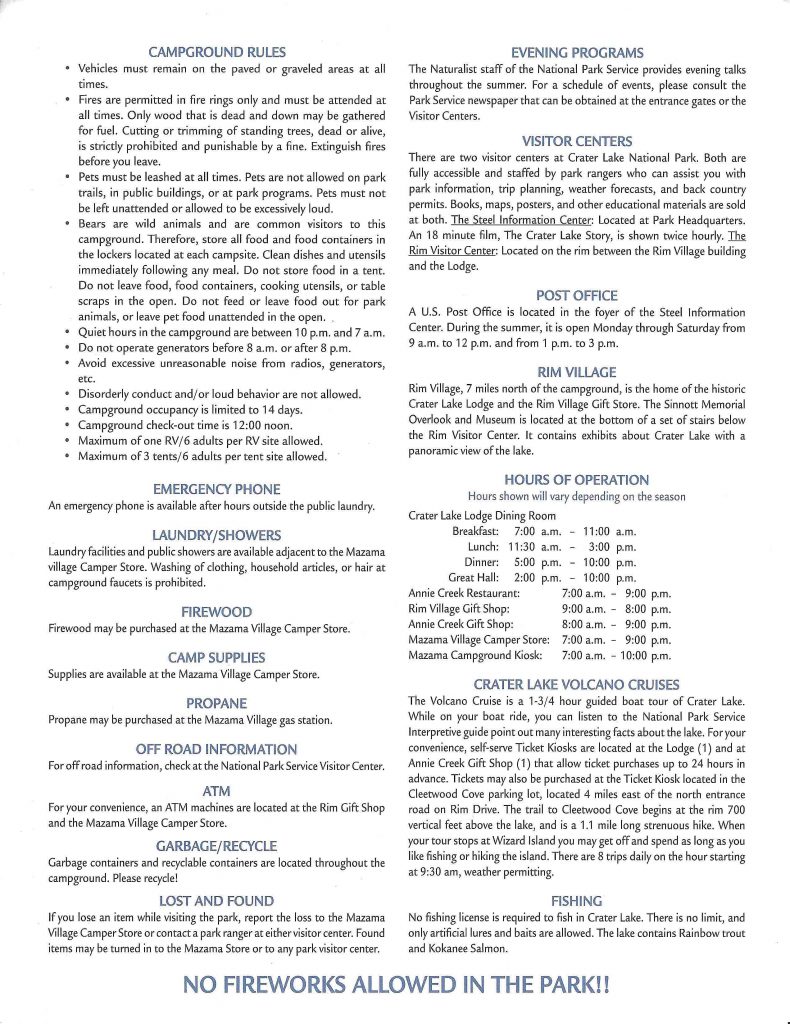 There's another option as well. It is camping in the backcountry. You can try this in the summer by taking permission from the park authority. There are 5 backcountry campsites. They are Dutton Creek, Bybee Creek, Grouse Hill, Red Cone Springs, and Lightning Springs. Do not hesitate for this because there is a huge opportunity to explore the backcountry wilderness.
Suggested Reading: Watch Galapagos Penguins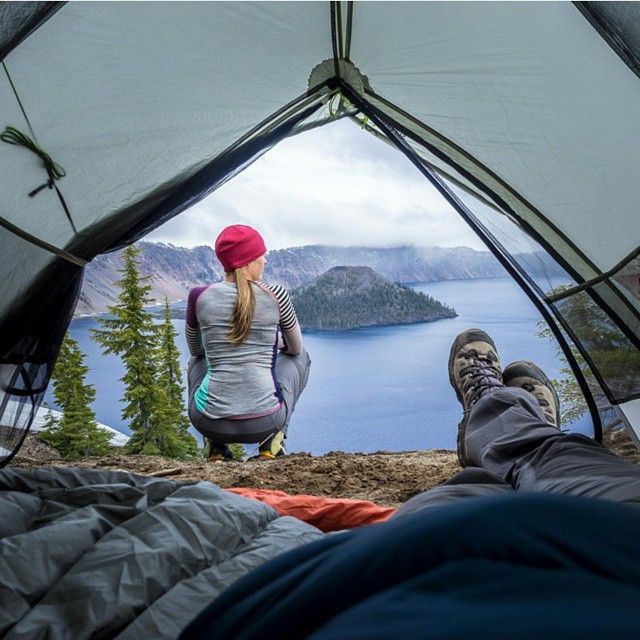 The maximum number of people that are allowed for one backcountry camping group is 8.
And one more thing, if you like to experience the winter beauty of the Crater Lake National Park, you can camp even along the rim by taking a permit.
Click here to get permission for backcountry camping in Crater Lake.
Crater Lake Camping in Winter
Crater Lake winter camping is open from November through May. But, there are some different rules in winter backcountry camping. You have to take permission to camp along the rim.
As the weather conditions can be changed at any time, you must prepare for any situation. Check for all the supplies, clothes, and skills of your group.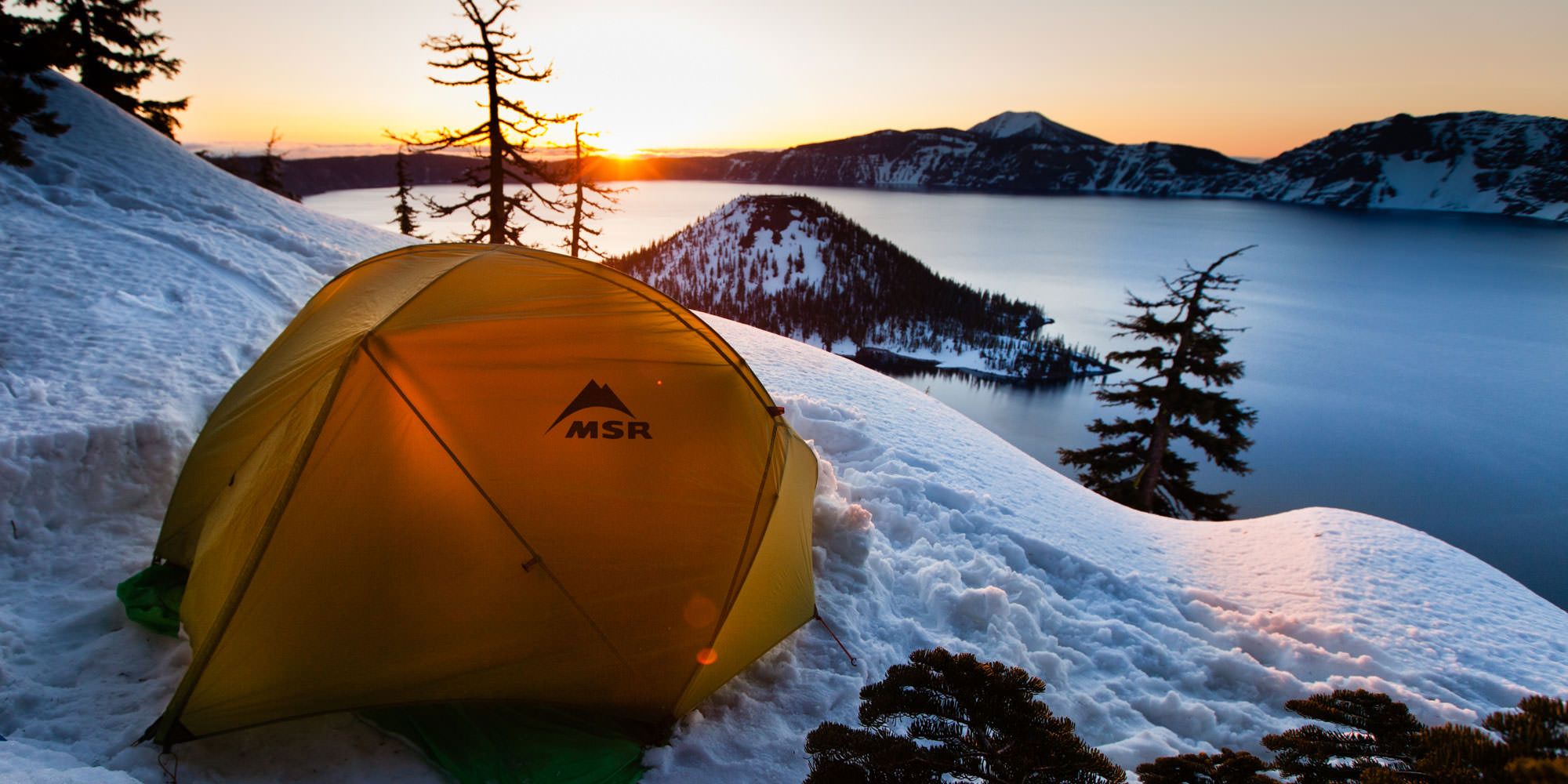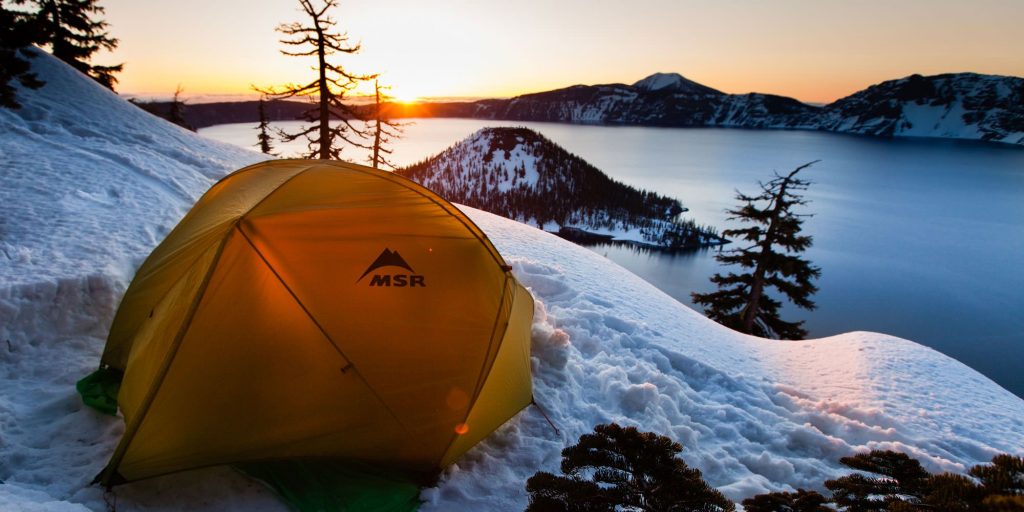 Be very careful when travel by snow cornices. Do not put weight and walk on them. (Crater Lake Camping)
Things to do while Crater Lake Camping
Now you know the whole story of the deepest and most stunning lake in the US. Here are the possible things that can be done while camping in Crater Lake. 
The first thing you can do is to drive 33 miles along the rim around Crater Lake. You will get mesmerizing views for sure. But, most of the time, the whole rim is not opened due to heavy snowfall. But, it is totally worth driving even for a shorter distance.

Visit Rim Village and explore lifestyle and beauty.

Visit Crater Lake Lodge for dining something while watching the stunning views of the lake and surrounding mountains.

Visit Sinnott Memorial Overlook, which is located 900 feet above the lake.

Go for a hike is a must-do thing while camping in Crater Lake. There are several hiking trails that can categorize from very easy to extremely difficult.

Pacific Crest Trail

, The Pinnacles Trail, Discovery Point Trail are some examples. Pacific Crest has around 2650 miles and offers you stunning views with adventurous experience. Discovery Point has only 2 miles.


Take a boat tour to Wizard Island in Crater Lake is the next thing to do. Actually, this is a combination of hiking and boating. Because to reach the boat, you have to take a 1-mile long hike called Cleetwood Cove Trail. At the end of the hike, you can get a boat ride, swim, fish, or dive.

While doing all the above things, you are getting the chance to see plenty of unique wildlife in this area as a bonus. (Crater Lake Camping)
Did you enjoy the article?? Just pin it for later.