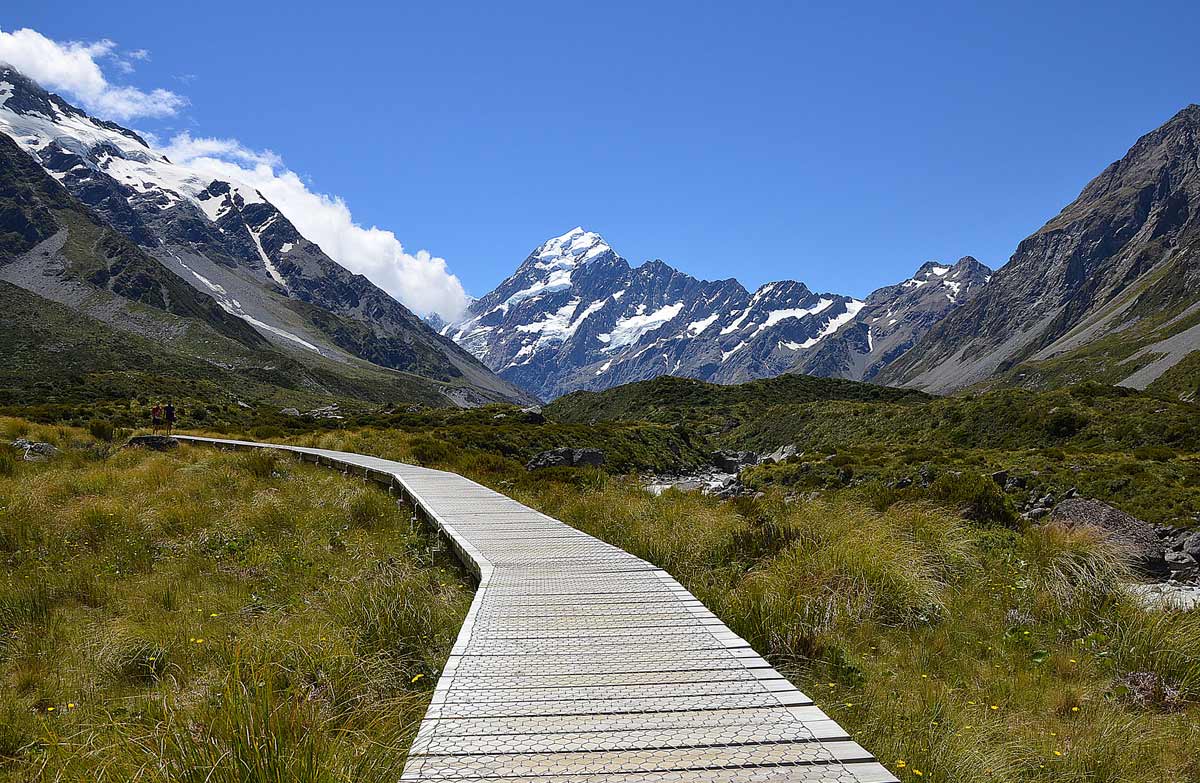 South Island New Zealand is the larger landmass, and it has spectacular views with natural landscapes, glaciers, lakes, mountains, wildlife, marine life, and the best food. Full of diversity is there. So, it is tough not to fall in love with South Island's beauty in New Zealand. Now, you may wonder what the difference between the South and the North Islands is. The South Island is filled with cold glaciers, thrilling adventures, wilderness, while the North Island has its geothermal wonders and Māori culture.
Since you are here to know more about the South Island and plan a tour, ok, let's start it with the map.
South Island New Zealand
South Island New Zealand Airport
There are two major airports in New Zealand. They are Auckland Airport on the North Island and Christchurch Airport on South Island. There are many more direct international flights to Auckland than Christchurch. Last year, American Airlines announced that they would start direct flights at the end of 2020 from Los Angeles to Christchurch.
There are some direct flights from several cities in Australia (Sydney, Melbourne, Brisbane) to the South Island cities (Queenstown, Dunedin).
If you have landed in Auckland and need to travel from North to South, then there are some options. You can fly from Wellington Airport, located at the North Island's tip, to Blenheim or Nelson on the top of the South Island with 30 minutes.
Or you can take a ferry ride from Wellington to Picton or Marlborough Sounds. And it will be a nice experience to take a cruise from a cruise service like Bluebridge Cook Strait Ferries. But it takes around 3 hours.  
The next option is to rent a car. You must check whether the rental company allows you to take the car on a ferry because most companies do not allow it. So, you may have to rent another car after the cruise. Be aware. 
On my first tour, I started in Auckland. Then traveled to Wellington and caught a ferry to Picton. When I came back to the North Island, I got a flight from Christchurch to Auckland. (South Island New Zealand)
Suggested Reading: Sibenik, Croatia Travel Guide
South Island New Zealand Weather
There are 4 distinct seasons in New Zealand. Each of them has unique features to visit by travelers. So, I think there's no best of the worst time to visit New Zealand. Because every season in the year has something special to see, if you read any travel brochure about New Zealand, you will read the same that "it is a year-round destination."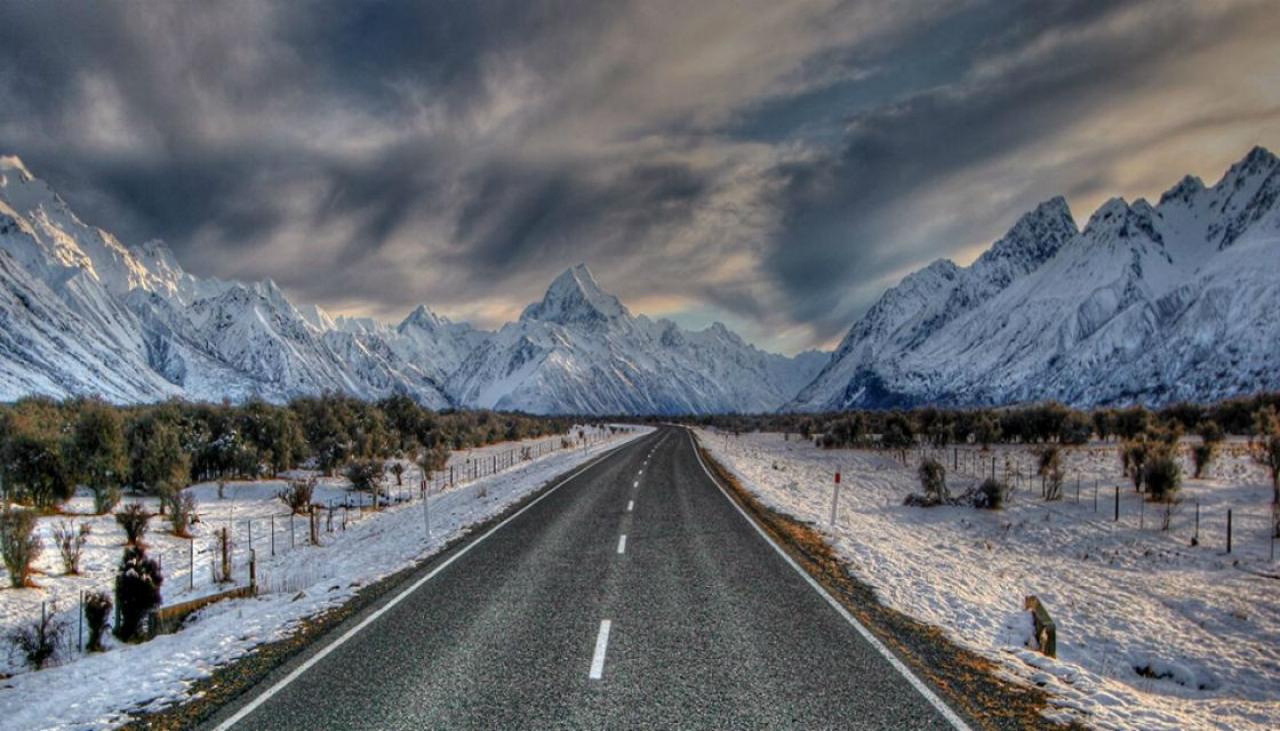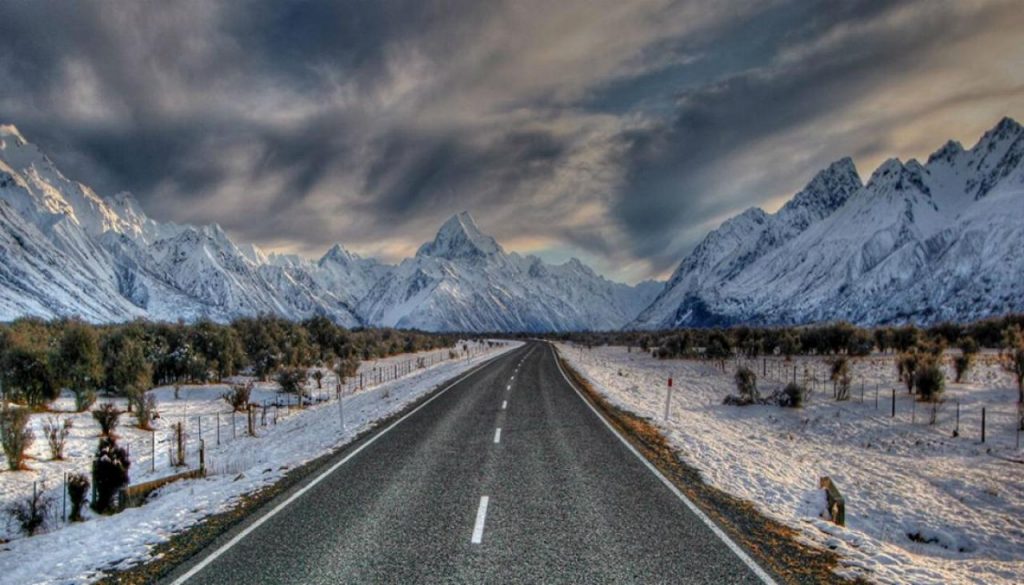 You should expect so much variation in temperature, humidity, and wind-like factors since the two islands have various landscapes and terrains. Actually, it can be varied from totally dry to subtropical or temperate climate. Sometimes within one day, you may experience all 4 seasonal climates. So, preparation is important.
Before I explain the whole 4 seasons in New Zealand, it is better to know the story in short form. (South Island New Zealand)
The most crowded months in New Zealand are January and December due to the school season.
The least crowded month is May, due to the temperature starts to drop.
Summer in New Zealand
Summer in New Zealand: As usual, this is the peak tourism period all over the country. Starting from December, it runs through February. Due to having ideal warm temperatures, sunny days with clear skies, and ideal beach climate, so many kiwi people and outside travelers attract not only the South Island but also North Island.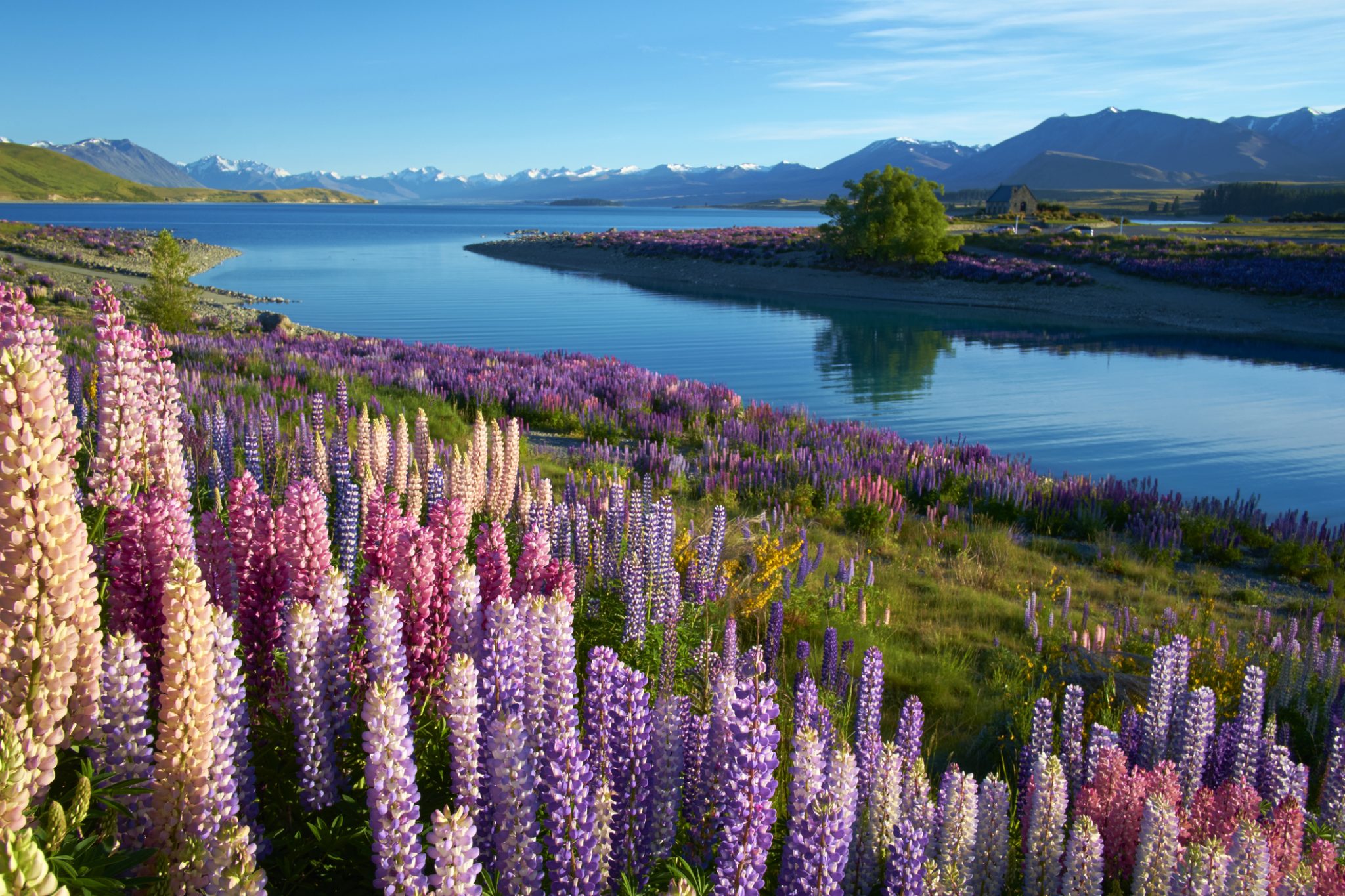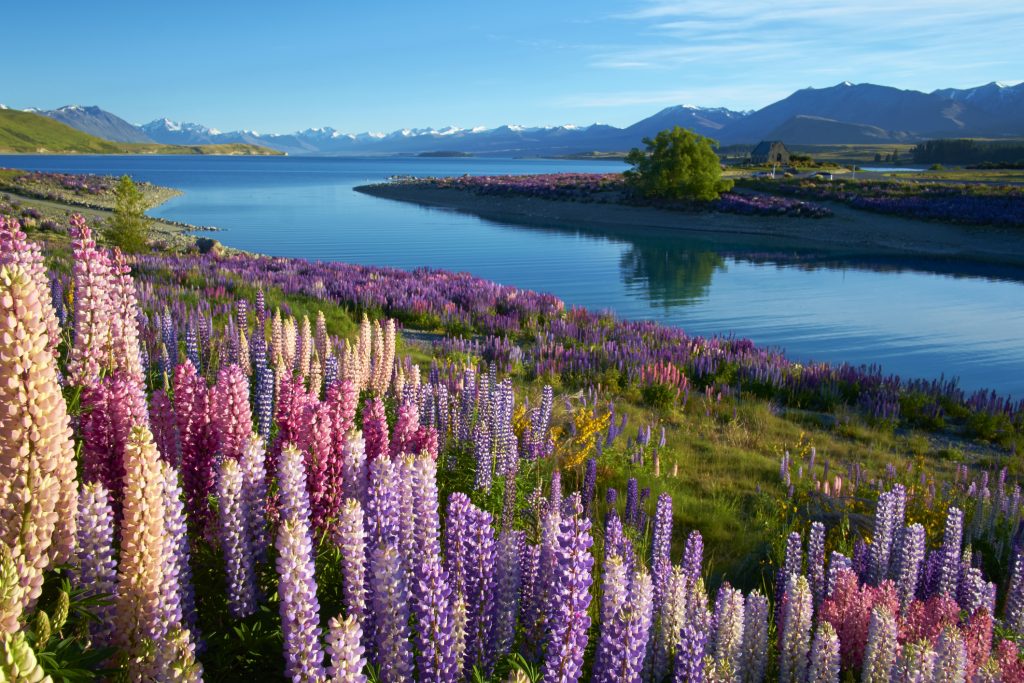 Especially to watch penguins in Dunedin/Otago Peninsula on the South Island, December is ideal. And if you are looking for a nice beach vacation (Ex: Abel Tasman National Park), February is the best month since the water and climate are warm. Although January has a good travel climate, most of the restaurants and hotels in New Zealand are closed since locals usually travel in January. (South Island New Zealand)
Visiting Stewart Island, penguin watching, kayaking, hiking, outdoor adventures, and Christchurch's World Buskers' Festival like things are happening on the South Island New Zealand in the summer. So, plan everything as early as possible.
Autumn in New Zealand
Autumn in New Zealand is very famous among hikers. Because as the temperature starts to fall just a bit with the summer sun in the sky, this is the ideal time for hiking. Even the climate shows the difference by changing the leaves' color from green to bright yellow, orange, or red. Autumn starts in March, and it runs till May. 
Autumn starts in March. So, still, the summer warmth is there. But, the crowd is not available since the holidays are over. So, March can be considered as a "shoulder season" with lower prices for everything. When it comes to April, tourists are reducing with a huge amount. And May has like zero tourists with the lower temperatures.

Still, there are so many places to visit on the South Island New Zealand in Autumn. Like: Visit the wineries like the Marlborough wine region and Central Otago vineyards, visit Lake Tekapo,  and hiking in Alpine Region.
So, do not forget to pack warm jackets, rain jackets, scarves, warm socks, and hiking shoes. 
Suggested Reading: Bay of Islands in New Zealand Travel Guide
Winter Season in New Zealand
Here comes the ski and snowboarding season. Starting from June, you can enjoy this cold, snowy climate till August. Ski Season starts in June, and the ski resorts are also open their doors in June. Then July and August attract many ski players and ski lovers to New Zealand. Especially to the South Island.
Since this is the offseason for the tourists in the country, you can find the lowest prices for accommodation, food, and travel sources (Apart from the ski resorts). Queenstown, Glacier Country, Pancake Rocks, Fiordland-like places, and so many winter festivals are there on the South Island in the winter. (South Island New Zealand)
Looking for the best hotels in South Island?? Just scroll down to refer to the best booking.com deals. 
Spring in New Zealand
Spring is a comfortable season with full blooms in New Zealand. So, again, hiking and outdoor activities become more famous. But, keep in mind, this is the windiest season of the year. Pack your windbreakers for sure.
For me, spring is the best scenery season. Because you can still see snow-capped mountains and snow-covered leaves mixed with light green leaves. So, the gardens in Christchurch display their best views in the spring.
Starting from September, the spring runs till November. Garden visits, cherry blossom festivals, and many more outdoor activities are there on the South Island New Zealand. 
Things to know before you visit New Zealand
Apart from concerning the crazy weather in New Zealand, there are certain fun things and important things to know before you travel. Ok, I will tell you them one by one (Especially concerning the South Island).
The Internet in New Zealand is not much powerful. Especially in South Island. You can access simple google searches, Google Maps, and social media. But, when it comes to Youtube, Netflix, video uploading, and other uploading stuff, the internet connection is inferior. There are good connections in and around the major cities. Compared with some developing countries, It cannot be satisfied with the internet facility in New Zealand.
Especially on the South Island, some areas do not even have cell service. For example, in areas like South Island's west coast, there's no cell signal. So, do not rely on online apps. (South Island New Zealand)
Since there's a huge ozone hole above Australia and New Zealand, you must wear and apply sun protection. Some locals say that they get sunburns or sun infections within 5 minutes of exposure to the sun.
New Zealand's quarantine rules are very strict. You cannot bring food, dirty shoes, camp gear like things into the country. They strictly check them and fine if you caught. Because New Zealand is a very diversified and naturally rich country. There are plenty of endemic plant species that can be affected by non-native harmful plants. 
New Zealand roads are very narrow, and surrounding is so windy. It also mostly has one lane. So, drive slowly. You may find so many beautiful viewpoints while driving, but there's no space to stop. On the other hand, google estimated drive times are useless, and do not rely on them. Usually, people in NZ drive on the left-hand side of the road.
Some other facts
The next thing is Gas is so expensive in New Zealand.  
If you want to buy something, then go for a Warehouse or OP shop. They are everything you want, just like Walmart. Especially on the South Island, there is a famous place to buy things reusable for cheap prices called Wastebusters in Wanaka.    
There are sandflies in New Zealand. The case is worst on South Island. So, apply baby oil or something to avoid them.
If you are looking for traveling while earning, well, New Zealand offers you easy working holiday visas for two years. Especially for young people who like to work in the tourism industry. (South Island New Zealand)
Suggested Reading: How to travel the world for free.
There are no cents. Prices are always rounded to zero value.
No need for tipping for the services.
You need to show your passport to buy alcohol in New Zealand.
Tap water is good and safe in New Zealand. Especially, South Island's water is so delicious and drinkable from every natural source.
Reduce your plastic usage; otherwise, you will have to pay for it. Because New Zealand is maintaining its waste management process properly, just support them.
New Zealand has one of the best foods in the world. But they are very expensive.
Hiking trails are very well maintained with all the facilities. But there are many nature-friendly rules imposed by the Department of Conservation (DOC). Just follow them.
National Parks in New Zealand have no entrance fee.
Book your tours at least one year early. Especially for peak seasons. (South Island New Zealand)
The population of South Island New Zealand
The population on the South Island was around 1,155,400 in 2019. Christchurch and Dunedin have the highest amount. But, on the North Island, it is way more than it. It is around 3,760,900.
What Should I not miss on the South Island of New Zealand?
Before going into the depth of South Island, let's discover fun and enjoyable things you should not miss there.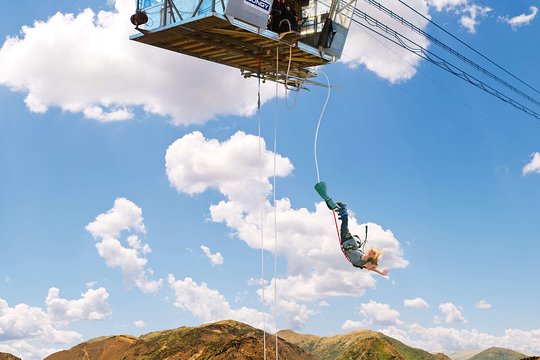 Getting a scenic cruise in Milford Sound in Fiordland National Park
Visit a natural spa on South Island.
Do fishing in Kaikoura.
Bungee jumping, sky diving, hot air ballooning, swing, and do many adventures in Queenstown
Kayaking, SUP, and jet boarding
Cycling on the West Coast
Heli-Ski on glaciers
Hiking and walking on the Great Walks
Observe rare and native wildlife
Let's know more details.
Best Destinations in South Island New Zealand
Well, the South Island has 5 major regions. They are Nelson-Marlborough, West Coast, Otago, Canterbury, Southland. Locating on the south side, Central Canterbury is the largest region, while Marlborough is on the northeast side. On the northwest side, Nelson Tasman is there. Otago and Queenstown are located in the southwest of Canterbury. Just lookup up the map for all of these locations.  
Let's take it one by one. Here are the best locations in the different regions of South Island, New Zealand.
South Island New Zealand: Visit Marlborough
If you are coming from the North Island, then you will meet this Northernmost tipped destination, Marlborough, on the South Island. (when you reach the port town, Picton). Most of the travelers skip this place and reach other places. But, remember, Marlborough is one of the best wine-producing destinations in the world. 
And also, it has 1118 miles of secluded, non-crowded, stunning coastline. Beach walks and water activities in Picton are things you can easily do in Marlborough. After that, for relaxing, you can taste a glass of wine from wineries near Blenheim.
Suggested Reading: Yarra Valley in Australia Travel Guide
Kaikoura Sea Kayaking
If you are coming from Christchurch, then Marlborough is just only 5 hours away. When you travel on State Highway 1, first, you will meet the town Kaikoura. In 2016, this area had faced an earthquake and a damaged road. So, as the construction is going on, you may have to wait in a vehicle queue to pass the construction area.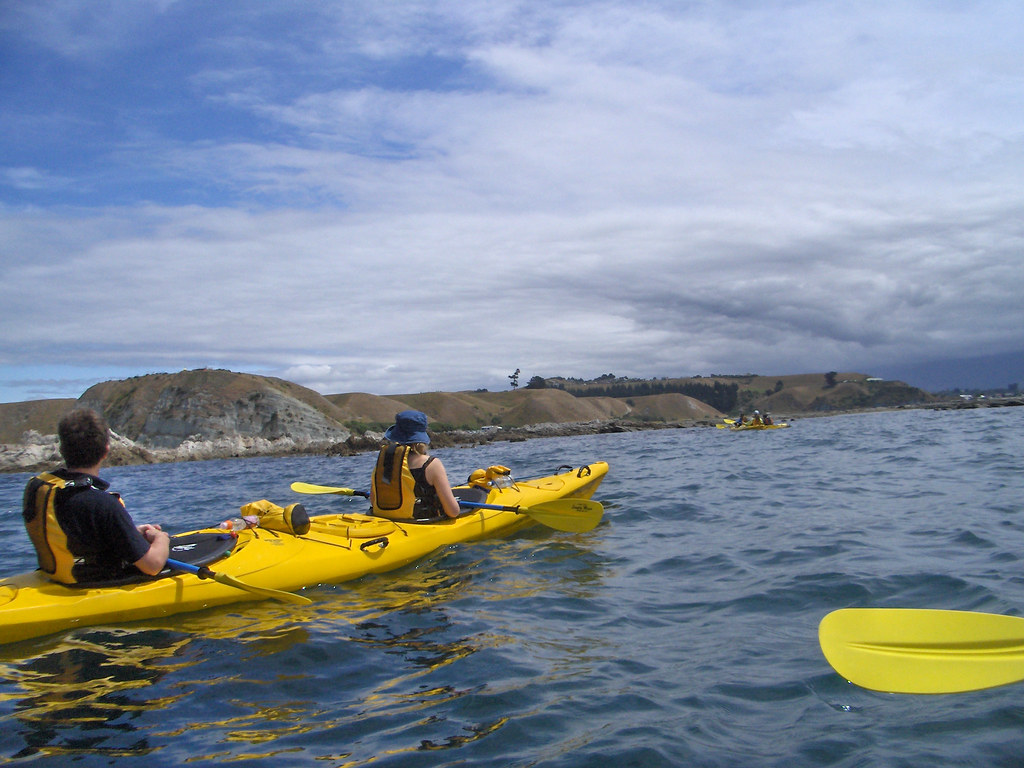 But, I'll give you a good idea. Kaikoura is a great place to stop for sea kayaking with seals, dolphins, and whales. Just reserve a day to get this wonderful experience. I highly recommend the Kaikoura Kayaks Service.   
Once you reach Marlborough, there are plenty of things to do.  
Hikes in Mount Richmond Forest Park
Mount Richmond Forest Park is such a great place for real hikers. If you plan a hike on the Alpine Route, you surely need a high level of body fitness, navigation skills, and hiking experience, as it takes a few days to complete. Because this trail takes you 5577 feet above sea level, on the other hand, it is very steep and not even well-formed. Starting from in the picnic area located at the end of Hacket Road.
Here, you don't need entrance tickets to the national park. But, you may have to buy DOC hut tickets on your way. You will meet at 5 DOC huts. This trail's views over Waimea Plains, Abel Tasman National Park, and Kahurangi will impress you and energize the hike.
South Island New Zealand: Visit Queen Charlotte Track
Queen Charlotte Track has around 45 miles, and it is a part of Te Araroa Track. So, this is one of the popular tramping tracks in New Zealand. The track follows the inlets and the bays of the Marlborough Sounds, sea-filled valleys off the coast, and awe-inspiring views. To walk on this track, you should take a boat ride to Ship Cove Bay from the Picton Harbor Town.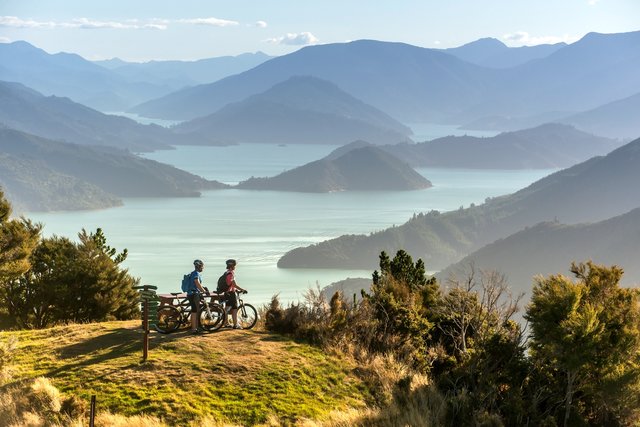 The walk will take around 3 to 5 days. Ultimately you will reach the track end in Anakiwa Village. There you can get a boat back to Picton. Trust me; this walk will change your life because this is a kind of natural therapy to release all your mental stress. Through the lush ferns forests, stunning Pacific views, you can select different ways to explore. Walking, camping, biking, and kayaking are those ways. (South Island New Zealand)

South Island New Zealand: Visit Nelson Tasman
This is the most emerging vacation destination on South Island, New Zealand. Nelson Tasman is located just west of Marlborough as a part of it. Actually, this place is getting more and more popular not only among tourists but also among residents.
The reason behind that popularity is its untouched beauty and sunny climate. Nelson Tasman gets more hours of sunlight per year. Abel Tasman National Park and Golden Bay-like places are evidence of its untouched beauty. And the city, Nelson, is more famous for plenty of breweries as well.   
Let's take a look at the most beautiful places to visit in Nelson Tasman. (South Island New Zealand)
Visit Abel Tasman National Park
When you drive to the northwest of Nelson, turn right after Riwaka. You may then reach the south entrance area and the park's main gate, Kaiteriteri or Marahau. They are two small towns that are filled with the wilderness.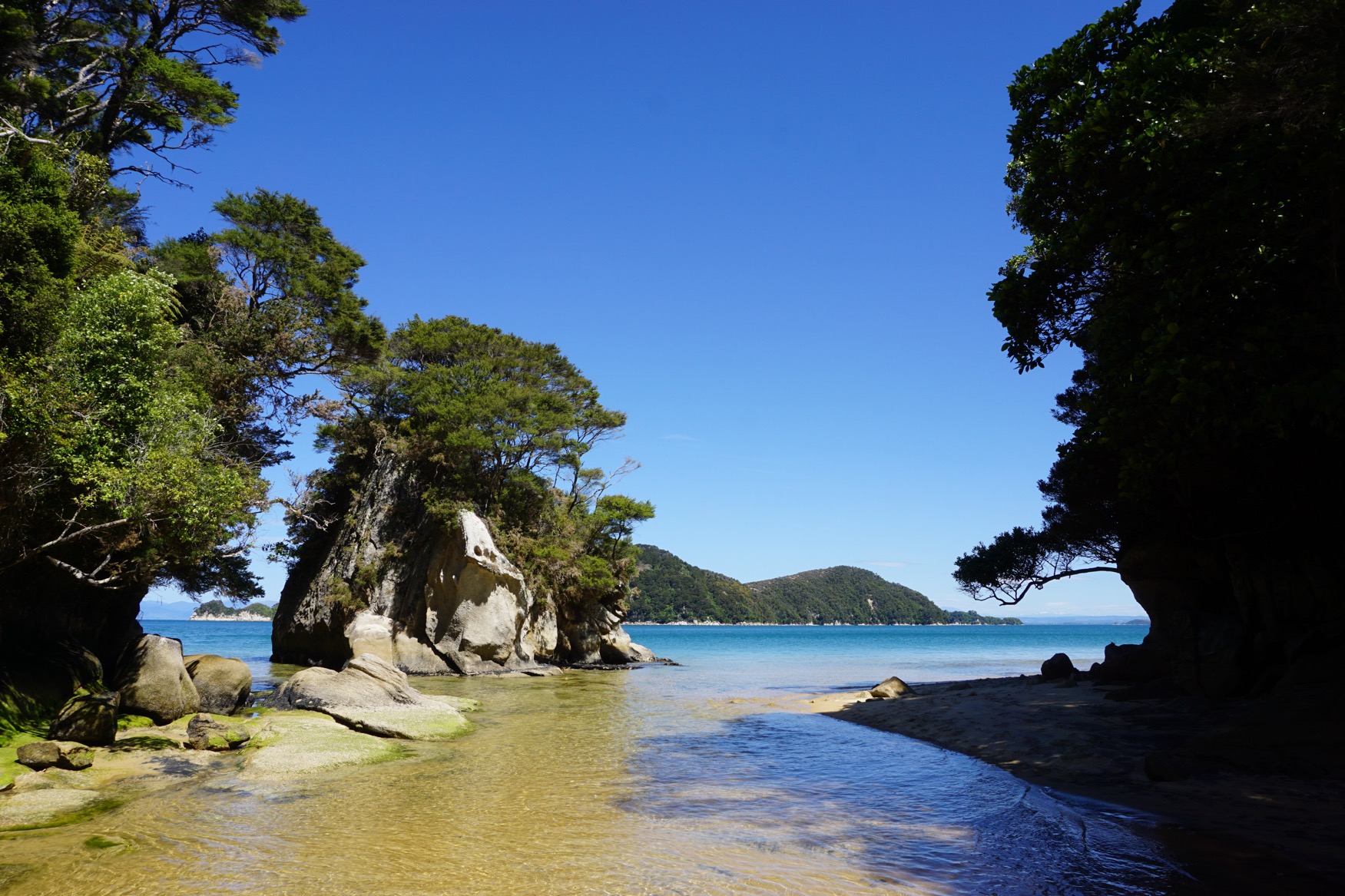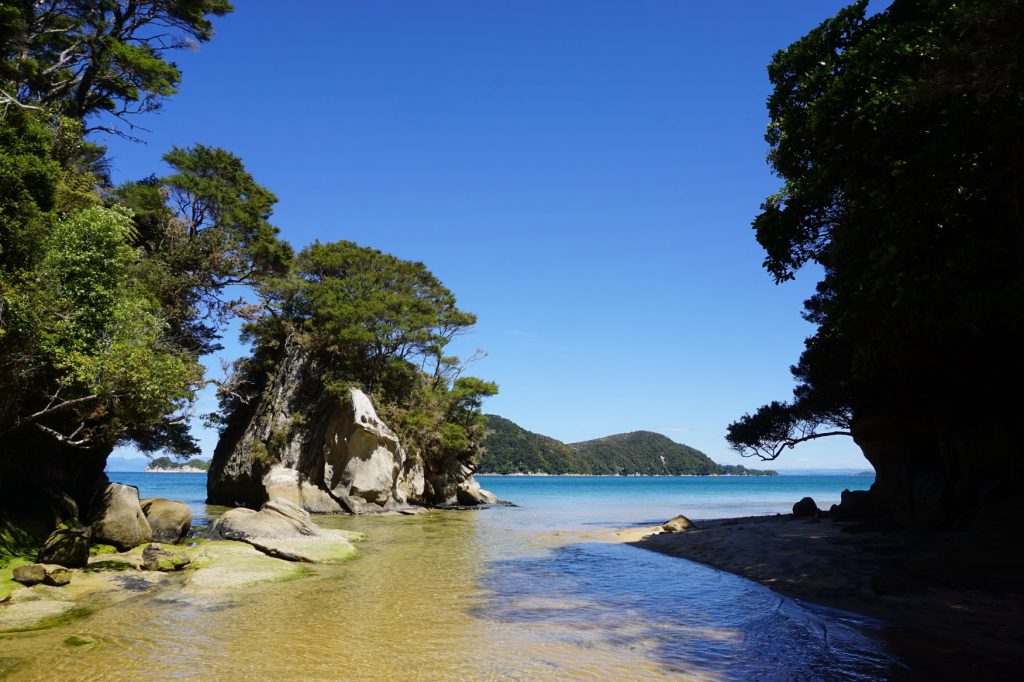 Abel Tasman National Park is one of the most popular tourist destinations in New Zealand. Since it has a unique coastline with 37 miles, it will take around 3 to 5 days to complete a full walk along the coastline. It stretches from Marahau to Totaranui. This track is like Queen Charlotte Track in Marlborough. But this one is easier. Sea kayaking, watching fur seals, and canoeing, like things, are more highlighted. 
But, I suggest you book Abel Tasman Canyons. Because they offer you a package of unforgettable adventures in the National Park. Like rappel, swim in waterfalls, zip-lining, canoe to Split Apple Rock, and explore the area's unique land formation. (South Island New Zealand)
South Island New Zealand: Visit Caves in Golden Bay
The area Golden Bay is around 2 hours away from the north side of Nelson. It is all about mysterious caves. So, do you like rappelling into dark caves, or curious about what exists at the bottom? Then here're the places for you?
Harwood's Hole, Rawhiti Cave Track, and Aorere Goldfields Track highlight some of South Island New Zealand's highlighted cave trails. Harwood's Hole is 577 feet deep from Takaka Hill. And only allow permission for the experienced cavers to rappel to the bottom.  
Rawhiti Cave Track leads you to a short but steep cave within 1.5 hours. The cave's inside is very impressive, with very rare Phytokarst Stalactites, just like inside the Great Blue Hole in Belize. The difference is, Blue Hole is locating inside the ocean, and this one is not.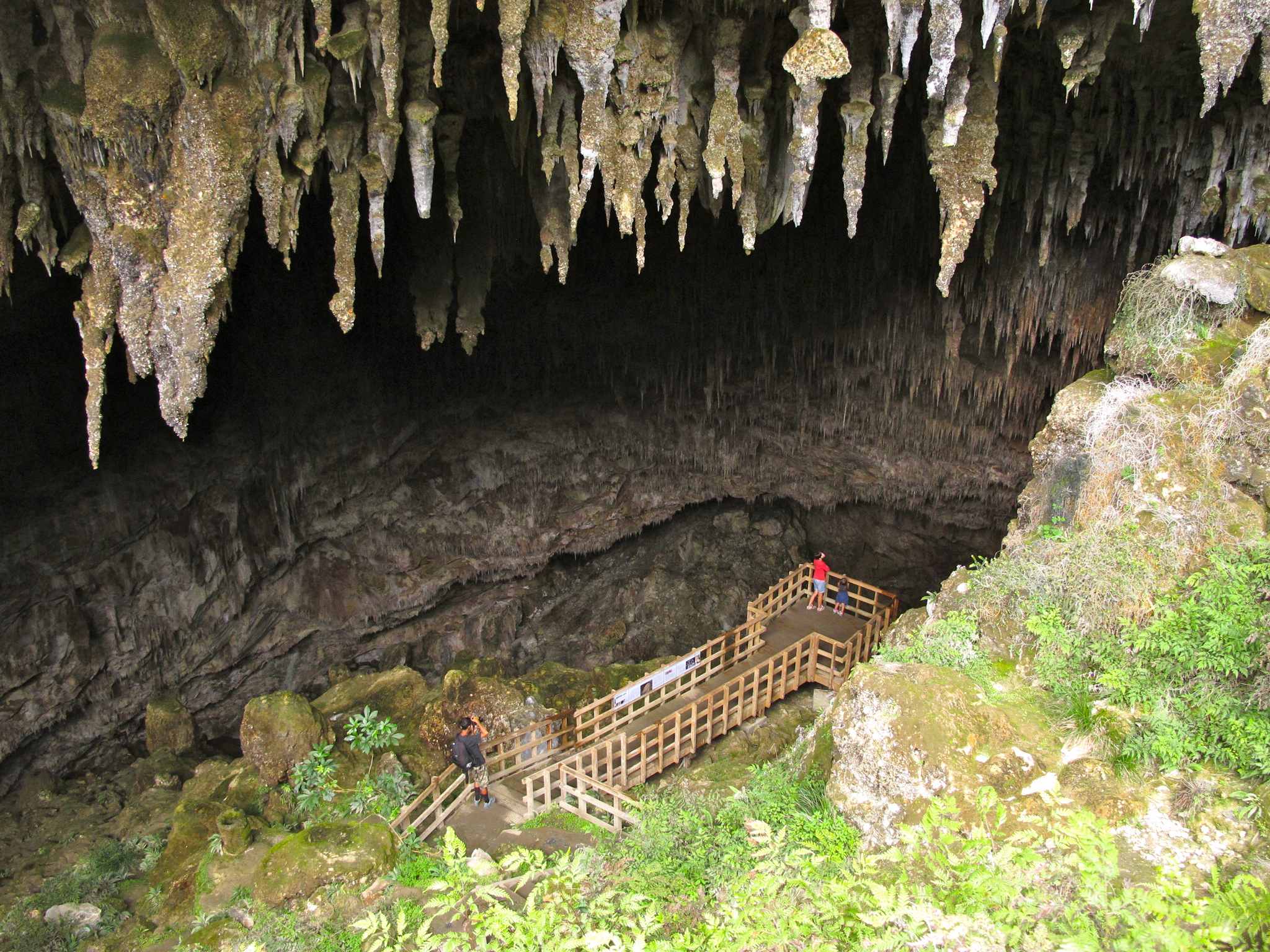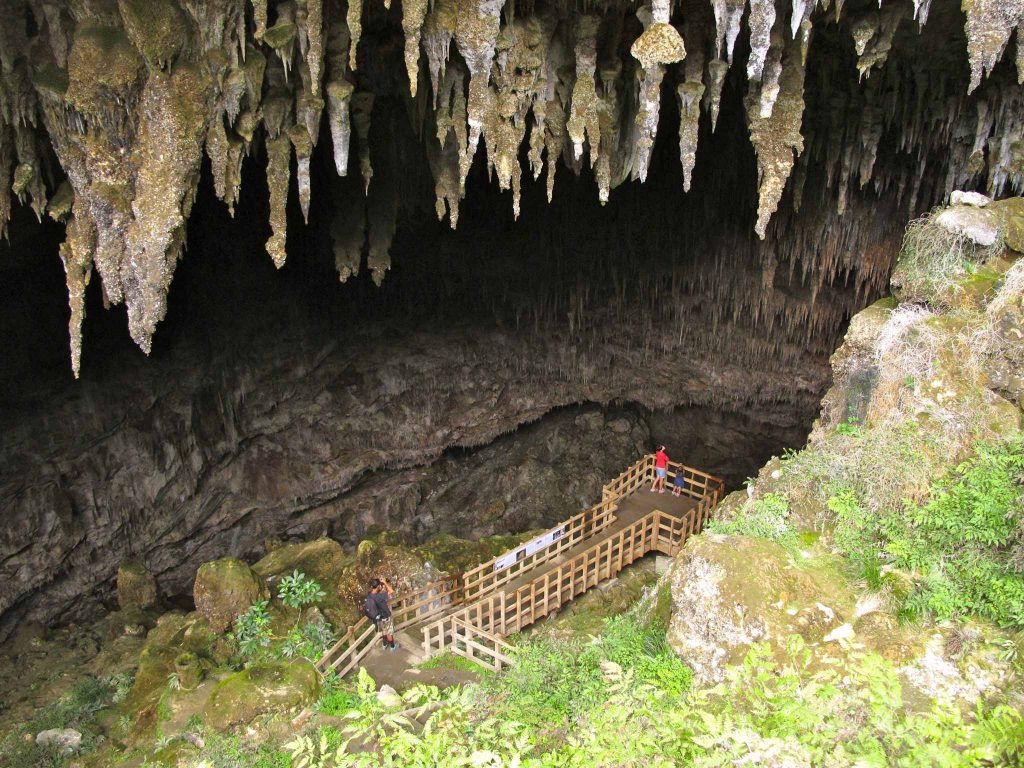 Aorere Goldfields Track is a half-day hike trail that leads you to a cave named Ballroom Cave.
However, if you are interested in these adventures, then come along with a headlamp, suitable shoes, and clothes. (South Island New Zealand)
Rocks in Golden Bay
Paines Ford Scenic Reserve is such an amazing place with more than 20 limestone crags and more than 250 single pitched routes. All of these limestone crags are located beside the best swimming holes in the Takaka River. You can climb these rocks and get picturesque views of the whole area. Click here to get more info. 
South Island New Zealand: Visit Canterbury
Christchurch is the most popular city in the Canterbury region, the largest one on South Island in New Zealand. But, a decade earlier, this region faced a huge earthquake and destroyed everything. After that disaster, it has got a new face and emerged as a tourist hot spot day by day.
Christchurch is ideal for hiking, mountain biking, and surfing, like many adventurous things. Actually, Christchurch is the adventure paradise on South Island. Also, the destinations like Arthur's Park, Mount Cook, Gothic Architecture in Dunedin, Lake Pukaki, Aoraki, and Lake Tekapo are more highlighted.
Let's take a look at the most beautiful places to visit in Canterbury.
Visit Mount Cook National Park
Mount Cook is the highest peak in New Zealand. Locating on the north side of Lake Pukaki and Lake Tekapo, it has around 12,218 feet. Mount Cook village is so famous among travelers. Hooker Valley Walking Track and Sealy Tarns Track have the most freshwater in the world coming from glacier sources. If you drink them, you will realize how tasty the real freshwater is. (Of course, South Island has the best water)
On the other hand, there's a climb called Stairway to Heaven. It contains 2200 steps, and in the end, you get getting stunning views. Another best thing to do here is star gazing. If you are lucky to have a good climate, Mueller Hut Route leads you to the best place of Mount Cook for stargazing. It is obviously unbeatable. (South Island New Zealand)     
Visit the Banks Peninsula
The Banks Peninsula is the ideal place for mountain biking. Because it has terrain and hilly landscape to give you the best biking experience, if you want a real adventurous track for 3 days in the Banks Peninsula, start it from Akaroa (a small village).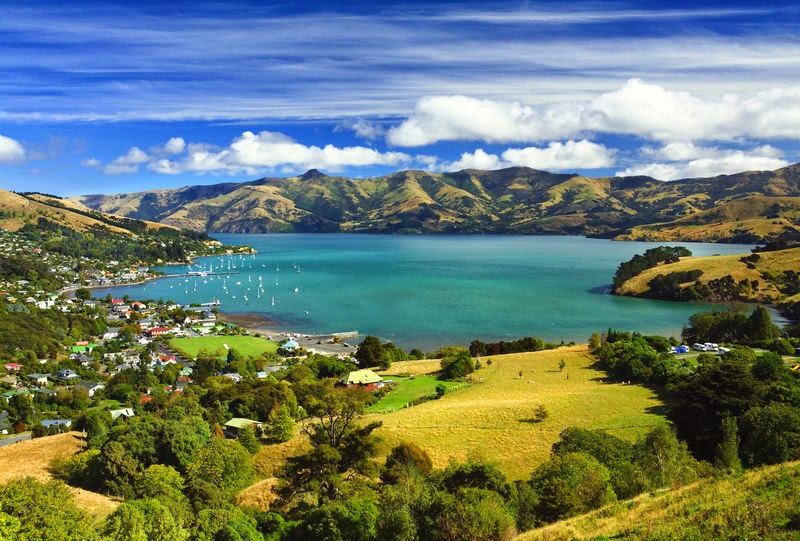 The journey offers you hikes with dramatic cliff views, farmlands, and many more adventurous things. But, this is a limited offer. Because they allow only 16 walkers to enter the track per day, therefore, you cannot see any crowd other than those 16 walkers. It is a pure feeling. So, book your tour.      
Another place to visit in the Banks Peninsula is Crater Rim Walkway. It offers you nice and calm coastal views and finally leads you to Lyteltton Volcano. A well-established mountain bike track is also there if you like. (South Island New Zealand)     
Visit Arthur's Pass National Park
When you drive for around 2 hours on State Highway 73 to the northwest of Christchurch, you will find the Aurthur's Pass Village with its alpine valley. For campers, hikers, and wildlife photographers, this is almost heaven. Especially, the large endangered parrots, keas, are found in this area. They are only found on these alpines of South Island in New Zealand.
Avalanche Peak Route is a quick hiking trail that can be completed within 8 hours. There are some camping sites and DOC huts as well. Since the accommodation is also very limited in Arthur's Pass Village, it is better to plan for a camping experience. But, do not forget to check the weather and book a DOC campsite.
And also, there's a nice cave experience as well. It is Cave Stream Scenic Reserve. This place has the proper equipment to provide facilities for cavers. For example, there's a 1948 feet cavern. So, bring equipment like a headlamp and suitable dresses with warm layers. (South Island New Zealand)      
South Island New Zealand: Visit Otago
Otago is the home for the adventurous hotspot in New Zealand, Queenstown. Rafting, parasailing, canyon swing, snowboarding, skydiving, mountain biking, heli-hiking, and most importantly, bungee jumping and jet boarding are more the highlighted activities. Actually, this is the place where bungee jumping and jet boarding were born. 
But keep in mind, all of the above activities are very expensive in Queenstown. But, they are authentic and unique.
Beyond Queenstown, there are trails in Wanaka, Fox, and Franz Josef Glaciers as well. Also, stunning waterfalls like Roaring Billy Falls and Fantail will add more passion to your journey in Otago on the South Island. 
Ok, Let's take a look at the most beautiful places to visit in Otago. (South Island New Zealand)
South Island New Zealand: Visit Wanaka
Looking for whitewater kayaking or Standup paddleboarding? Wanaka is one of the best places for you on South Island. Clutha, the second-longest river in New Zealand, and Wanaka Lake offers you the chance for whitewater kayaking and SUP with whirlpool water. If I tell you about the Lake, it has a depth of 65 feet. But, the water is so clear, calm, and swimmable till the bottom.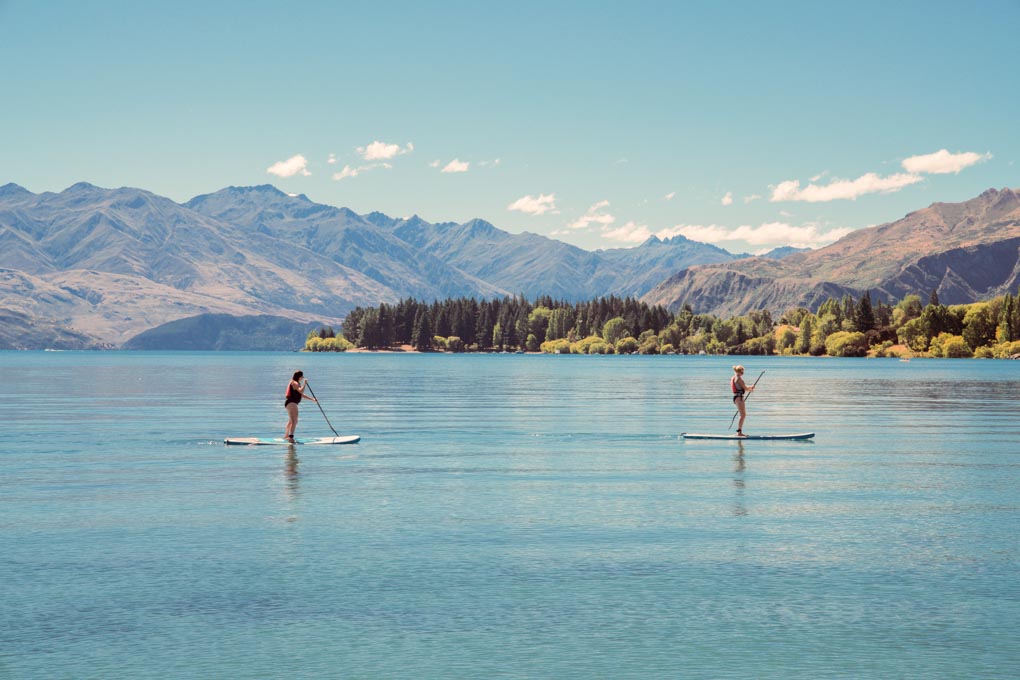 Since the River Clutha is very long (338km) from Lake Wanaka to Dunedin's east Pacific coast, you may have to SUP or whitewater kayak for a week to complete the journey. Don't worry; the entire river trail can be paddled since the water flows between 7000 and 21000 cubic feet per second. (South Island New Zealand)
Visit Mount Aspiring National Park
Actually, access to most of the national parks on the West Coast is located in Otago. The towns in the regions like Queenstown, Glenorchy, Wanaka, and Makarora are that access gates. Mount Aspiring National Park hikes offer you the chance to go deep into the Southern Alps of New Zealand.
Blue Pools walk, Gillepsie Path Circuit, and Crucible Lake Trail is more highlighted. 
Gillepsie Path Circuit (36 miles trail) takes around 4 days to complete with the trail. But, the climax part is viewing the impressive Mount Awful.
Next, Crucible Lake (5.3 miles trail) is a crystal blue pool with pure water from Mount Alba. (South Island New Zealand)         
Experience the adventures in Queenstown
Queenstown is the best skiing destination in the whole of Oceania. The best time to get that experience is from June to October. The areas like Cardrona, Treble Cone, Remarkables, Soho Basin, and Coronet Peak are the best places for skiing or helicopter skiing (heli-skiing).
If you have advanced outfits and equipment, you don't need to be an expert to ski in Queenstown. And several companies offer the best services. I suggest you, Southern Lakes Heliski.  
As I mentioned above, other than skiing, there are plenty of adventures to do in Queenstown. But, the only thing you need is money. So, collect some money if you are willing to get all of them.
South Island New Zealand: Visit West Coast
Starting from Karamea in the north, the West Coast Region stretches to Haast in the south. The most famous attraction on the West Coast of South Island is Fox and Franz Joseph Glaciers. It's wilderness and wet features attract tourists like mountain biking and hiking in the native rainforests because it gets around 32 rainfall annually.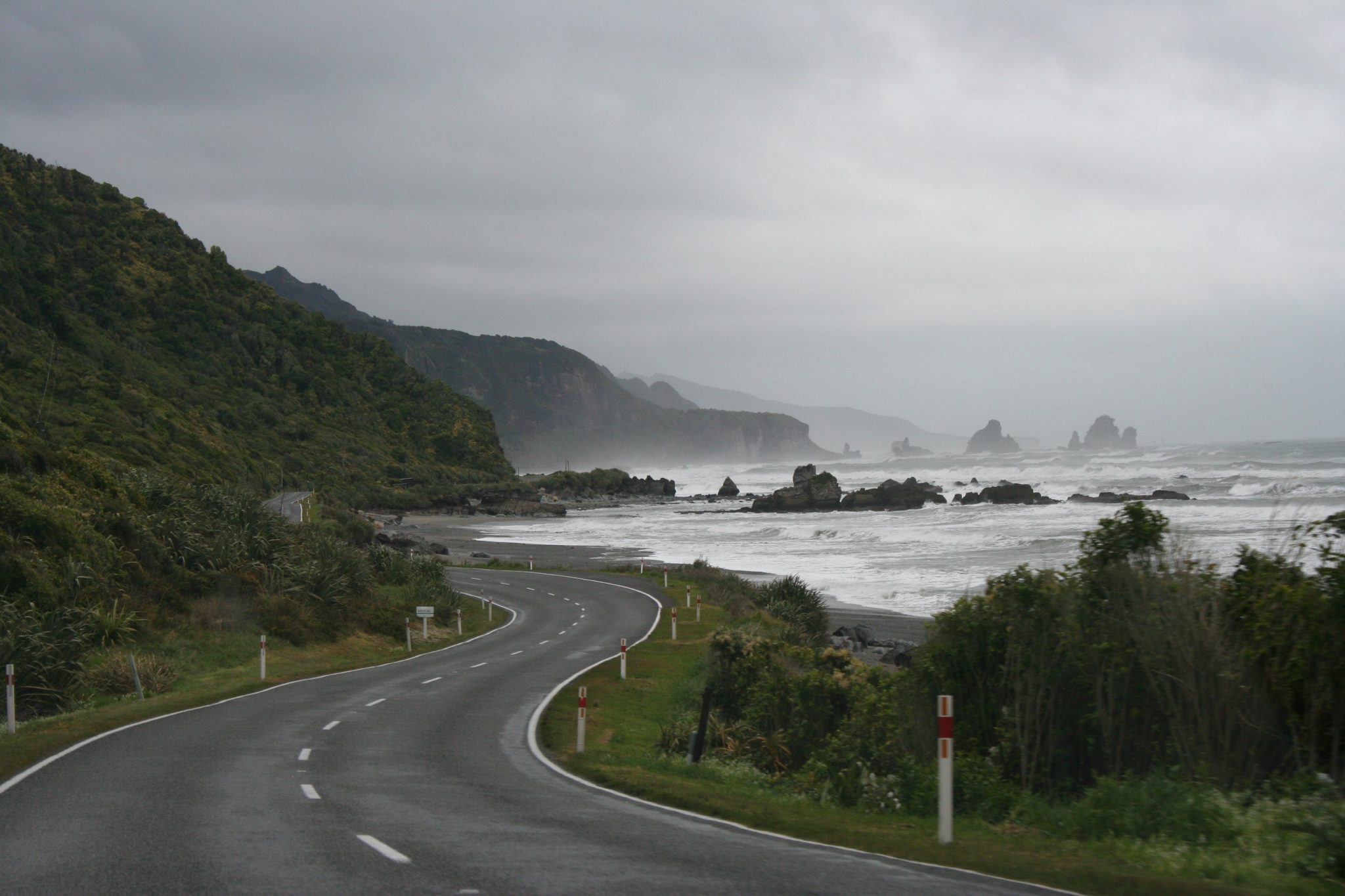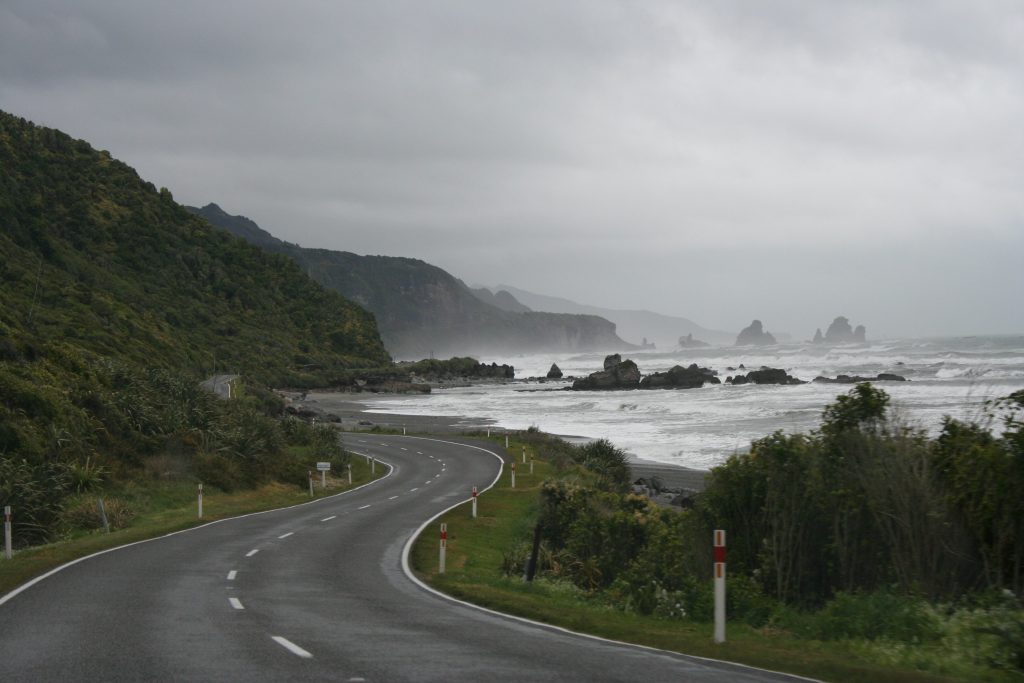 However, it would help if you got ready with raincoats all the time.
The narrow and wild road getting to the West Coast is awesome along the Pacific coast through the sea breeze.
Let's take a look at the most beautiful places to visit on the West Coast. (South Island New Zealand)
Cycling along the West Coast and rainforests
The West Coast Wilderness Trail is almost heaven for the cyclists, stretching from Greymouth to Ross. It has around 75 miles and rated as a grade 2 cycling trail. So, it is a beginner-friendly track as well. And it takes you through ocean shorelines, forests, former gold-mining towns, and many unique places. To complete the track, it will take around 4 days.
Another grade 4 cycling trail here is Old Ghost Road. It also offers you nice views and a great cycling adventure. Do not forget to check the link and book for your needs.
South Island New Zealand: Paparoa Trail
This is the first Great Walk developed by New Zealand authorities 25 years ago. Having 34 miles, this trail is open for both mountain bikers and hikers. The impressive views of rainforests, limestone karsts, alpine tussocks, and purely natural pictures will make your journey unforgettable. Since there are no camping sites, you have to book DOC huts before the visit. And also, get ready with all of your wet covers.
Visit Kahurangi National Park
Kahurangi National Park is the most crowd-free national park on South Island, New Zealand. Its Heaphy Track is the top attraction as a Great Walk with having around 5 days of track length. Actually, it connects the West Coast with Nelson Tasman.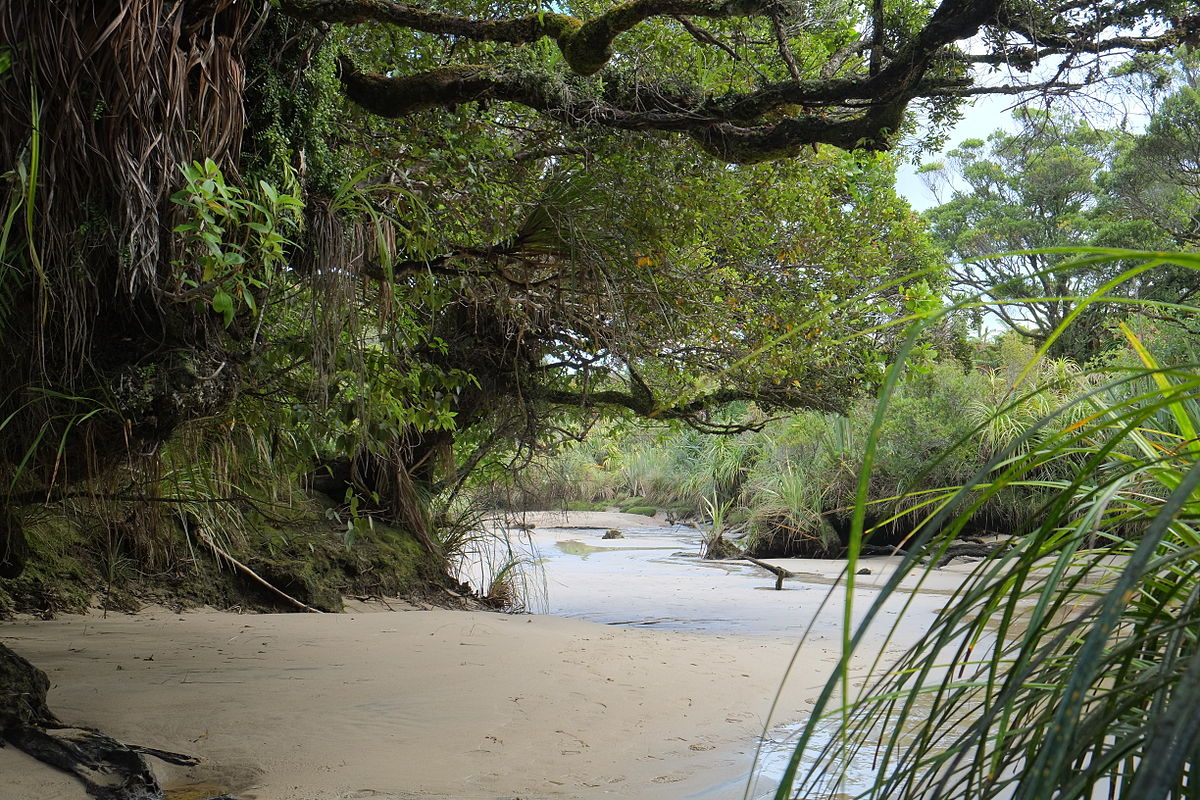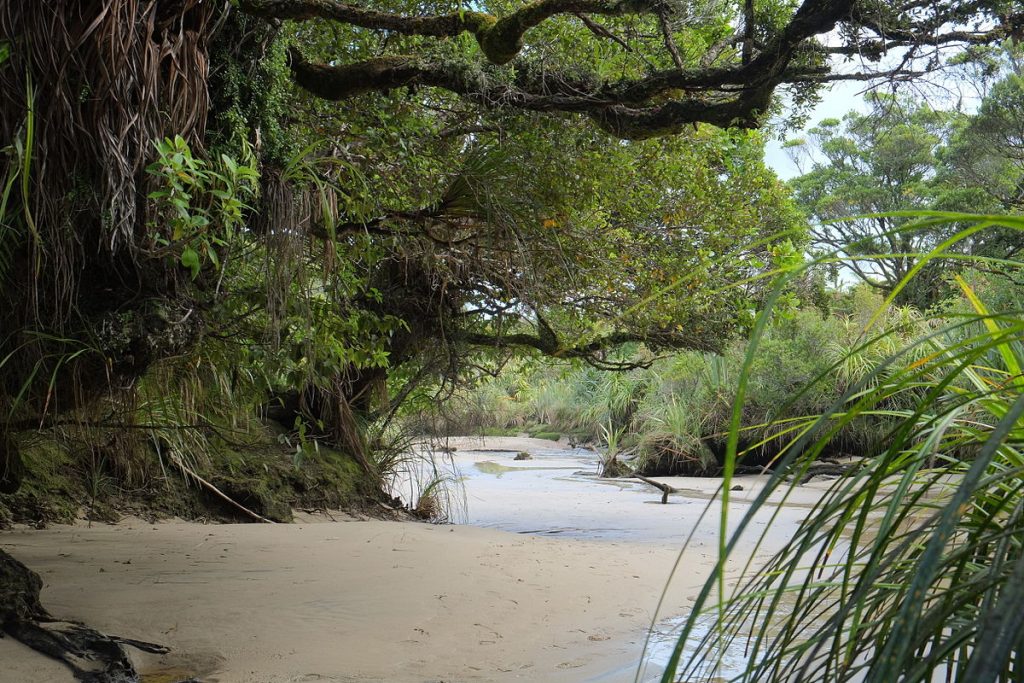 If you need to do some adventure activities like SUP and surfing, Karamea is the best place on the West Coast. Try with Karamea Outdoor Adventures. 
Visit Southland
Southland Region on the South Island New Zealand has attracted around 400,000 tourists annually. Especially to the Fiordland National Park's Milford Sound. Its unique landscapes, climate, and beauty give you impressive views. As this is the southeast corner of the island, it has very big dense forests that exist endangered rare fauna and flora species like birds and yellow-eyed penguins.
Let's take a look at the most beautiful places to visit in Southland. (South Island New Zealand)
Visit Fiordland National Park
This is the largest national park in New Zealand. The isolated Milford Sound is the most famous place in this national park. Especially the 33 miles track. The whole Milford Track takes around 4 days to complete. And it contains touring in Lake Te Anau, rainforests, Milford Sound, waterfalls, glacier valleys, snow-capped mountains, and many more.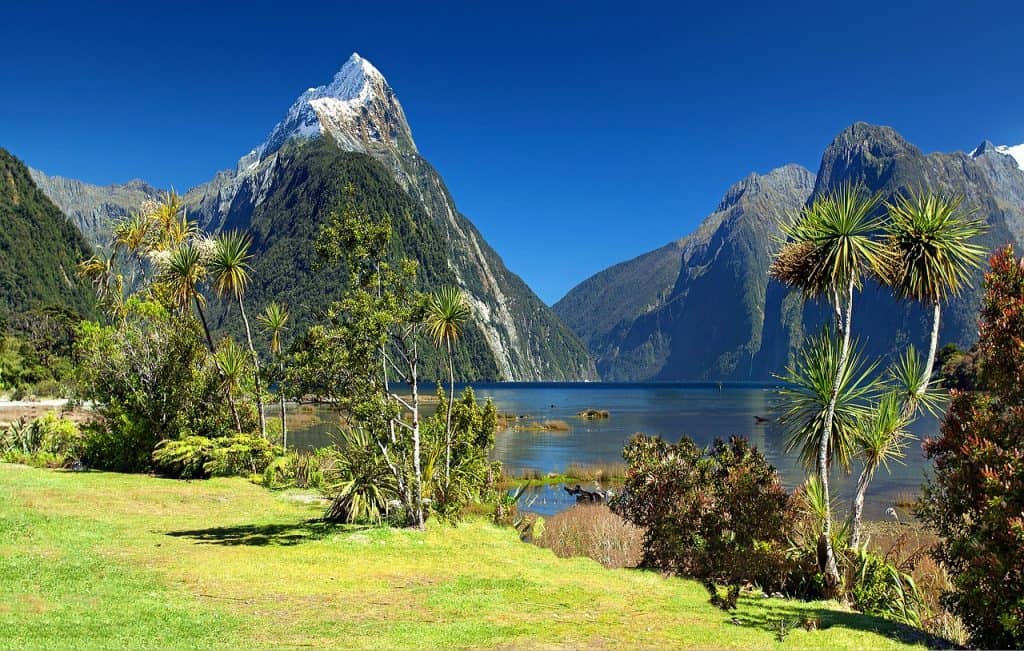 Due to that, this walk is called the world's finest walk. And also, this is one of the most expensive walks in the world. Because since DOC is not allowing you to camp in the trail, you definitely have to book a DOC hut. And it must be done at least one year before the tour. (South Island New Zealand)
There's another optional walking route that contains 60 miles. It is the Gertrude Saddle Route.
South Island New Zealand: Visit Stewart Island
Now, you can see the real kiwis on the kiwi land. Not only kiwis but also Stewart Island has penguins. The special feature here is, you can see them not in sanctuaries but in the wild and natural environments. Among the many walking tracks on Stewart Island, Rakiura Track is one of the best Great Walks. This walk is filled with extremely natural views. There are campsites and DOC huts as well. Three days will take to complete the walk, and it starts at Lee Bay Road. Finally, you will reach the Rakiura National Park Visitor Center.

Did you enjoy the article?? Pin it for later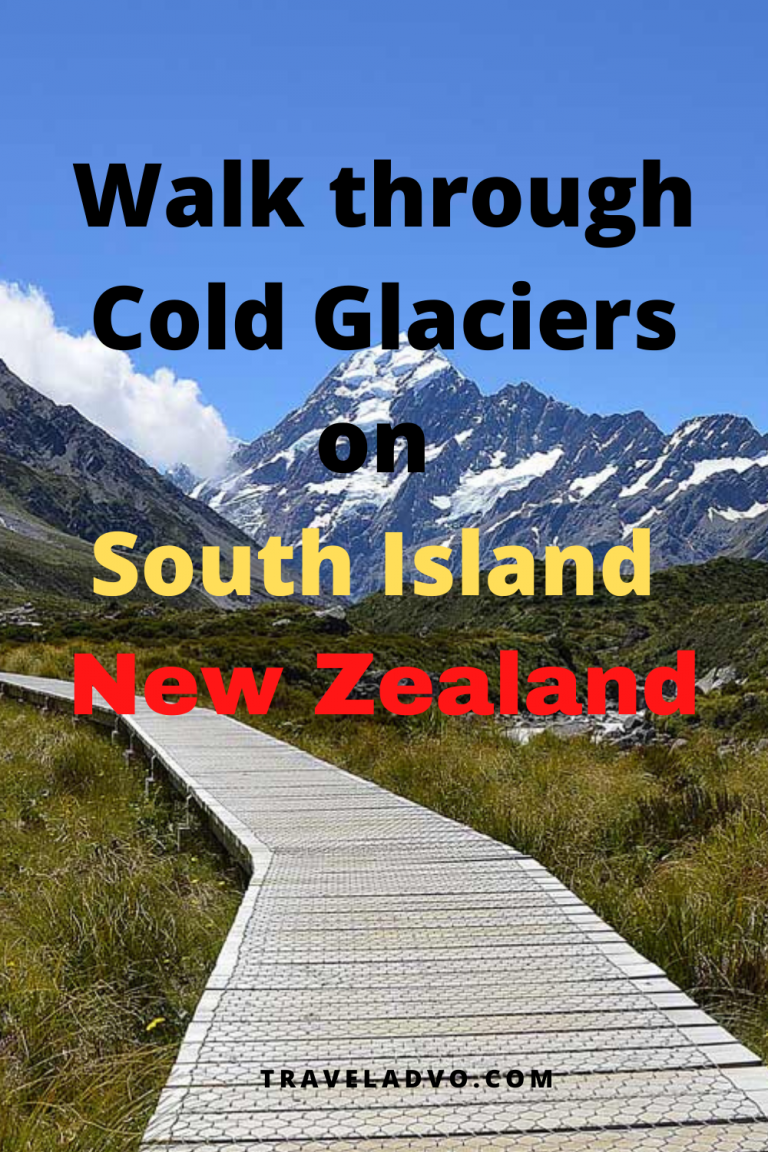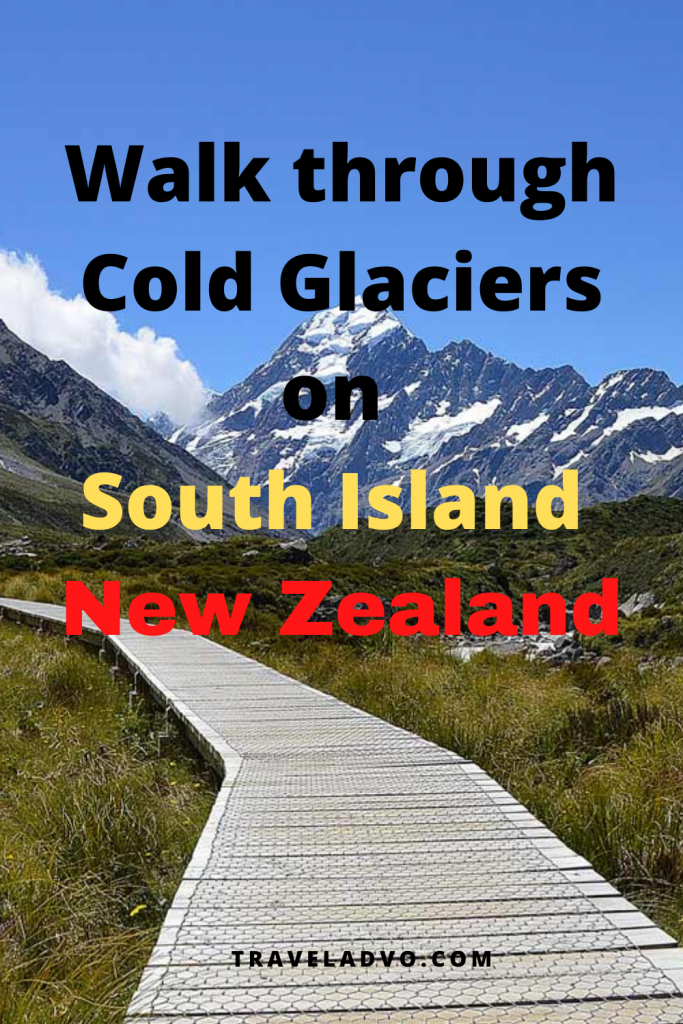 South Island New Zeland Map
As I said earlier, the South Island has extreme landscape features range from glaciers to wide plain lands. The inhabitants also call this island Te Waipounamu. With having a surface area of 150,437 km², this is the largest island (32% larger than the North Island). And it is the 12th largest island in the world. Actually, that's why it is called the mainland.
And inside the island, Southern Alps are running from north to south while the east side has plain lands. And on the west coast, it has rough coastlines, national parks, Glaciers, and native bushes. On the northern coast, there are tussock plains with a thousand miles of golden beaches. You can see remnants of volcanoes on the east coast with crystal blue bays. And the south side of the island has rare penguins. That diversity sounds crazy, right?

I must say that South Island is such a big island. And there are so many things to see. So do not try to cover everything within a few days since it is impossible at all. 
Looking for the best hotels in South Island, New Zealand?? Just click here.