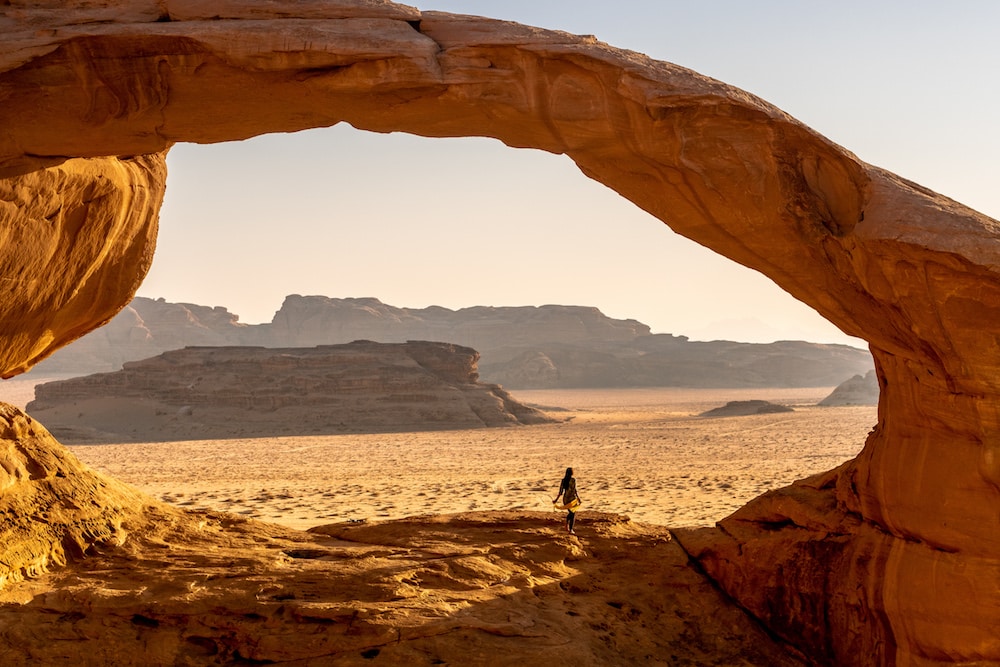 Wadi Rum Jordan is an amazing destination in the Jordan desert with a unique ecosystem. The meaning of Wadi Rum is "the valley of the moon." Its red dunes and rock formations present very ancient stories of the beginning of humanity. Stretching from southern Jordan to the Arabian desert's western edge, it contains New York's size. Mixing with the ancient stories, clear night skies, gargantuan rock formations, and red dunes landscapes, it truly creates a fairy tale location.
I decided to share my experiences and answer some most questioned questions from travelers. So, just scroll down.
Wadi Rum Jordan
What is Wadi Rum Jordan?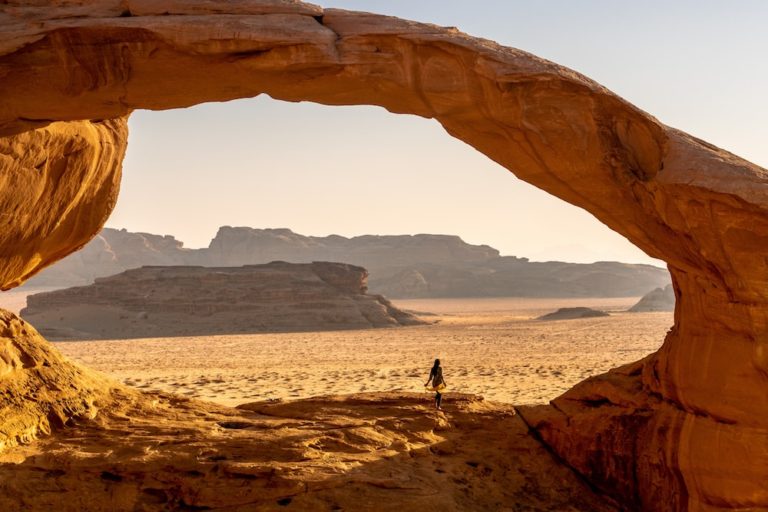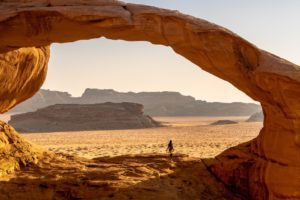 Wadi Rum is a protected desert in Southern Jordan with red-pink dunes with amazingly natural sandstones, mountains, and rock engravings. You can visit there to discover its unique landscapes, history of civilization and spend a night under a clear sky at a desert camp.
Actually, the film "Lawrance of Arabia" in 1962 introduced this heavenly place to the rest of the world. Also, this place was filmed for "The Martian" in 2015 as the red planet. So, this is how this place became more popular throughout the world, and most tourists attracted to destination in Jordan After Petra.
Wadi Rum is famous for its inhabitation of many human cultures in many eras. For example, Nabataeans hand-drawn their marks on the rocks as paintings. T.E. Lawrence, a British officer, wrote a book called "Seven Pillars of Wisdom, " which explains everything about Wadi Rum very interestingly. (Wadi Rum Jordan)
Is Wadi Rum Worth Visiting?
Of course, yes. It is worth visiting there. Do not just skip this place, only visiting Petra. This is a very rare place for travelers who want to discover history while living like people in those eras. Spending nights in Wadi Rum will exactly help you to imagine the living style of past people. That calmness teaches you a lot of things. Well, I present the following points to highlight how worth it is to visit Wadi Rum Jordan.
The Unique Landscape in Wadi Rum Jordan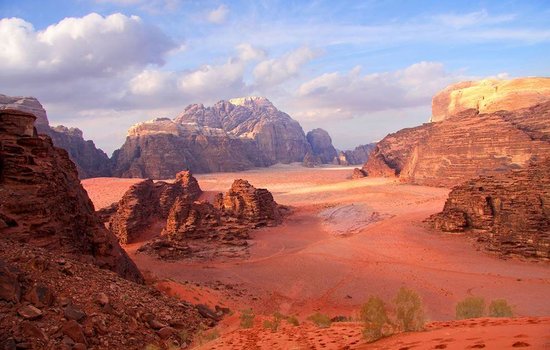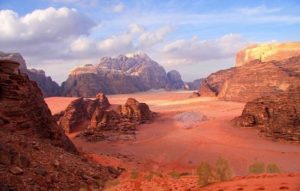 I feel like this is not the earth but another planet just because of the unique landscape. Watching sunset through the dunes, mountains, and rock formations is just amazing. It will also provide you different angles and uncommon photos rather than beach sunset.
Even you can climb to the peaks of Jabal Umm ad Dami, which is 6000 feet high, to see the red sea and Saudi Arabian territories. But, I think it is better to feel this red desert's calm while staying at a night camp. And see the clear sky in the coolest climate of a desert ever can be.
Wadi Rum Jordan
As I mentioned earlier, this will be the only chance to feel that you live on another planet. But for that, you should spend one night there. The red desert climate at night is cooler, but the sky is spectacularly clear with stars.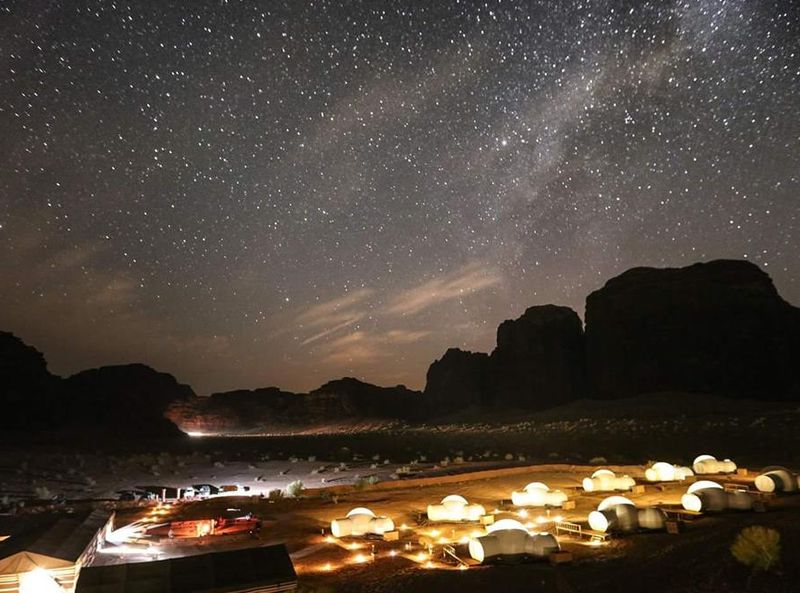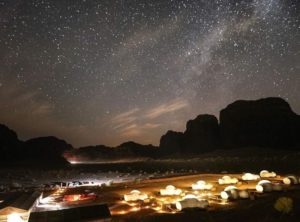 Wadi Rum Night Luxury Camps are the iconic thing for this experience. They offer private desert bubbles to see stars at night and see the different night climates of a desert. Trust me; it is very cool. And it is like to make you feel better and recover from day hotness and tiredness. This bubble will cost you around $250 per night (including the camel ride). I recommend this for honeymooners as one of the best honeymoon destinations on the earth.
That amount was a little higher for my budget, so I had to find another camp. Many camps are waiting to offer this opportunity. Starting from $35, there are many packages. So, choose your ideal one. Whatever the camp doesn't matter, this natural package offers you the same unique feeling. Climb for a small rock and watch the sunset with your loved ones or alone. Trust me; you will be speechless due to that awesome feeling. (Wadi Rum Jordan)
Planning to visit New Mexico?? Do not miss White Sands National Park.
History of Wadi Rum
As I mentioned at the beginning, Wadi Rum was inhabited by the Nabataeans. They have left their memories like rock drawings and temples. The Nabataean Temple was identified in 1970 by archeologists. They are many hidden historical stories in this desert that you can discover through hiring a good guide in Wadi Rum.
There's No Rush With More Tourists
If you are looking for an escape to a no-man world, then here's the chance. Although Petra is more popular and there are many things to see around, it is filled with tour groups. But here in Wadi Rum, it is just amazing to take real photos without any human being and feel the calmness of a desert.
Live in a filmy location on this iron oxide red sand in the Wadi Rum.
As mentioned earlier, Lawrence of Arabia, Prometheus, Red Planet, The Last Days on Mars, Rogue One: A Star Wars Story, Passion in the Desert, The Martian, and Transformers: Revenge of the Fallen was filmed in this desert. Since it really looks like Mars.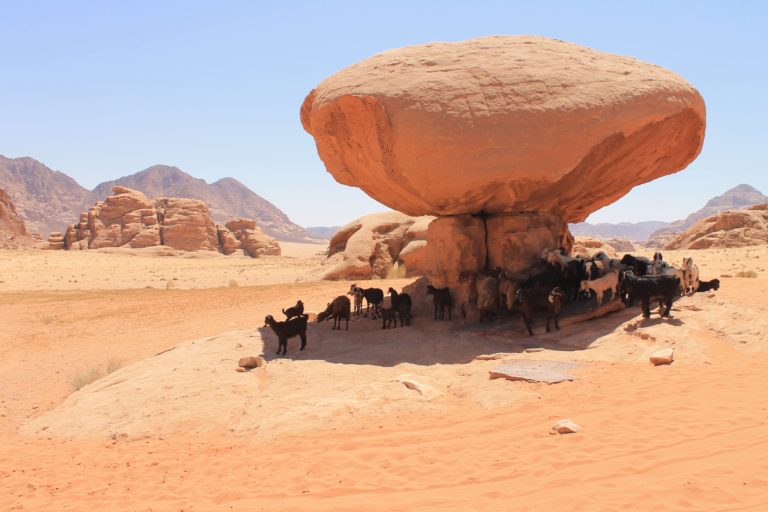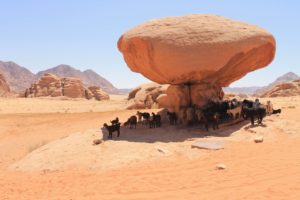 The train and the station of the movie, "Lawrence of Arabia" are still there and you can film those locations.
So, now it is pretty clear why you should visit Wadi Rum Jordan once in your life. (Wadi Rum Jordan)
How Far is Wadi Rum from Petra?
The distance between Petra and Wadi Rum is about 110 Kms. That means it will take around 2 hours to drive. Suppose if you are coming from Amman, then the distance to Wadi Rum is about 314 km which will have to drive for 4 hours maximum on the Desert Highway.
Once you reach there, you can hire a camel or a 4*4 vehicle with a guide to discover the desert. There are village guides (called Bedouin) as well for And there's another adventurous option if you have a good budget. It is to get a Wadi Rum hot air balloon ride. Starting in the morning, the ride will last for around one hour. You can arrange some 7 other passengers and have a ride to see this red desert from the sky. (The maximum number is 8 passengers).
Is it safe to travel to Wadi Rum?
Basically, Jordan is a safe country. You don't need to worry about safety matters. Even the World Economic Forum reports say that Jordan is much safer than Germany. The law and the punishment system for the offenders are very strict and actionable. Security officers, tourists, police officers, and military officers are frequent at major sites to prevent even a small case. And terrorism and civil unrest cases are also not available here.
But I suggest you follow the same practices you normally follow when you are out of the home country. Like:
Carry only the amount of cash you essentially want

Keep your wallet closer.

Better to take a taxi rather than walking. And negotiate charges before the ride.

Always carry the business card or residential card where you stay.

Especially, the solo female travels, take care of the Bedouins who try to flirt or woo you.

Avoid drinking tap water. Always buy bottled high-quality water. (Wadi Rum Jordan)
How Cold is Wadi Rum at Night and when to go there?
March, April, and May (Spring Season)
Since this is the peak season, you can see some amount of tourists. Climate is excellent which the daytime temperature is around 15-20 Celcius. And I must say that when it comes to the end of March, the temperature gets higher than this. Even in nights, early March days are much cooler than the end of the month. So, bring some extra clothes. But when it comes to April and May, no need for any extra clothes since the temperature climbs up at nights and day times.
Spring is the best time to visit Wadi Rum Jordan. There may be some amount of travelers, so book your camps as early as possible.
June, July, and August (Summer)
June, July and August are the summertime that you cannot see many travelers since the weather is very hot. The temperature is varied between 33 Celcius to 40 Celcius. So, I do not recommend traveling for people who cannot tolerate the high temperatures. Especially with kids.
But at the end of August, sometimes there are fewer hot climates as well. However, since this is the off-peak season, there are fewer travelers, and the prices are lower. So, I recommend this period for the budget travelers looking for off seasonal giveaways in Wadi Rum Jordan. And even the climate is calmer only with natural beauty. (Wadi Rum Jordan)
September, October, and November (Autumn)
Autumn is also an excellent time to travel to Wadi Rum Jordan. But I recommend you travel after the mid of September till the end of October since the climate tends to get cooler than previously. Temperature ranges between 20 Celcius to 30 Celcius with a little rain.
The best part of traveling autumn is seeing the sunrise without getting up at night (sunrise between 6 am to 6.30 pm). Apart from that, you can experience less dusty wind, migrating birds, an ideal climate for hiking, and clear skies. Therefore, tourists are frequent in camps and Wadi Rum Villages.
December, January, and February (winter)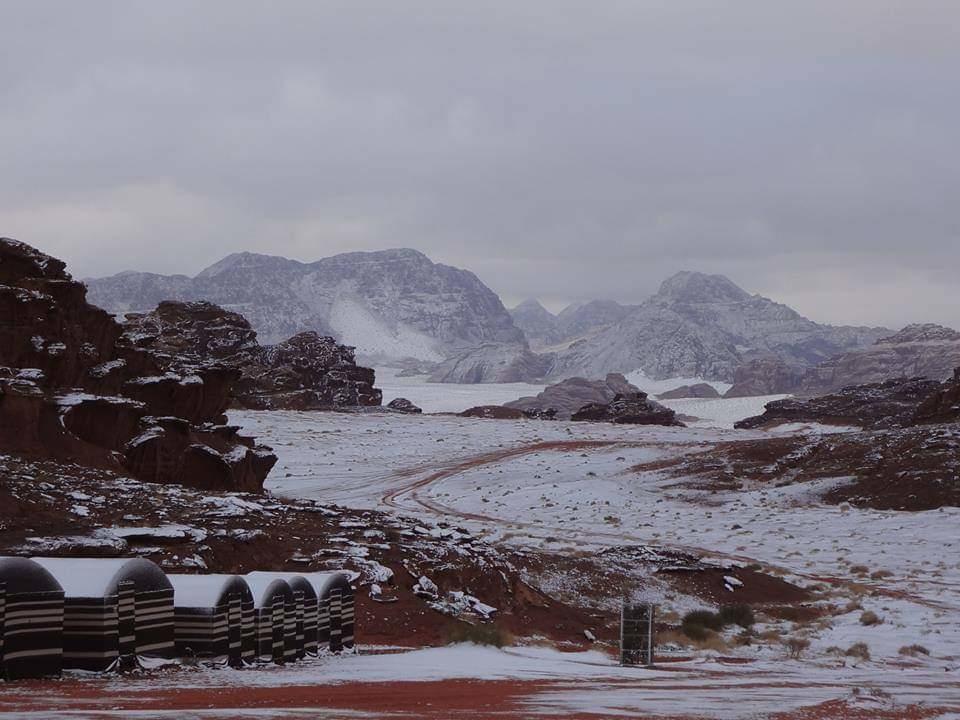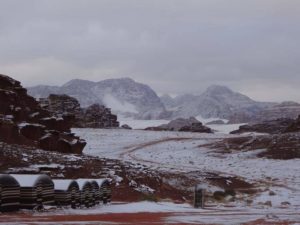 Wintertime is the coolest. With a 10-15 Celcius temperature and even cooler at night. Daytime is not cooler. So, it is better for hiking and trekking tours. Nights and dawns are cooler (maybe zero Celcius), so bring some extra clothes with you. Due to this harsh climate, you can see no traveler around. But if you want to experience how the climate of a desert in wintertime, then visit in those months and feel it without any rush. (Wadi Rum Jordan)
Camping in wadi rum Jordan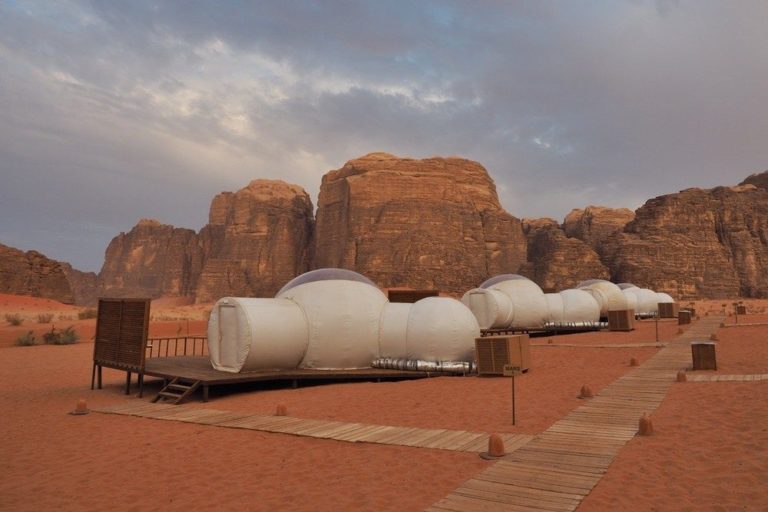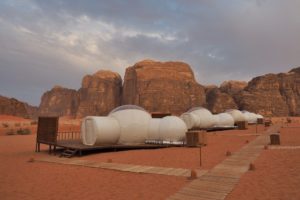 Before select a camp in Wadi Rum, I suggest you consider the following things.
Situated in a unique desert location without any adjacent camps

Helpful services like pickups at various locations

Clean washrooms/bathrooms with recommended standards

Great Overall cleanliness

Standard tents with electricity, lights, water, and beds

Good hospitality

Best original Jordan food

Best desert tour packages with knowledgeable guides (about the history and well English spoken).

Private huts without any shares with unknowns
There are plenty of Wadi Rum Jordan camps with different budget packages. Just check this map.
What to do in Wadi Rum
Now you already know a lot about Wadi Rum. The following things can be highlighted as the things to see and do there.
Touring Wadi Rum with a guide

to the key places

Lawrence's House

: One of the places where Lawrance of Arabia spend the time

Lawrence's Spring

: The main house of Lawrence of Arabia is nearby the village of Rum.

Khaz'ali Canyon

: A wonderful place to see the unique geology of Wadi Rum and a popular spot for rock climbers.

Nabataean Temple

: A colorful temple near the Wadi village.

Historical Anfishiyeh inscriptions

: The historical Nabataeans carvings

Um, Forth Rock Bridge

: The most impressive rock formation and the most photographed place in Wadi Rum Jordan.
Definitely should

spend a night at a Wadi Rum camp.
Have fun with your tour to Wadi Rum Jordan.