Taking a ferry to Waiheke Island in New Zealand is almost like going to another world. Because it is beautiful, bohemian, full of happiness, simple, and unique, those are the words that I can use to explain Waiheke. It is also famous among wine lovers since this small 20km long island has plenty of vineyards.
Art, food, and wine make this island more attractive and attract many tourists annually. So, once you reach Auckland, do not forget to take just a 35 minutes ferry to Waiheke Island in New Zealand to explore more. Here's the ultimate travel guide for that.
Waiheke Island
How to get to Waiheke Island?
Waiheke Island Ferry
If you are planning a tour to Waiheke, basically, there are four options to reach and tour around the island. As I mentioned in the introduction, taking a ferry is the most cost-effective method to reach the island. Starting from the ferry terminal in Auckland's CBD (Central Business District), several operators do ferry service to Waiheke Island. Ex: Fullers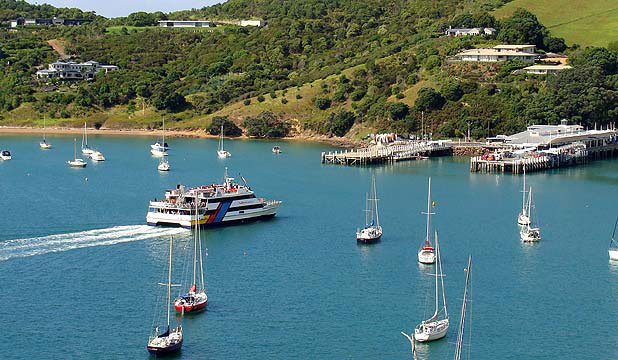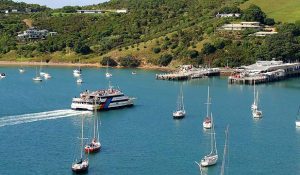 The total cost of the ferries per person (whole tour) will be around $50.
All the ferry services run tours throughout the day and drop you at the terminals of Martiatia Wharf or Kennedy Point on Waiheke Island. And on the other hand, there are water taxi services as well as Auckland Sea Shuttles Service. It is very flexible and easy.
The next super option is to hire an Auckland Seaplane. It will offer you a great aerial view of the whole island through Hauraki Gulf. You can choose according to your need whether you need a private aircraft or group aircraft. And also, there are helicopter rides as well. Since there are some landing points in some vineyards, Heletranz offers to tour around the island. (Waiheke Island)
How do you get around Waiheke Island?
Now, since you know how to reach Waiheke Island, let's know the methods of getting around the island.
Public transport is the most common method of touring around the island. There are buses, taxis, and rent cars. If you are on a budget tour, I suggest using the public bus service that works on time. What you have to do is to check the timetable of the buses when you reach the ferry terminal. Here's our support. Check the link to know timetables.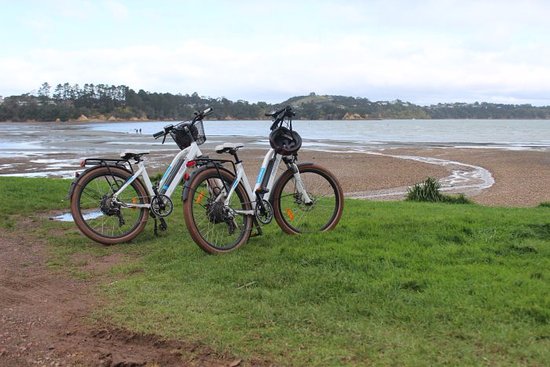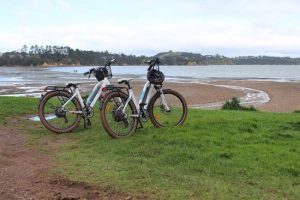 And also there are some reliable and trustworthy taxi services as well. Like Waiheke Express Taxi Service. Not only that, but there are also bike hiring services like Waiheke Bike Hires.
Suggested Reading: Bay of Islands New Zealand Travel Guide
Waiheke Island Map
Locating off the coast of North Island in New Zealand, Waiheke has a small land area of 92 km². But, this is the second-largest island of the Hauraki Gulf. And the total coastline includes around 133km. Out of that, there is 40km of stunning beaches. The inner of the island is very hilly and has very few amounts of flatlands. Compared with other islands in the Gulf, Waiheke is the most accessible one. Therefore, plenty of travelers attract here.
Looking for the best hotels near Waiheke Island?? Just check here.
Waiheke Island Weather
Since the island has more sunshine and a warmer climate than the other New Zealand destinations, this is almost like heaven for beach lovers and vineyards. If I explain more about the climate, Waiheke has a kind of subtropical climate like Auckland. But Auckland is cooler than Waiheke.
The rains are frequent here. Therefore, people cultivate with the help of rainwater. But, the summer is full of fun with a warm, flowery, and humid climate. Even in winters, you can rarely see frost here.
So, the summer months (from December to March) are the best time to travel to Waiheke since you can do many outdoor activities. The winter months (from June to August) are cooler and not ideal for outdoor adventures.
But, if you are a budget traveler, it is better to avoid the summer peak months. And the preferred months are in April and October. They are less crowded and still have a pleasant climate. But most of the vineyards are operating only in the summer months. (Waiheke Island)
Suggested Reading: How to travel the world for free?
Is Waiheke Island worth visiting?
Of course, it is totally worth visiting Waiheke since there is a lot more to discover. Look at the following list of things to do there. Yes, it offers something to any traveler. So, do not miss it once you visit Auckland.
Things to do in Waiheke Island
Here, I have categorized the things to do in Waiheke. They are free things to do, best beaches, best wineries, romantic date ideas, adventure experiences, and art galleries. Let's take a look.
What is there to do in Waiheke Island for free?
The best thing to do for free on this island is to walk through scenic roads. The following scenic trails will blow your mind and relieve your stress.
Beach walks always takes top place. And they are absolutely free to walk and swim. I've explained all the beaches in Waiheke under the next category.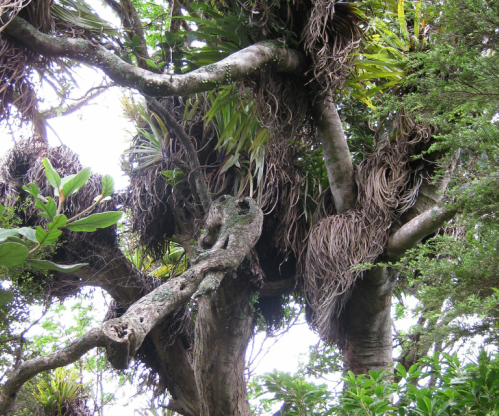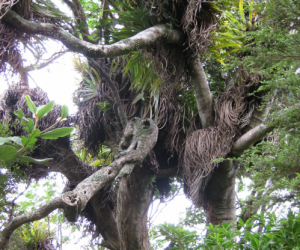 Apart from the beach walks, the Onetangi Forest and Bird Reserve trails are the next best free thing to do here. It is a forest totally dedicated to birds, trees, and natural things. Especially here, you can see large kauri trees. You can enter this trail from the Trig Road entrance. And if you want, you can walk for around 2 hours by discovering Waiheke's natural things around.  (Be aware of the local controlling efforts of Kauri dieback disease. Follow only the marked trails).
In Onetangi, you may see many native birds and lizards. Godwits, dotterels, kingfishers, white-faced herons, spur-winged plovers, and many more birds are there. Just look at the above map for the exact location of Onetangi. (Waiheke Island)
Rain in Waiheke is a gift from god. So, we must have fun out of it. Onetangi Sports Park has super funny slide downs in the rain. What you have to do is just wear old clothes and slide down freely. Trust me, it is so funny and reminds me of childhood.
Best Beaches in Waiheke Island
Do not forget to have a glass of wine while reading a book by sitting in front of Waiheke Island's following stunning beach in New Zealand. Because they're pristine, swimmable, and have crystal clear blue water. On the other hand, some of the beaches are the best white sand beaches in the world. Here's the list of the best beaches on the island.
Suggested Reading: Black Sand Beach in Iceland
Palm Beach
Palm Beach is a family beach where you can have all the facilities. Like BBQs and playgrounds for children. And also, this is one of the calmest beaches on the island with white sand. You can swim here without any fear.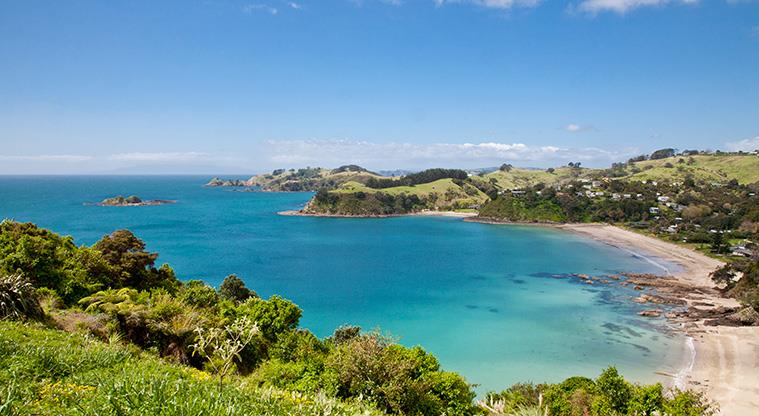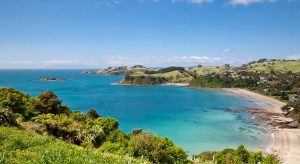 If you walk further to the bay's western side, you will get the chance to have a nude sunbath on the Nude y Bay Beach. (Try only if you like).
Oneroa Beach
This is a popular anchorage spot. So, you may see masts and vessels in different sizes always here. And even the beach is so popular among travelers. Well, the climate is quite cool, but it is close to the amenities of Oneroa. (Waiheke Island)
Sandy Bay
Sandy Bay is like heaven on the Northern coast of Waiheke. It is beautiful and filled with many adventure experiences, like swimming, surfing, spotting killer whales or orcas. This is one of my favorite places in Waiheke.
Onetangi Beach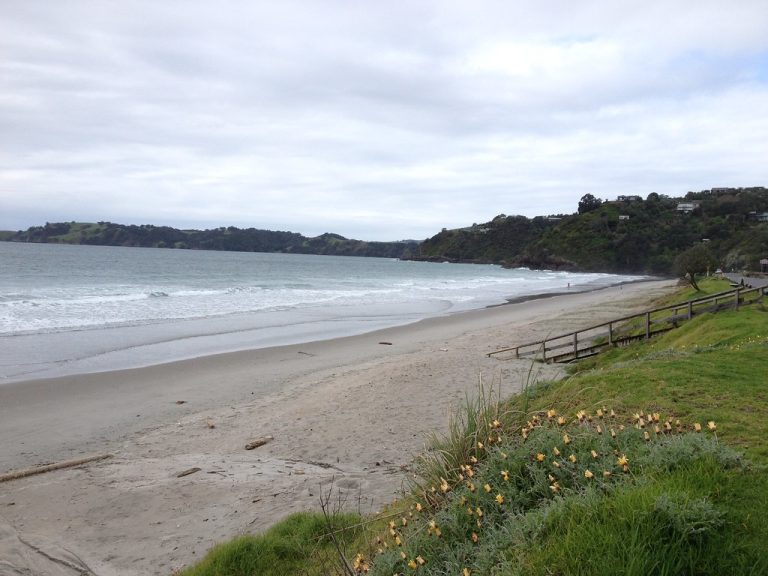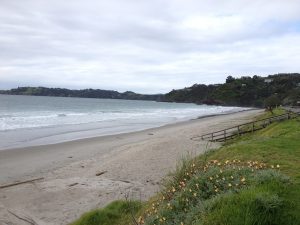 Onetangi Beach is famous as the largest beach on the island. Having around 2.5km of coastline, it has many funny opportunities like swimming, fishing, kayaking, boating, and partying. Actually, Onetangi is one of the most famous beaches for entertaining events and parties. Food, cafes, restaurants, and all the facilities are there with a naturally decorated beach party climate. (Waiheke Island)
Suggested Reading: Cabo San Lucas Beaches in Mexico
Man O War Bay
When you hear the name Man O War Bay, you may remember about the best wine in the world. Yes, of course, That award-winning winery (Man O War Bay) is located very near to this beach.
Apart from that, Man O War is a calm and stunning beach with soft sand. Since it is locating in an isolated place on the eastern side of the island, it is very calm and not crowded like other beaches. Swimming and evening beach walks are the things you should not miss here. (Waiheke Island)
Waiheke Island Wineries
Wineries in Waiheke are one of the major reasons to attract tourists. And there are around 50 wineries scattered around the island. The estates like Tantalus in Onetangi, Waiheke, include a winery with fabulous vineyards, a craft brewery, and a restaurant.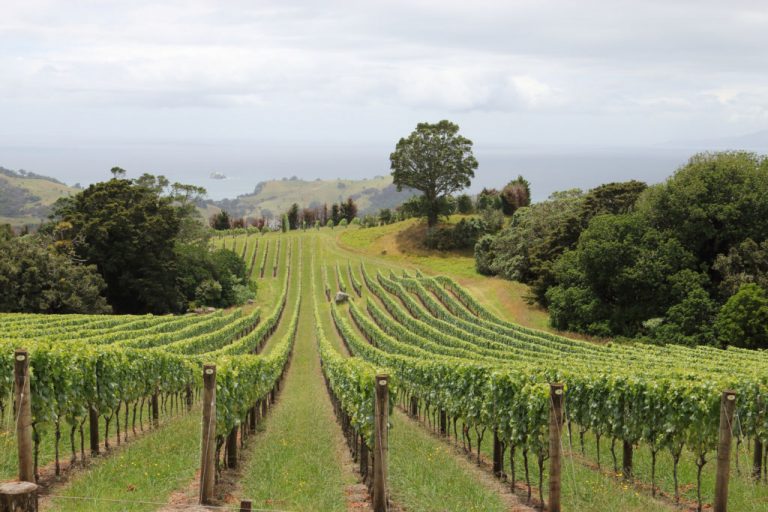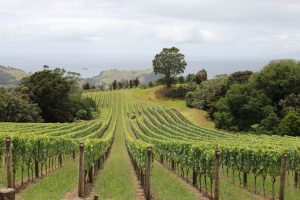 Another must-visit winery is Mudbrick in Oneroa. World-famous celebrities even attract this winery and the restaurant. Mudbrick's elegant setting, tasty food, unique wine flavors are the major reasons to attract such a huge audience.
However, before you taste wine in Waiheke, please keep in mind the following tips. (Waiheke Island)
Avoid smoking, coffee, and eat a simple thing to your breakfast before visiting the wineries in Waiheke. Just keep an hour gap between the breakfast or lunch and the tasting wine.


And the next tip is a commonly known one. You should drink more water as the alcohol dehydrate your body.
Concern on the order of having different types of wine. You can get the guidelines from the tasting team in the vineyard. But, it is generally recommended to start with dry wine and move to the sweet. (Waiheke Island)
Suggested Reading: Emerald Bay Lake in Tahoe
Zip Line Adventure Experience
Ziplining in Waiheke is a unique adventure that you should not miss. People in New Zealand call this a flying fox. Because you are getting a chance to explore the island from a different perspective. You are going through vineyards, forests, and a variety of ecosystems on the island. On the other hand, you may see the ocean in the distance view.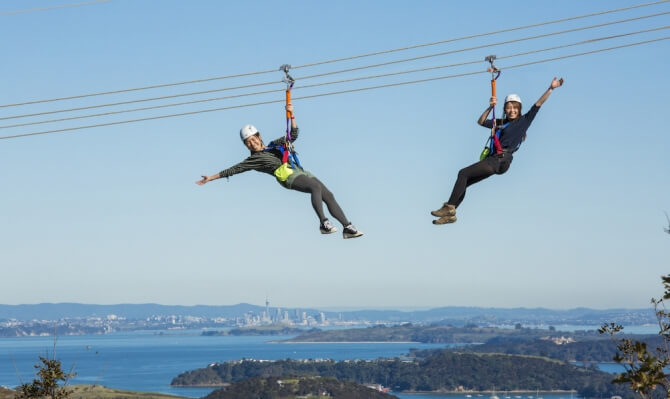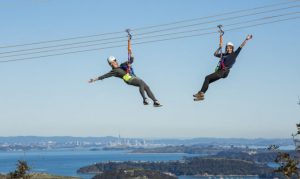 Normally, the zipline offering tour companies like EcoZips offer you several types of zip line adventures to cover all the ecosystems. Like forest zip lines and vineyard zip lines. (Waiheke Island)  
Best Art Galleries in Waiheke Island
After visiting wineries and all that, you must plan to visit an art gallery in Waiheke because this island is famous for the artworks of the best artists and sculptors in New Zealand. Here are the best art galleries in Waiheke.
TOI Gallery
The world-famous artists Sally Smith and Chris Bailey feature their artworks in this gallery since 2010. The special feature of this gallery is that all the profit is going to support the artists in the country. Lively speaking, sculpture, and arts are there to inspire you in TOI Gallery.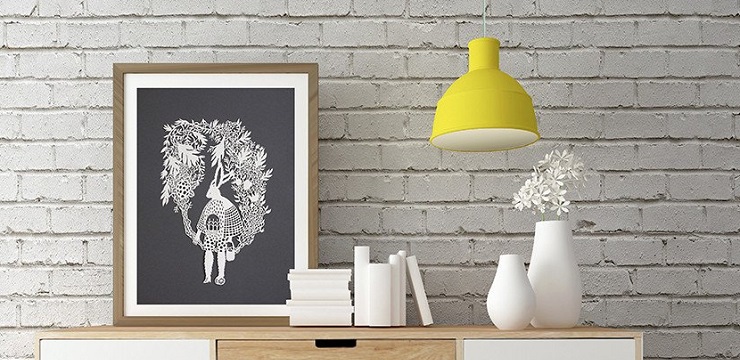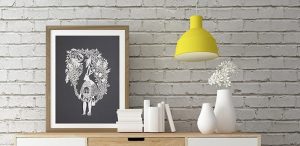 Waiheke Community Art Gallery
Waiheke Community Art Gallery is not a profit-oriented gallery. But, it offers you a variety of art exhibitions and events at the international level. Jewelry, ceramics, glass, and many handicraft items are exhibited annually here. Just check out the website for the latest functions.
S P A C E Art Gallery
There's a lot of space for any artist to show their artworks in SPACE Art Gallery. When you visit Oneroa, Waiheke, I highly recommend visiting this gallery to let your inner artistic feelings come out. (Waiheke Island)
Alison Park Sculpture Trail
I must tell you that most of the art galleries are located around Oneroa in Waiheke. Even Alison Park Sculpture Trail is also located in Oneroa. This open area park consists of exotic trees and unique, large sculptures. If you visit here, you can see the artworks of award-winning artists in the world. Ex: Comfort Stops by Peter Lange.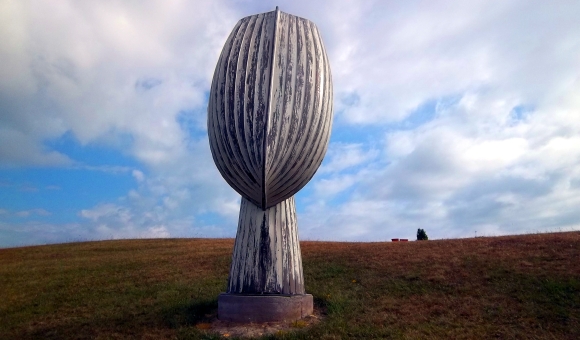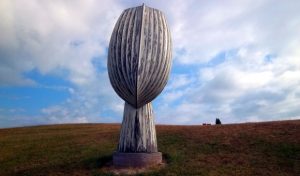 Kauri Art Studio
John Freeman is a well know world-famous artist from New Zealand. Kauri Art Studio is his home. His sculpture creations by using the ancient Kauri trees are famous worldwide. And he had done all of these artworks before Kauri became a protected species. If you pay a visit here, you will get a good opportunity to learn about Kauri's root system and its history. (Waiheke Island)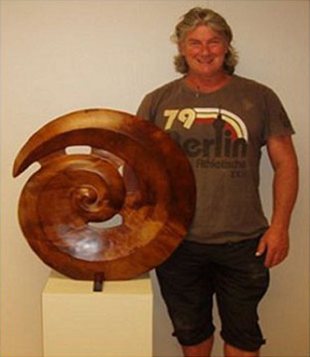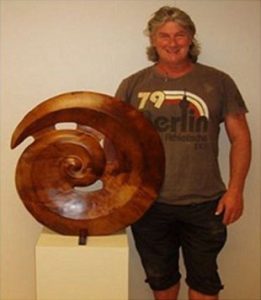 Suggested Reading: Puerto Rico Rainforest El Yunque
Romantic Date Ideas in Waiheke
Waiheke has everything ideal for a romantic date. Therefore thousands of couples in the world attract here for romantic dates, engagements, anniversary celebrations, and just be relax by escaping their busy lives. Here are the best ideas for that.
Getting a spa treatment for both love birds is a great idea for relaxing. Enjoying a total body pampering massage by seeing the natural beauty of Waiheke will be an unforgettable experience. Te Whau Lodge offers you the best spa treatments in Waiheke. (Waiheke Island)
A romantic dinner date on a secluded beach in Waiheke is the next best idea for couples. Arrange a candlelit dinner for your sweetheart on the beach will be unforgettable. I highly recommend Casita Miro since they have delicious food and the best wine as well.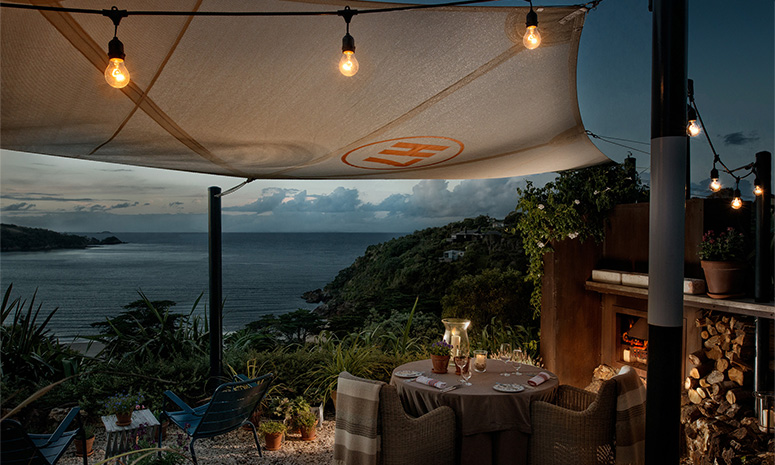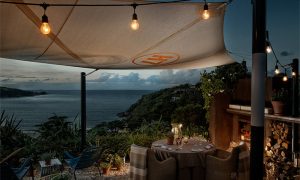 Or even you can plan for a picnic. Do not forget to pack a bottle of Waiheke's unique wine to your picnic basket. Then, both of you can enjoy the sunset while drinking a glass of wine.
Then, if you have a little big-budget, plan for a romantic helicopter tour in the Waiheke sky. You can see the stunning coastlines, little mountains, vineyards, and many more together.
Visiting a vineyard and have a glass of wine with your sweetheart is also a thing you must plan in Waiheke.
If both of you are art lovers, then Waiheke is the ideal place for you. As I have explained earlier, there are plenty of art galleries that offer you the chance to feel the deep meanings of artworks freely. So, take the chance with your partner. (Waiheke Island)